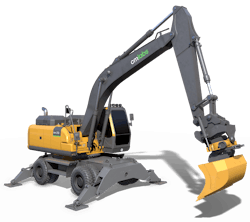 CM Labs Simulations

CM Labs Simulations has announced the launch of its Wheeled Excavator Simulator Training Pack. The training pack features a live quick coupler attachment change training feature and includes a standard bucket, narrow bucket and tiltrotator attachment. Operators can train safely in dense urban settings, by experiencing the mobility, speed and maneuverability of its real-world counterpart.
The Training Pack supports organizations in the Utilities market addressing industry issues such as operator safety, sustainability and equipment maintenance.
"With all the distractions and safety concerns, working in confining urban job sites not only requires specialized driving skills but also a keen sense of situational awareness," said Lisa Barbieri, vice president of marketing and strategic partnerships at CM Labs. "In the dense urban environment we've created, typical in North American and European cities, where noise and distractions fill the air, trainees must master the art of managing their surroundings and staying focused on the crucial task of operating the wheeled excavator."
The solution guides trainees through challenging tasks, with engineering-grade authentic machine behavior and soil simulation embedded in the software for proper digging, load handling and driving techniques for tight spaces. While honing bucket control and capacity, operators develop an understanding of engine and hydraulics behavior. It offers training organizations deep learning insights, intelligent training systems and real-world situations.
The Wheeled Excavator Simulation Training Pack is part of a fleet of simulation training packs from CM Labs. The Training Pack is compatible with all of CM Labs' Vortex Simulators, including the desktop Vortex Edge Plus, the motion-enabled Vortex Edge Max and the high-immersion Vortex Advantage. The simulator training is part of CM Labs' wide range of machines for the Utility market including; Backhoe, Boom Truck, Compact Track Loader, Digger Derrick, Forklift, Rough Terrain Crane and Telehandler.
Request More Information
Fill out the form below to request more information about
CM Labs Unveils Wheeled Excavator Simulator Training Pack