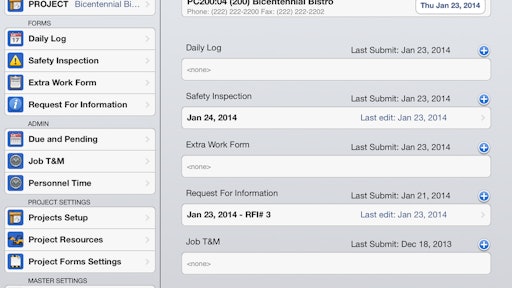 Mobile app: Construction Superintendent - Journeyman
Developer:  Construction Centrics LLC
Cost: $99.99
Available on: iPad
Designed to streamline the process of gathering and reporting critical construction project information, the Construction Superintendent – Journeyman mobile app provides a comprehensive set of site management forms and administrative support tools allowing construction superintendents to document project activities, events and resource allocations and report the critical project information from the field to the office in a timely manner.
Designed specifically for small and medium-sized contractors, the app helps project managers and site superintendents manage project-related jobsite schedules, costs, safety and profitability in half the time as compared to conventional manual methods. The app replaces hand-written or dictated reports with electronically submitted forms that can be easily customized and personalized.
Forms available with the Journeyman app include: daily logs, extra work (CCR/CCD) forms, safety inspections, requests for information, daily job and T&M forms, and weekly employee personnel timesheets. The information entry pages for each of the forms are designed to be intuitive with an emphasis on simple, quick input.  Forms are generated as PDF documents and submitted as attachments to email messages.  Plus, the iPad does not need to be continuously connected to a data network. Users can generate any number of forms for any number of active projects at any time and submit them via email when it's convenient to connect to either a WiFi or a cellular data network.
The app does not operate as simply an electronic sheet of paper. Key sections of each form are enabled with smart selection controls that give quick access to lists of resources, codes and settings.  There's a "preload" button on the daily log form that copies the prior day's submission of the form into the next day's form as a starting point.  These and other settings-driven automations combine to reduce the need for repeated "manual" entries, saving time and eliminating errors and inconsistencies.
Photos can be attached to forms with automatically generated references to the section of the form to which they apply. You can select pictures from the standard photos repositories/albums on the iPad or tap the camera button that appears on most of the form entry pages within the app to take pictures as you're filling out the form. Users can also crop photos and add captions that will appear with the photo when the form is submitted.
The Journeyman app is also customizable for the types of projects and types of resources and equipment employed. Set schedules for when recurring reports and forms need to be submitted either across the board or for individual projects. Users can also personalize the letterhead of the reports and forms with company logo and branding.  Plus, the user can access the contacts on the iPad for importing information about employees, subcontractors and vendors associated with each project.
Other customizable features include:
Forms distribution lists defined by form type, by project and by key project personnel role
Change form titles
Adjust scheduling policy settings
Customize daily logs to select sections of standard form you want included in published forms; section labels; how many shifts you want to record; whether or not to include cost codes in resource table; and more
Manage the list of inspection categories and items for safety inspection forms
Within the app you also manage lists of project resources whose activity or allocation to projects are reported within the forms. While you can use tools in the app to build and manage each list directly, the workflow for filling out the forms is designed to have the app remember new resource references and lets you add them to your lists without interrupting the process.
The types of resources defined in the app include:
Personnel (typically employees) whose activities are allocated to projects and appear on personnel timesheets and job T&M forms
Contractors and suppliers who provide labor, equipment or materials and to  whom extra work and RFI forms may be submitted
Labor (trade), equipment  and materials resources with assignable unit of measure, standard cost and cost codes
In addition to creating and distributing the project forms, the app provides management assistance tools to help ensure that those forms are submitted on time and retrieved if you need to revise and/or send them out again.
The Active Forms Summary worksheet shows all the forms that are currently in-process for a particular project and indicates that last time that each type of form was submitted for that project.  It also acts as a shortcut to finish up and submit those forms or create new ones without going through the main forms menu select them.
The Due and Pending worksheet shows the status of regularly scheduled form submissions for each project, indicating which, if any, are overdue and the next date that each type of form is due. 
The Submitted Forms History worksheet allows users to find and access any or all the forms that have been submitted for each project.  You can select forms from the resulting list to view them on your iPad, re-submit them to the same or different group of recipients, or revise forms by adding, changing or deleting content before resubmitting them.  Revised forms are marked with a revision date indication and signature.
App features:
Automatically numbers each form and submits it to the appropriate architect, engineer and main office personnel
Comprehensive safety checklist with over 130 individual inspection items organized into 16 categories; pick and choose the categories that apply to each individual project
When daily logs are not submitted on the days that they're due, app shows the superintendent that they are past due
Create as many time sheets for as many personnel as you have onsite; app codes time to different cost codes as well as recognizes overtime
Augment or override master settings to suit the specific nature of each project
Setup the cost codes and standards that you use in your business
Define the specific resources that you employ
Customize the content, appearance and management of forms and reports
No limitation on the number of active projects