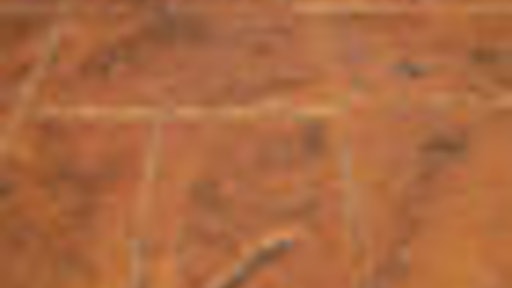 Ten years ago, Paul Porco never would have considered using manufactured stone in the construction of his own dream home, a two-story, 7,000-square-foot English tudor in Cold Spring Harbor.
A second-generation custom-home builder, Porco had the same reservations as many of his fellow contractors when it came to using the man-made product, also called engineered stone or stone veneer. "For a long time, it never looked like the real thing," says Porco, owner of Rosewood Custom Builders in Centerport. In addition to many high-end builders, architects and designers also frowned on "faux stone."
But during the last decade, manufactured stone has worked to make a better impression. It's now the fastest-growing exterior siding in the construction industry, boasting increased use of 15 percent to 17 percent in each of the past five years.
People just seem to like it. From homeowners to builders to architects, more remodeling projects and new homes are featuring manufactured stone - which is made by pouring concrete and pigment into molds - as either exterior siding or interior accents.
Frame a fireplace. Draw a roving eye to a great-room wall. Or enclose the built-in outdoor grill. Manufactured stone delivers a combination of color, durability and style.
"There's a realistic look to the stone today," says Porco, while leaning against the exterior of a stone-clad turret to his formal living room. On the rear of his home, a stone fireplace chase climbs the two stories and extends to the rooftop, separating two small decks and doorways. Both the turret and chase are covered in the same manufactured stone as the front of the home and portions of the concrete porch.
Overall, Porco's new house features about 1,000 square feet of York Limestone, a manufactured line from Eldorado Stone, a California-based company. He's thinking about using more stone to highlight the main fireplace in the great room.
"I just think it looks great," Porco says. "There's a consistency in the color that you can't find in natural stone."
Appearance is the primary appeal, distributors and manufacturers of the product say. But there's more to it, says Brent Spann, Eldorado Stone's vice president of marketing. "The realistic look of the product is No. 1," Spann says. "But it's also half the cost of natural stone, and because it is lighter than natural stone, it's a lot easier to install."
Most manufactured stone companies warranty the product for 50 years. Because it's concrete, it stands up to pounding from the weather, from Arizona's desert heat to Florida's drenching rain. "When you consider the durability factor and the impact, it's not a huge investment," Spann says.
Installation, including materials, can range from $15 to $35 a square foot on Long Island, says Mike Sapio, a sales associate for Allied Building Products Corp., which has eight Long Island warehouse showrooms. That's about half the cost of natural stone and nearly double the price of the nation's most popular siding, vinyl. Once considered more of a low-end "specialty" product, manufactured stone is now readily available at masonry yards and building supply stores across the country.
Sapio entered the supply end of the construction business about 25 years ago, when manufactured stone was first making an impact. "Early on, there were a couple of companies making the stuff, and there were only one or two styles," he said. "Now, there are literally dozens of manufacturers and hundreds of styles.
"But the most significant improvement is how it looks. The stones and rocks look real. I've had manufactured stone and natural stone side by side and people can't tell the difference."
If the copy's as good as the original, it's largely because some of the leading companies - Eldorado Stone, Owens Corning's Cultured Stone, also from California, and Pennsylvania-based United Stone Veneer - have put more time and effort into the manufacturing process.
The early copies lacked depth and texture and were mostly shades of brown, charcoal and gray. Today's manufactured stone is a mix of concrete, small stones and color pigments that is poured into intricately detailed rubber molds. These molds are created from collections of natural materials, like river rock from Great Lakes streams, stones unearthed from Western prairies, canyon rubble or limestone quarried from the Midwest.
The results are textures and hues - purples, reds, blues and greens - that only the weight of slow-moving glaciers or centuries of erosion from a white-water river are supposed to achieve. Eldorado Stone's Spann says that his company's coloring technique is a "trade secret."
When Frank Giaquinto of East Islip remodeled the exterior his 1989 two-story, four-bedroom contemporary this year, he wanted a siding that not only had style but also was maintenance-free. He considered lots of materials, including synthetic stucco, before choosing manufactured stone, specifically Eldorado's Charleston Mountain Ledge, a blend of earth tones. "We liked the color and texture," says Giaquinto, a commercial maintenance contractor. "No one wants their remodeling concept to look like an afterthought, and there's definitely a character to the product."
Sapio says while the most practical use of manufactured stone continues to be exterior siding or fireplace accents, he envisions more uses in the next few years.
"We're seeing it more in interiors now," he says. "Countertop backsplashes or highlighting one wall in a room. More people are definitely thinking about where or how it can be used."
Eldorado's Spann agrees, and he also figures that more professionals buying into the product is a positive sign.
"In the last decade, a big reason for the rise in popularity," Spann says, "is because more architects and designers are saying, 'I like working with this stuff.'"
BEGIN BY VISITING THE SHOWROOM
Thinking about building or remodeling with manufactured stone? Here are five tips, courtesy of All County Block & Supply Corp. in Bohemia, one of several Long Island distributors of the product:
See the product personally. "Visit a showroom," says Moses Mulligan, All County's manufactured stone sales associate. Pictures don't always give you an accurate reading in terms of color, texture and size, Mulligan says. A homeowner has to go out and see it.
All the manufacturers make good products; the difference between them is in the appearance. "We find the largest manufacturers have more success in creating realistic pieces," All County owner Robert Affenita says. "The larger manufacturers have trial-and-error experience."
Proper installation is important. "Make sure the contractor knows his stuff," says All County's Joe D'Attolico. "A homeowner can install the product, but it takes a lot of skill and some artistic flair to do it right." Get contractor referrals from a local masonry yard. If installed properly, most manufacturers will warranty the product for 50 years. Installation instructions or videos often can be downloaded from a manufacturer's Web site.
A little stone goes a long way. "It is best used as an accent," says installer Paul Bruton of Emerald Isle Custom Brick Work in Oakdale. "On exteriors, it looks best when it covers about half the wall. When it's used all the way up the wall, it's just too much."
Use the right sealer. On exterior applications, use a breathable sealer. "A breathable sealer will not trap moisture," D'Attolico says. "If you seal the stone indoors, make sure the sealer will resist oil and dirt."
---
News stories provided by third parties are not edited by "Site Publication" staff. For suggestions and comments, please click the Contact link at the bottom of this page.