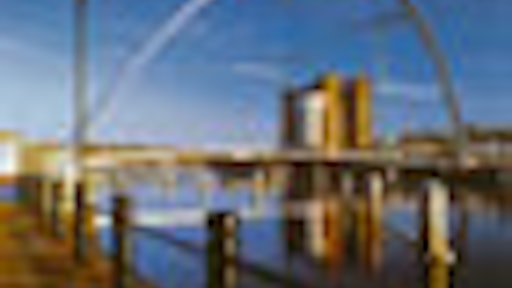 Within the last ten years, the design, manufacture, installation and commissioning of moving bridges has emerged as a core business activity, with DavyMarkham engaged on a series of high profile bridge contracts.
The turning and rotating technology employed in the design and fabrication of giant tunnel boring machines, as well as water turbines, cable turntables and mine hoists, is now being successfully applied to bridge decks that lift, swing and swivel. Modern finite element analysis and 3D modelling software, coupled with an in-depth knowledge of mechanical, electrical and hydraulic design disciplines allow for precise manufacturing drawings to be originated and implemented in-house.
"Each moving bridge contract involves unique or complex technical challenges to be overcome," says DavyMarkham Sales Director, Gordon Scott. "Our manufacturing heritage, design engineering skills and understanding of static and dynamic loads, torsion, resonance, weather and other forces imposed on bridge structures, enable architectural visions to be realised in solid steel, concrete and glass."
Usually constructed over busy waterways where it is impractical or prohibitive to build a fixed bridge high enough to allow river traffic to pass beneath, moving or movable bridges incorporate a section of the deck that lifts, rolls or swings aside to provide additional clearance. Generally, these bridges are powered by electric motors operating winches, gearing or hydraulic cylinders and typically incorporate traffic signals for road and water traffic, as well as moving barriers for pedestrians and vehicles, which are coordinated with bridge openings by PLC-based control systems. A moving bridge is likely to be heavier and more complex than a fixed bridge of the same span, due to the mechanisms involved, but the variety of lift, swing and bascule (drawbridge) configurations offers architects and designers tremendous aesthetic scope.
Such creativity is epitomised by the rotating Helix Bridge, designed, engineered, installed and commissioned by DavyMarkham, where the overriding brief was to maintain the vision of conceptual artist Marcus Taylor. Commissioned by consulting engineers Buro Happold Mace on behalf of Paddington Development Corporation, it has the unusual tromp l'oeil effect of appearing to corkscrew across the canal. Employing perfectly synchronised lateral and rotational movement, the bridge deck travels across at 75mm/sec, while the glass/steel composite tube rotates at three rpm, giving one helix pitch rotation every 20 seconds. The glazed structure itself consists of shaped glass panels, bonded to a corkscrew of tubular stainless steel, and the installation included PLC controls and a bridge/boat protection scheme.
Equally distinguished and elegant is the Millennium Bridge, conceived by architects Wilkinson Eyre for Gateshead Borough Council, which won RIBA's distinguished Stirling Prize. Commissioned by consulting engineers Gifford & Partners, DavyMarkham was responsible for the main mechanical, electrical and hydraulic systems, which control the entire tilting process that earned the bridge its sobriquet, the Blinking Eye. The structure has just one major moving part, the bridge itself, and DavyMarkham also designed and manufactured the 14-ton trunnions or hinge assemblies on which it swivels. Finite element analysis software was used to optimise the profile and material, as well as the outboard bearings, and the company also consulted Bath University on synchronising two sets of large hydraulic cylinders, one located on each bank of the Tyne.
One of the United Kingdom's longest double-acting hydraulic cylinders, which required £20k worth of oil for the first fill, is a feature of the high profile Great Wharf Road Lift Bridge, commissioned by Canary Wharf Contractors and again designed by Wilkinson Eyre. Here, DavyMarkham undertook responsibility for the giant hydraulic ram, the hydraulic and electrical control system and associated support structure, under the management of Gifford & Partners and mechanical and engineering consultants Bennett & Associates. The same project team was also behind the Bellmouth Passage pedestrian swing bridges, where DavyMarkham handled the complete design, manufacture and commissioning of the main bridge structures, rotating and nose-locking mechanisms, and PLC control systems. The deck structures were built to a calculated pre-camber and during construction ballast was used to compensate for the eventual weight of the glazed passageway and superstructure, installed subsequently on site.
One of the largest moving structures of its kind, the cable-stayed Selby Swing Bridge features a 98 meter span, 1,200 ton central span that rotates on a central pivot to allow the passage of river traffic. Commissioned by main contractor Skanska and M&E consultants High-Point Rendel, DavyMarkham was responsible for the 13 ton motor-driven slew ring assembly, which provides rotation, while Cleveland Bridge undertook the fixed bridge structure. In addition, DavyMarkham designed all the mechanical, hydraulic and electrical systems that perform the opening/closing functions, as well as the PLC control architecture, traffic barriers and signals, and CCTV river, road and bank observation system.