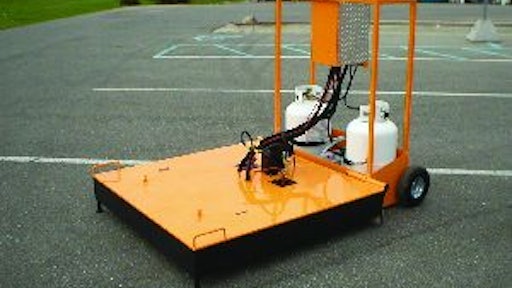 The National Pavement Expo (NPE) 2008 will be held January 30-February 2 at the Nashville Convention Center. In addition to myriad educational and networking opportunities, NPE will be showcasing the latest equipment and products to the asphalt industry. On the following pages are some examples of companies and products that will be featured on the exhibit floor.
K-M LB 2-16 Asphalt Recycler
Keizer-Morris International offers the LB 2-16 4'x4' which features a single operator, two independent zones and 16 square feet of infrared powered performance.
Self-contained unit
Unique folding design for transport ease
SealMaster Pavement Sealer
SealMaster's Pavement Sealer is available in asphalt, acrylic and coal-tar formulations.
Nationwide manufacturing locations and distribution centers
Protection from chemicals, moisture and oxidation
Advanced polymer technologies available
Ray-Tech RC8000
Ray-Tech's RC8000 reclaims, holds, and stores plant mix and previously used asphalt at proper working temperatures.
Manufactured for year-round road maintenance and patching programs
4-ton infrared combination reclaimer and storage unit
Asphalt Reheat Seam Heater EXT
The Seam Heater EXT from Asphalt Reheat Systems fits directly on various pavers to either side.
1- by 24-foot heating area cosisting of six independently operated sections
Optional automatic thermo output control with capability of maintaining a joint temperature of 250 degrees at paving speeds up to 40 fpm
H-MACH FG110C Utility Fine Grader
The multipurpose FG110C?utility fine grader is powered by a 100-hp CAT 3054T Turbo Tier II diesel engine.
?10-foot sliding moldboard
"Quick-attach" upfront with a loader option/sweeper/front blade/scarifier
Tight turn radius and added maneuverability
Suitable for asphalt paving contractors, general contractors, landscape contractors and municipalities
HDE Rubber Tire Roller Heater
The rubber-tire high-intesity infrared roller heater from Heat Design Equipment is designed to heat the tires without burning.
Infrared sensor to turn heaters off when they have reached the desired temperature
Ideal for use in cold temperature and polymer modified asphalt
Brewer Enhanced Latex Additive (ELA)
Brewer's ELA - Enhanced Latex Additive is designed to speed drying time.
Improves flexibility
Increases resistance to scuffing and power steering marks
Improves aggregate bonding
Kasi Infrared Pro Heat 2000
The Kasi ProHeat 2000 infrared patching system includes a 48-square-foot UltraGlo pavement heater.
2- or 4-ton asphalt reclaimer
Compactor lift; optional hydraulic compactor lift
30 cubic feet of storage area
For repairing alligator cracking, potholes, utility cuts, settling against concrete walks or barriers
Sirocco 3K HTI from Airstar America
The Sirocco 3K HTI from Airstar America is designed to replace traditional floodlights on light towers.
Glare-free light
Can be adapted to existing tower
Will illuminate 72,000 square feet, 360 degrees with 300,000 lumens
Wacker Asphalt Rollers
Wacker's ride-on asphalt rollers include the RD 12-90, RD 12A-90 and RD 16-90.
RD 12-90 features a 20.5-hp engine while the RD 12A-90 features an 18-hp Honda; both models weigh 2,490 pounds, have a 35.4-inch drum width and feature a pressurized water system
RD 16-90 diesel-powered unit features a ROPS and ergonomic operator's platform
All models feature a design to eliminate overhang on the back of the machine for better visibility and allows the units to get right to the edge of the asphalt for a complete and smooth finish
Blacklidge LD-7
?LD-7 from Blacklidge is designed to lock down loose rock.
Nontracking and quick drying
Black appearance makes stripping more visible
Helps stop cracking
Can be used as tack, prime or curing seal
Mauldin 1750-C Super Paver from Calder
Redesigned to save fuel, labor, and asphalt with increasing control, the Mauldin 1750-C Super paver from Calder Brothers features a 4,100-pound Symphony screed with four augers.
80-hp John Deere diesel engine
7.5-ton hopper capacity
8- to 16-foot-wide mat with 6-inch depth
Paves up to 140 fpm
Cimline HeatWave
Cimline's Heatwave Series of direct-fire melters are available in 30-, 90- and 115-gallon capacities for economical, efficient, gravity feed cracksealing.
90- and 115-gallon models feature auger-type sealant agitator powered by a 4-hp Honda engine for quicker melting times and uniform heating
Tube-fired heating system constructed of two single-pass flues
Neal ESSP 550 Trailer
Neal's ESSP 550 trailer features a 550-gallon capacity.
ESSP 50- or 100-gpm piston pump
16 pounds of sand per gallon capability
Once-a-yaear flush out procedure
Heavy-duty agitator drive with infinite forward/reverse
Hand wand and 75 feet of hose
Asphalt Anders 3436
The Anders 3436 3-ton, seven-wheel pneumatic roller incorporates a wobble-wheel system for a quality finish.
Hydrostatic transmission
38-hp Kubota diesel
Pressurized water spray
Certified ROPS
Volvo Wheeled Pavers
The PF-6160 and PF-6170 feature an auger system that is now independent of the conveyor system.
Auger and conveyor drives use sonic sensors for more precise handling of material
10-foot screed width and a maximum paving width of 26 feet
Paving speed of 293 fpm
14.4-ton hopper allows a practical production rate of 820 tph
205-hp Cummins Tier III engine
Dual control stations
Operator station features a new layout and a digital display with onboard diagnostic capabilities
UPM Kold FloPourable Crackfiller
Unique Paving Materials modified asphalt emulsion crack filler can be used on asphalt and concrete pavements.
Fast curing driveable within 30 minutes
Use for roads, highways, parking lots and driveways
Available in drums, buckets and bottles
Gehl 1648 and 1448 Pavers
These Power Box asphalt pavers are designed for all kinds of commercial and municipal applications.
Two, fully adjustable screed options
4- to 13-foot paving widths
4-foot 9-inch to 5-foot 5-inch wall height for better operator visibility
1648 has the option of attaching material augers to the extensions
41-hp Isuzu water-cooled engine
BOMAG Cold Planer Milling Machines
The BM1000/30 and BM1300/30 feature centrally mounted cutting drums that allow precise milling next to walls, curbs and other obstructions.
39.6- (BM1000/30) and 51.4-inch (BM1300/30) cutting widths with milling depths up to 12.6 inches
275-hp Caterpillar diesel engines
Direct mechanical drive design of cutting drum provides maximum power transfer while reducing external losses
Centrally located "over-the-cut" operator's position and sliding operator's seat allow better jobsite visibility
Crafco PavePrep
Crafco's PavePrep reduces premature joint failures and minimizes reflective cracking in new asphalt overlays.
A high-density mastic laminated with tough woven polyester
Designed to withstand stress concentrations at pavement joints
Place over the joint and roll with a pneumatic roller to ensure bond
Also available in a self-adhesive version that requires no tack coat
Multiquip AR-13H Tandem Drum Roller
The AR-13H is a 3,088-pound ride-on roller built for asphalt, and sublayer granular and mixed soil compaction jobs.
3,100 pounds of centrifugal force with 4,000 vpm
35.7-inch drum width
Travel speeds up to 4.8 mph
19-inch curb clearance
60-gallon water tank
Rear drum can be filled with water for extra ballast
Companies in this article