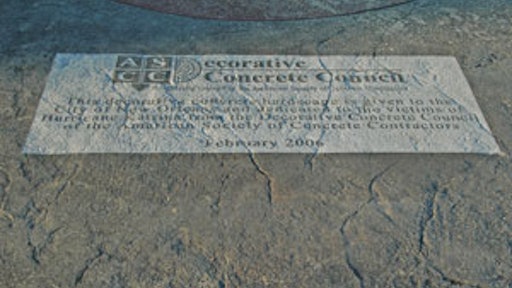 One of the highlights of the ASCC Decorative Concrete Expo in March was the dedication of a decorative concrete hardscape installed by ASCC members as a memorial to the city of New Orleans and the victims and survivors of Hurricane Katrina.
New Orleans had been chosen as the site for the conference before the hurricanes hit, and the board members quickly decided they still wanted to hold it there despite the storm damage. Several members, led by Frank Piccolo of Artcrete and Clark Branum of Brickform Products, wanted to do something for the city and came up with the idea of the decorative hardscape.
It was installed in Tchoupitoulas Triangle Park, at the intersection of Rue Tchoupitoulas and Rue Religious, near the New Orleans convention center. The work was done in mid-February by several members of the ASCC and Decorative Concrete Council. All materials and labor were donated by association members, including Artcrete, Brickform Products, Butterfield Color, CSolutions, The Concrete Countertop Institute, Davis Color, Engleman Construction, Fritz-Pak Corp., Greystone Masonry, Hanley Wood, Lafarge North America, Lloyd Concrete Services, Percy Concrete Design, Performance Lubricants and Specialty Concrete Products.
The installation used integral color for the dark gray and a shake-on color hardener for the red. The walkway was stenciled and the rest of the area was stamped. The dedication plaque was sandblasted.
The expo also included two days of seminars and demonstrations.