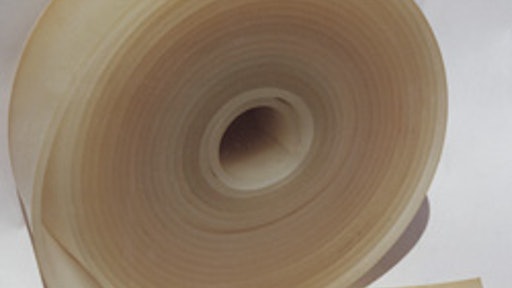 Diamondback urethane liner solves wear problem.
APAC's Birdeye, AR sand and gravel operation recently installed Bailey-Parks' Diamondback Urethane Liners to solve costly wear problems it experienced in maintaining the facility. Gary Adamson, plant manager, says the urethane liners are like nothing he's ever seen and he's informed other plant managers of how well the product has solved the wear problems he was experiencing at his plant.
"We put it virtually everywhere the raw material comes in contact with a steel surface," he explains. "We use it for skirtboards, belt wipers, impact areas, chute liners, and for sand screw shoes."
Adamson also notes that Diamondback is easy to handle and especially easy to install because it can be cut to size and bolted in place. No worries about welding and torch cutting as with steel liners, and it is extremely durable in severe applications such as sand and gravel handling.
In the impact area of 3-inch minus rock, the APAC crew tried many solutions to the wear problem. A 1 ½-inch-thick plate of hardened steel, which was guaranteed to last, only held up one week. Bailey-Parks' Diamondback laminated pad has been in place for five years, and there's no visible signs of wear after running 800 tons of material per hour for 16 hours, 7 days a week.
Adamson says that lining spouts and troughs with Diamondback has saved hundreds of man hours in the maintenance and repair costs associated with the replacement of other types of liners. A simple strip of urethane used for belt skirting is particularly long lasting and durable with a 45-degree bevel cut with a portable circular saw.
MobyDick Wheel Washing System
The MobyDick wheel washing system is designed for construction sites to lessen the amount of mud, dirt and debris trucks track onto the country's roads and highways. The MobyDick Junior is a compact, portable and totally enclosed roller system for construction sites with heavy material and up to 100 daily truck movements. The unit automatically turns and washes a vehicle's wheels, recycles the washwater for re-use and discharges the settled out sludge via an integrated scraper-conveyor system.
Burke In-Line Heaters
Burke Heating Systems offers a complete selection of in-line preheaters for the asphalt industry. The pre-heaters can generate high BTU values while using less expensive fuel oils such as #4 and #6. Sizes range from 45 to 180 kw.
Thermotrack Decorative Stamped Asphalt
Thermotrack's Decorative Asphalt System is available in two imprinting methods for existing asphalt or new asphalt applications. Thermotrack provides the necessary equipment and products to imprint, coat and color the asphalt surface. The system includes computer-generated templates and Ultra Bond UB300 epoxy coating to seal and protect the surface.
Thomas ProTough 900
The 22,340-pound ProTough 900 portable screening plant features a 5-cubic-yard load capacity and a fuel-efficient, 46-hp Kubota D2203 diesel engine. Features include a 13-foot 6-inch hopper length and a loading height of 10 feet 11 inches. Other features include a variety of wire cloth screens for easy, efficient screening of multiple material types, air-ride suspension with a fifth-wheel plate, heavy-duty structural steel and reinforced steel plate construction. The removable, reusable shaker head is easily installed.
AI Pavement Design Software
The Asphalt Institute (AI) introduces its latest software offering, SW-1 Asphalt Pavement Thickness Design Software for highways, airports, industrial facilities supporting heavy wheel loads and more. The new Windows-based user interface integrates previous AI thickness design programs into a single program. It features improved data file handling and management. An extensive context-sensitive HELP file addresses common pavement design questions. The software is written in strict conformance to the AI MS-1, MS-11, MS-17 and MS-23 manuals.
Fabick Poured On Liner
Fabick's Poured On high-impact liners offer a durable, protective coating for your truck bed or trailer. There are no tiny air bubbles trapped in the product during the curing process. The finished product is self-leveling, offers improved load-release and can give even an old, uneven surface a strong, level finish. There are no bolts, holes, vapor, fumes, overspray, or taping or masking.
Energy Absorption Systems Snap-It and Wrap-It
The Safe-Hit Division of Energy Absorption Systems introduces Snap-It and Wrap-It reflectors, that attach easily to practically any post or similar type product that needs quick and significant visual enhancement. Snap-It and Wrap-It reflectors are exceptional at highlighting signs that maybe partially obstructed or for delineator applications not requiring a rebounding post. The Wrap-It reflector is practical for odd shaped or larger posts. Made from durable plastic material, the reflectors offer 360-degree visibility. There are several sizes, reflective properties, colors and decal options for both models.
MultiTherm IG-1 Heat Transfer Fluid
MultiTherm IG-1 has been designed to offer an economical alternative and highly refined hydrotreated mineral oil that includes temperature ranges from 10 F (-12 C) to 550 F (288 C). Properties include a high flash point of 442 F, very low vapor pressure, non toxic and non hazardous. The fluid is designed for use in systems equipped with expansion tanks, and it is recommended to have pressure relief valves and an inert gas blanket on the system.