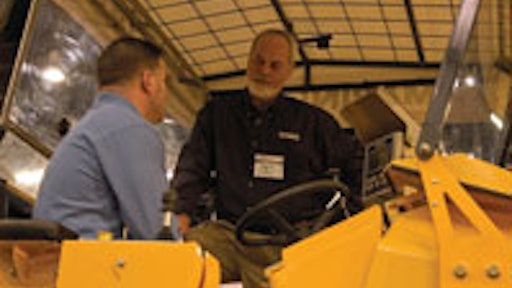 About 2,200 attendees packed the aisles at the Cobb Galleria Centre in Atlanta, GA, for the 20th anniversary of National Pavement Expo. Upon entering the exhibit hall, show goers' eyes were drawn toward the towering Marini MP 1300 cold planer milling machine at the Bomag Americas booth.
"This was the first time in years contractors were able to see a milling machine on the floor, and it attracted the attention you would expect from paving contractors," said Loretta Miles, show manager. "At our annual Advisory Board lunch the milling machine was a hot topic, and board members said they expected even larger equipment on the floor next year."
Attendees also got a great look at hundreds of other pieces of equipment from all areas of pavement maintenance and reconstruction during two and a half days of exhibits. Miles said increased attendance and strong sales on the show floor helped make the 20th anniversary National Pavement Expo a success.
On the floor
Many companies chose NPE to introduce updates and new equipment at the show.
Equipt Mfg. debuted several updates and additions to its sealcoating machines that emphasize the company's "push on safety." In addition to former safety offerings, Equipt machines are now available with safety strobes, a back-up alarm, safety cones and holder, and a water jug. The control panels were also relocated to the curb side of the machine to keep operators out of the street.
Billy Goat Industries had on hand its recently introduced QB1601 walk-behind blower, available in self-propelled or push models. Just like the smaller horsepower blowers in the Quiet Blower series, this 16-hp model features a nylon fan for quiet operation.
BLS Enterprises now offers Poly Bolt-On track pads for asphalt milling machines, asphalt pavers, and concrete slip form pavers. These polyurethane pads are removable from their steel grousers, which reduces costs associated with replacement parts, shipping, and labor.
At the Elgin Sweeper Company booth, attendees could take a walk around the Waterless Eagle, Elgin's waterless sweeping system that creates a nearly dust-free environment. Dry sweeping, a new concept many people are still unfamiliar with, has many advantages, including waterless dust suppression, the ability to sweep in freezing weather, and increased environmental benefits.
Deutz Corp. recently introduced two new engines that fill out the bottom of its water-cooled diesel line — the 2008 and 2009 series, with power options from 15 hp to 67 hp.
Cimline showcased its updated 110 Magma cracksealing melter/applicator. The 110-gallon unit now comes with a 4-cylinder engine, a self-contained compressor for cleaning cracks, a screw-type air compressor tank, and a 50-foot hose.
New to the show
Seventeen companies showcased their goods at National Pavement Expo for the first time. Databurst Technologies displayed its iTRAK Wireless GPS service. EZ Estimating demonstrated how its software program could help contractors keep their company organized.
Several companies showcased their line of safety equipment, including Korman Signs, which introduced its ALPOLIC signs, produced from a hi-tech aluminum composite material, resulting in a light, rigid sign that is NCHRP 350 crash tested and suitable for work zone safety. Trinity Industries displayed its line of safety products, including their mobile protection system, the MPS-350 Truck Mounted Attenuator, which has all-steel construction and an open design. Other safety-minded companies that manufacture products for pedestrian and driver roadway safety included Pathmark Traffic Products, Detectable Warning Systems, Ray-O-Lite, and Jarvis Infrastructure Services USA.
Minuteman Parker showcased its Parker line of wheeled blowers, while Heavyquip had its line of drag shoes for street sweepers, pavers, snow blowers on hand at its booth.
Dot Trowels gave contractors a look at their one-man, power-agitated curb and gutter system.
Other first-time exhibitors included Center Capital Corp., which offers financial services; Odor Management, which sells Ecosorb, an asphalt additive that controls odors often associated with asphalt production and application; Mobo Corp., maker of grade control systems; Northern Asphalt, a distributor of sealcoating equipment; Rose Paving Co., parking lot management national service provider; and Waterblasting.com, which produces a high-pressure water paint removal system.
Companies in this article