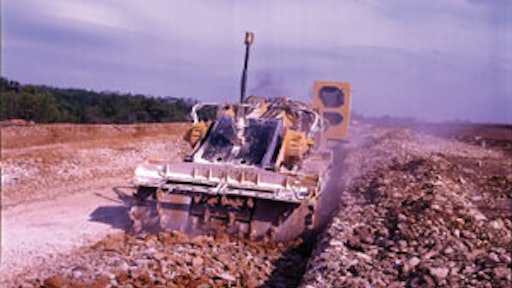 When L.B. Enterprises was hired to do site grading work for construction of a new Kohl's department store in Belton, MO, company owner Rick Brown knew he was faced with a challenge. L.B. Enterprises was to serve as a subcontracted primary site development contractor for the Overland Park, KS-based Design-Build Group. Brown's crew would perform all the site grading operations on the job, but several other portions of the site development were subcontracted out, including storm sewer, water line, sanitary sewer and retaining wall.
One requirement of the project was to crush rock to 6 in. and smaller. The rock would be used to construct a building pad, and soil engineers wanted rock small enough to fill voids during the site prep. L.B. Enterprises typically uses scrapers, along with hydraulic breakers or blasting methods, particularly when the specified material end size is this small. However, due to the site's residential location, using explosives was not an option.
Crushing rock in place
Knowing it was going to take an enormous piece of equipment to crush more than 60,000 cu. yds. of limestone into rocks that small, Brown contacted the Vermeer dealership in Olathe, KS, and found the Vermeer T1255 Terrain Leveler, a demolition and excavating machine capable of cutting an area up to 12 ft. wide and 27 in. deep in a single pass. The T1255 combines a rock trencher with the Terrain Leveler attachment to provide a 600-hp, 240,000-lb. surface-mining machine with top-down cutting action via a large direct-drive, hydrostatically-controlled cutting drum.
The Terrain Leveler is designed to eliminate the need for primary crushers, large loaders, large mining haul trucks -and associated permits -in addition to rippers and vertical drills. One T1255 can perform site preparation and excavation, mine material, stabilize contaminated soil and remove roads.
According to Brown, the Terrain-Leveler matched up perfectly with the project specifications. The T1255 made the 6 in. and smaller rock by the very nature of its design," he says. The number of teeth on the cutting wheel determines the ground-rock size. If you remove or add teeth, then the rock size changes.
It gets the job done -fast," he continues. I like my customers to say, 'I can't believe you moved that much material in such a short time'. This machine helps me to keep them saying that."
Big savings on retaining wall
The Terrain Leveler also helped Brown's crew save the project owner a substantial amount of money on a portion of the project. One challenge we overcame with the machine involved the west boundary, which called for a large, expensive retaining wall system to be installed," Brown says. We offered an alternate construction method that combined a much smaller retaining wall with a reinforced, stabilized slope system and a large fill slope constructed of rock."
The slope system is a combination of retaining walls and rock. The idea for this combination came from the St. Louis Retaining Wall Co. and knowledge that L.B. Enterprises gained while doing work for the Missouri Department of Transportation.
A 2-ft. section of 6-in. and smaller rock (crushed to size by the T1255) created the slope. A special plastic fabric grid system was installed between layers of the smaller 6-in. rock. Then larger 2-ft. and smaller rocks were placed upon this 2-ft. stabilized layer of material.
"All in all, this method saved the project owners a couple of hundred thousand dollars," says Brown.
Track-type tractor looks to the next century
On November 4, 1904, Benjamin Holt demonstrated the first commercially successful tractor that moved on self-laying tracks. The machine's movement inspired it to be dubbed a Caterpillar".
Just over 100 years later, the original steam-powered Caterpillar has evolved into a full range of technically advanced products ranging from the 16,000-lb., 70-hp D3G to the 250,000-lb., 850-hp D11R Carrydozer. In all, there are approximately 35 different track-type machines in the Caterpillar lineup today.
The company is now turning its attention toward the next century by introducing its latest advancement in track-type tractors, the D8T. The D8T is the first off-road machine from Caterpillar to utilize ACERT Technology, and is its first commercially available off-road machine to meet EPA Tier III emissions standards. ACERT technology will also be used across the company's line of construction and mining equipment.
In addition to the C15 engine with ACERT Technology, the 310-hp D8T includes a newly designed operator workstation, placing machine controls and vital information at the operator's fingertips. It also includes integrated electronic control and guidance systems to improve overall machine capacity utilization.
The first new D8T model was purchased by Site Concrete Inc., a Grand Prairie, TX-based heavy construction company with a fleet of more than 250 Caterpillar machines. The new unit was purchased from HOLT CAT and was delivered almost 100 years to the day after the introduction of the very first track-type unit.
My great-grandfather developed the first practical track-type tractor, which he named the 'Caterpillar', so it's very appropriate that a HOLT customer will be the first to buy the latest version of the Caterpillar track-type tractor," says Peter M. Holt, CEO of HOLT CAT.