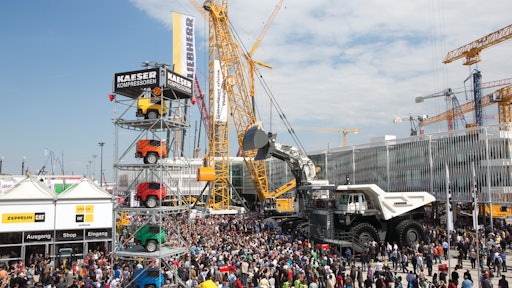 An impressive 530,000 visitors from over 200 countries converged on the Messe München exhibition center in Munich, Germany, between April 15 and 21 to attend bauma 2013, the 31st International Trade Fair for Construction Machinery, Building Material Machines, Mining Machines, Construction Vehicles and Construction Equipment. Not only did this edition of bauma break all previous records for exhibitor numbers and exhibition space, it also attracted the highest number of visitors in its history.
"This is very good for our industry in these turbulent times and it will certainly give it a boost," said Johann Sailer, chairman of the Construction Equipment and Building Material Machinery Association of VDMA and president of the Committee for the European Construction Equipment Industry (CECE).
A Truly International Event
The proportion of international attendees was at its highest level ever for the triennial exhibition.
"Our exhibitors were delighted with the quality of the visitors here and with the international spread represented among them," asserted Klaus Dittrich, chairman and CEO of Messe München, which serves as bauma's organizer. "With over 200,000 visitors from outside Germany, the number of international attendees was higher than ever before. The response this year has simply been outstanding."
The top countries of origin included Germany, Austria, Switzerland, Italy, the Russian Federation, France, Netherlands, Great Britain, Sweden and Poland. Indonesia, bauma's partner country this year, was also strongly represented, with a high-ranking political delegation and around 800 visitors.
"bauma 2013 certainly showed itself from its best side. The trade audience here was first class and very global," said Dr.-Ing. E. h. Martin Herrenknecht, chairman of the Board of Management of Herrenknecht, a German manufacturer of tunnel boring machines. "We were able to communicate, in a very targeted way, our broad portfolio and our top innovations in tunneling and mining."
Ron DeFeo, chairman and CEO of the Terex Corporation, was equally impressed. "As the largest show in our industry, bauma represents a unique opportunity to meet with a multitude of our customers from around the world," he stated.
Johannes Weiermair, managing director of SBM Mineral Processing, agreed, adding, "For us, bauma 2013 was a tremendous event and a great success – on the one hand because of the truly world-spanning international scope among the visitors, and on the other because of the very high level of contacts."
Attendees in a Buying Mode
In total, 3,420 exhibitors (1,346 from Germany and 2,074 from abroad) representing 57 countries presented their latest products and innovations in construction and mining machinery on a record exhibition space of 570,000 sq. meters (6.1 million sq. ft.).
Visitors to the exhibits were in the buying mode. "This has been an absolutely positive trade show for us," said Stefan Heissler, member of the Liebherr-International AG Board of Directors. "We welcomed customers from all around the world at our booths and we signed up lots of new orders. In some product sections, we exceeded our expectations by a long way."
Michael Heidemann, chairman of the Management Board of Zeppelin Baumaschinen GmbH, saw similar success. "From the first day on, the booth of Zeppelin and Caterpillar was almost overrun with visitors," he said. "We have sold more machines at bauma 2013 than ever before and have set a new record."
For additional coverage of this year's show, including product introductions and show highlights, simply enter "bauma 2013" in the search box at ForConstructionPros.com, or visit www.bauma.de/en/. The next bauma will take place from April 11 to 17, 2016.