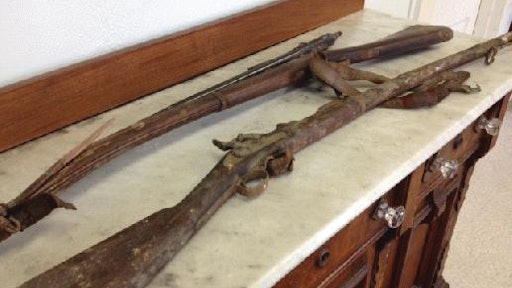 Information from this article was first published in Demolition Magazine and is being reused with permission from the National Demolition Association.
Demolition workers from NCM Demolition, one the largest providers of demolition services in the country, were startled to find a pair of unique guns dating back to the Civil War during a recent project in Xenia, Ohio.
The guns, identified as Springfield Trapdoor Rifles made in the 1870s, were found in a pile of debris while the NCM crew was tearing down the walls of what once was the Armory Building at the former Ohio Soldiers' and Sailors' Orphans Home. Today the historic building known as the Association of Ex-Pupils Museum, houses historic artifacts from the Civil War and the Ohio Soldiers' and Sailors' Orphans Home which was first built in 1869.
Chris Zeuch, a worker with NCM Demolition, said he was amazed when they were found. "To be able to find them is kind of like a needle in the haystack in a pile of debris, and for them still not to be completely mangled, well, it's kind of rare," Zeuch said.
Rocky Wheeler, vice president of the museum, said he has never seen anything like this. "I tell you what, this is one of the biggest finds – if not the biggest find – that we've had so far," he said. I don't know who put these in the walls but I'm sure [in] 130 years they didn't expect for us to find them like this."
The rifles are now showcased with other artifacts located in this museum, which holds more than 140 years of history.