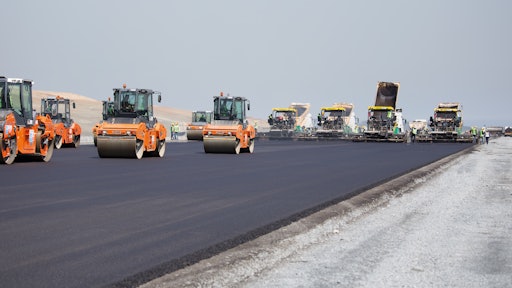 After just three years of construction, the world's biggest airport (measured by passenger numbers) is set to go into operation in 2018, initially with two runways, expanding to three by 2019 and, by the end of the project in 2028, to six. The İstanbul Yeni Havalimanı, to give the "New Istanbul Airport" its official name, is also the biggest infrastructure project in the history of Turkey.
As so often on airport jobsites, Wirtgen Group technologies are on the radar. That is also the case with the developer İGA, a consortium of the five leading Turkish contractors Cengiz, MAPA, Limak, Kolin and Kalyon. The construction companies have opted for a Wirtgen Group fleet comprising over 50 machines and plants. To be precise, Benninghoven asphalt mixing plants, Vögele road pavers and Hamm compactors and tandem rollers for soil and asphalt compaction will be responsible for getting the jobsite set for take-off. Wirtgen slipform pavers will be used to produce a number of concrete taxiways.

Wirtgen

soil stabilizers and Hamm compactors lay the perfect foundations
The earthworks for the new airport were a major project in themselves. On this 22,240-acre site, the challenge was to create a base with a high load-bearing capacity. But the machines which took on the job — three Wirtgen soil stabilizers of types WR 240, WR 200 and WR 2500 and 10 Hamm 3516 compactors with an operating weight of 16 tons were more than up to the task.
Once the WR machines had reliably stabilized the ground, the non-cohesive soils of gravel and crushed stone were compacted with ease by the Series 3000 machines. They offer a winning combination of high centrifugal force and static linear load. Strip by strip, the machines compacted the soils which had been placed by trucks and spread by graders with a dumping height of 12 to 16 inches — laying the basis for an infrastructure that scores high on superlatives.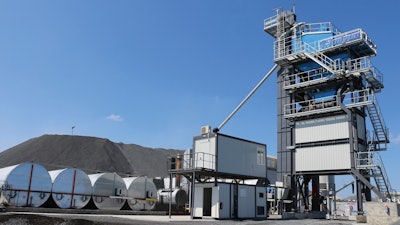 A key advantage of Hamm technology for earthworks is the three-point swivel joint developed by Hamm. It provides for outstanding all-terrain mobility, supporting safe maneuvering even on rough ground. It also offers excellent driving comfort, since jolts are effectively dampened.

Six Benninghoven asphalt mixing plants form the backbone of the site
A glimpse at the fleet of vehicles highlights the massive scale of the airport project: over 3,000 modern trucks are in use — many of them being used to transport mix. The high-quality asphalt mix for the runway construction is being produced by six Benninghoven mixing plants, one each of the types TBA 3000 and TBA 4000 and two each of types ECO 3000 and ECO 4000, with mixing capacities of 240 tons per hour and 320 tons per hour. This corresponds to up to 1,680 tons per hour, depending on the type of asphalt to be produced.
The mix for the surface course consists of a stone mastic asphalt with polymer-modified bitumen. The material is used for surfaces which are subjected to heavy stresses and consists of a mix with a high proportion of stone, polymer-modified bitumen and stabilizing additives for the bitumen. The composition is balanced so as to ensure lasting resistance to deformation, producing surface courses which are robust, safe for traffic and have a long service life. All Benninghoven plants can handle such challenging manufacturing processes — including the transportable asphalt mixing plant TBA or the plant in container design, ECO for short.

"A big box of wonders": ECO creates flexibility
The Benninghoven ECO is a particularly suitable choice when asphalt mixing plants are required on temporary sites, as in Istanbul. It combines cutting-edge Benninghoven technologies with a high standard of production, all within compact containers, guaranteeing maximum mobility and flexibility. ECO plants can be operated as stationary units, but can also handle rapid changes of location without difficulty.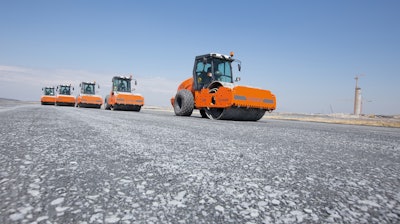 Since all main components are designed in ISO standard container dimensions (20 or 40 feet), they are also easy to transport by truck, ship or rail. Meanwhile, these high-performing plants with fixed options guarantee optimum mix quality. Another winning feature of the ECO model — as with all Benninghoven plants — is the maintenance-friendly, high-quality and long-lived components.
Vögele pavers in formation flight
A total of 12 Vögele pavers are in operation, laying down asphalt for the runways and a number of taxiways. In addition to the latest "Dash 3" generation of SUPER pavers (3 SUPER 2100-3 pavers), some of the paving teams are also working with predecessor models (3 SUPER 2100-2 and 6 SUPER 1900-2 pavers). These pavers have already completed many thousands of operating hours and are proof of the great longevity and reliability of Vögele technology. The machines are constructing the first three of a total of six runways — comprising a 11.4-inch base course, a 4.7-inch binder course and a 1.6-inch surface course.
Asphalt paving over a surface of 2.2 million square meters
The fleet of 12 Vögele pavers is equipped with extending or fixed-width screeds of types AB 600 TV or SB 250 TV. The AB 600 extending screeds have a basic width of 10 feet and can pave at widths of up to 31 feet when fitted with bolt-on extensions. On the airport job site, the Highway Class pavers SUPER 1900-2 operate with the AB 600 TV extending screed at a width of 25 feet. The SUPER 2100-2 and SUPER 2100-3 pavers are also in the Highway Class and operate with SB 250 fixed-width screeds. Their basic width is 8 feet, but this can be extended to 43 feet using fixed and hydraulic bolt-on extensions.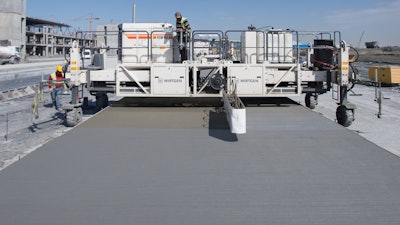 On the jobsite, the working width is 39 feet. In this configuration, the tracked pavers work "hot to hot", consistently meeting the high demands on both quality and productivity as they pave the 12,303 feet or 13,451-foot-long and 246-foot-wide runways and a number of taxiways — a total area of 2.2 million square meters.

Hamm tandem rollers compact the runways
A total of around 20 Hamm Series HD+ and HD tandem rollers are being used to compact the vast asphalt surfaces. They ensure rapid compaction and high area outputs thanks to the large drums. The kneading effect of the GRW 280-10 and GRW 15 rubber wheeled rollers guarantees good surface sealing. With so many Hamm rollers in action, the runways are positively bustling with vehicles. In these circumstances, visibility is a key factor for efficient working and the avoidance of accidents. To that end, Hamm rollers have excellent all-round visibility thanks to a large operator's platform or the large, all-round glazed panoramic cabin that ensures a clear view of the working area directly around the roller and the surrounding area on the jobsite. This visibility ensures the quality of the compacting work and a high level of safety.

Wirtgen

slipform pavers paving concrete taxiways
When it comes to producing concrete taxiways, the İGA consortium similarly brooks no compromises, electing to use machines from Wirtgen, the market leader in slipform pavers. Initially, two SP 500 models with dowel-bar inserters, one SP 25 and one TCM 95 texture curing machine were used for the concrete paving work. They are paving taxiways with a depth of 15.7 inches and a width of a half inch to 2.4 inches.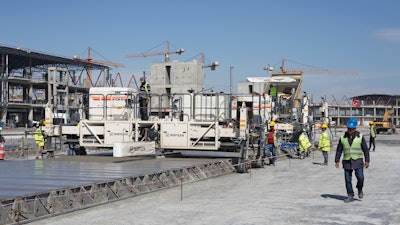 However, the technology was such a sensation on site that the customer ordered a further "machine set" comprising an SP 500 — one of the last concrete pavers of this type manufactured — and a TCM 95 from the Wirtgen brand headquarters in Windhagen (Germany). The SP 500 — which has been a genuine Wirtgen triumph — is being replaced by the new SP 60 series.
The slipform pavers in this series are proven masters in inset and offset applications and can be equipped with a range of options, including a dowel-bar inserter. This is the case for the three SP 500 machines in Istanbul. They insert dowels at intervals of 15 to 20 inches, thus ensuring the correct height of adjacent slabs.

TCM 95 texture curing machine ensures the optimum texture for concrete surfacing
The Wirtgen TCM 95 is the ideal co-pilot to accompany the SP 500 mid-range concrete paver or the new SP 60 and even the SP 90 series. The texture curing machine is equipped with an automatic spraying and brooming system. Once the surface has been broomed to the desired texture, the spraying system applies dispersion to the fresh concrete surfacing to retard the evaporation of curing moisture, preventing stresses and the cracks this can cause. The TCM 95 is equipped with four wheeled chassis and covers working widths of up to 31 feet.