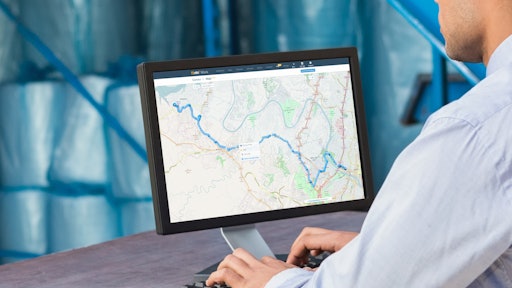 In their day-to-day work, contractors oversee multiple job sites, crews, material drivers, traveling estimators and salespeople. In so doing, they must constantly track and stay in contact with a large team of people who are on-the-go and can be difficult to access. Many different types of technologies have attempted to address these communication issues over the years, but most recently, push-to-talk solutions, now available on any smartphone, has presented a number of solutions for making communication easier and safer. A relatively new feature presented by Zello at ConExpo offers a way for contractors to tailor their PTT system to their company's specific needs.
Based in Austin, TX, Zello offers both a free (Zello) and a subscription-based (Zello Work) PTT app, which is available through the app store on either an iOS or Android phone. Once the app is downloaded, the user can either use Zello for free on the same network as millions of other Zello users, or they can set up their own private Zello Work network through their browser on a computer.
"It's the same idea as Nextel push-to-talk, but it's an app instead of a flip phone," says Bill Moore, Zello CEO. ""Emails and texts have squeezed voice communication out of our lives. Zello puts it back in, focusing on the live human voice, which is how we've evolved to communicate."
According to Moore, the Zello app requires virtually no training. The user taps on a contact name or channel, presses and holds the push-to-talk button, and releases the button when finished talking. The app stores recent and missed messages and alerts the user if there are unheard messages. A history button enables the user to retrieve and replay any messages for up to seven days.
"It provides instant communication. You just have to push the button to talk and the connection is immediate," Moore says.
One of Zello's newest features, Dispatch Hub, is a part of the paid subscription offered by Zello, intended for larger organizations who want to pool their driver dispatch. The Dispatch Hub enters incoming calls from drivers into a queue. Dispatchers can respond to any call from this shared queue, replaying or discarding them, as needed. The dispatcher can also select a specific driver to talk to, without talking over other drivers or creating distracting conversation on a channel for others. The dispatcher also can send a message to all drivers at the same time. Photos and texts can be sent individually or to a group along with voice messages, and dispatchers can locate drivers on a map.
Zello Work Subscription
The main difference between Zello and Zello Work is the ability to access an administration console to manage users and channels centrally. "Zello Work features a variety of options for large organizations," Moore says.
Where Zello generally allows only one person to talk on a channel at a time, the Dispatch Hub feature places callers into a queue and records any calls so the dispatchers can listen back to what they missed or replay a message if they need to confirm something such as an address. Zello Work is best for companies with more than 20 employees because, according to Moore, "smaller companies can often get by just fine with the free Zello version."
With Zello Work, contractors create a private network on a dedicated server. Using a web-based management console,  contractors configure the system to their needs, including showing user status and tracking drivers. Real-time mapping is included with the basic app, but for an additional fee, contractors can add Google maps and traffic data. Other add-on services include a dedicated emergency alert button that sends audio, text, and location to a specified emergency channel, and a message vault that stores and makes available all voice messages, photos and texts.
Construction Biggest Market
According to Moore, the company has 140 million registered users worldwide and is growing at the rate of 1 million new users each month. Roughly one-third of registered users use the app for work, and 40% of the free work-based users are drivers. Approximately 2,000 customers are using the Zello Work subscription product.
Moore says construction is the single biggest market, and the biggest users are driver dispatch and what Moore terms "work teams," such as construction crews, retail teams and hospitality industry workers. He says current users include hundreds of large ready mix and asphalt companies.
According to Moore, Zello Work is popular in the construction industry partly because users pay only per person and per day. "You only use it when you need it, so it's ideal for seasonal work," Moore says, adding it is especially used by quite a few snow removal contractors who want to keep in direct contact with operators in poor weather conditions.
The Zello app also integrates with other systems. For example, it is used as part of Trimble Construction Logistics Division's TrimFleet Suite.
The Value of Voice
"Voice is the most natural way to communicate," Moore says. "In just a few seconds, you can learn a lot from someone's voice including how old they are, their mood, tone, urgency of their message and more – all things you really can't pick up from a text. And it happens in seconds with the voice.
"It's an excellent way to coordinate people and breed trust and build relationships. It's important socially, with teams of people and drivers on Zello channels who are really connected to their peers – otherwise they are isolated."
This is a subject Zello that is currently the basis of an internal research project.
"When you put employees in touch with one another you have a higher level of retention because employees are happier. We're going to do a study on that, but all indications are that voice connection reduces turnover, which is one of the biggest problems contractors have today," Moore says. "Communication is the lifeblood of many businesses. You see traditional radios everywhere you look.This is a modern, more convenient and powerful version of that."