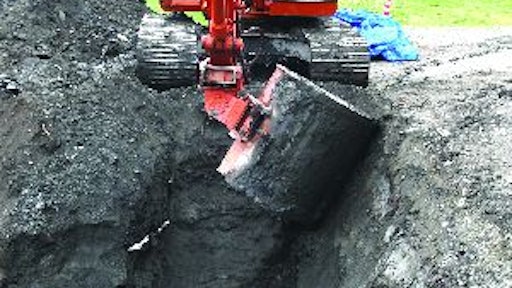 Tilting couplers offer the dual benefits of flexibility in tight spaces and expanded application abilities.
"[Tilting couplers] tilt any bucket up to 180°; increase productivity by 50% to 75%; increase the machine's versatility; eliminate extra equipment on the jobsite; increase the precision of your cut; eliminate service and maintenance issues; and increase jobsite appearance," asserts Robert Kemp, Helac Corp. He adds that the company's PowerTilt coupler is designed to OEM bucket geometry.
In future, tilting couplers will also provide the ability to pick up a variety of attachments. "The advantage of a pin grabber coupler is that they use OEM buckets. The disadvantage is it adds length to the stick," Kemp comments. "Only ranging couplers can interface with various bucket pin geometries. In the near future, our rotating and tilting couplers will have a ranging coupler."
Hydraulic requirements for tilting couplers depend upon the coupler and attachment. "If it has a single hydraulic function, such as the Helac PowerTilt (tilt only), you need one auxiliary hydraulic circuit, which nowadays many equipment manufacturers provide as standard," says Kemp. "If the attachment performs multiple hydraulic functions -- tilts, rotates and maybe runs another attachment or pin grabber coupler -- you would require multiple auxiliary hydraulic circuits or an electric-over-hydraulic diverter system."
In addition to hydraulic requirements, the effects of the coupler's weight must be considered. "Most [tilting couplers] add some additional weight and length to the stick when compared with traditional pin-spacing and multi pin-grabber couplers," says Jamie Adams, Paladin Construction Group. This is due to the additional components in the rotation mechanisms.
Kemp agrees, noting, "[They] do add marginal weight and length to the stick. There is a slight reduction of breakout force and craning ability, but the loss in craning ability is minimal."
There are also instances where you may need to remove the tilt/rotating coupler. "Mass excavating and heavy craning are [examples[ when the PowerTilt should be removed for increased productivity," says Kemp.