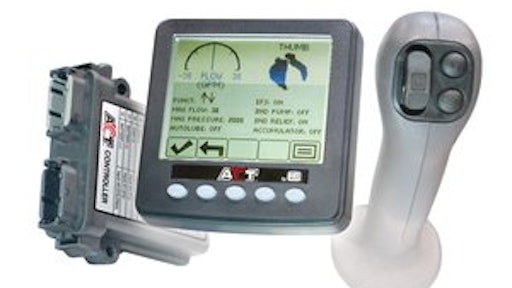 ACT - Active Control Technology
The Active Control Technology (ACT) system integrates all auxiliary hydraulic controls into a digital interface.
Offers advanced control of oil flow, pressure and direction to attachments
Supports components such as quick couplers, auto-lube and accumulators all from an in-cab monitor
Database stores extensive library of pre-programmed attachments and includes attachment-specific operation guides and safety precautions
Recordable attachment operation hours
HKX Inc.
Add-A-Stick
The Add-A-Stick is available for installation on all major hydraulic excavators in the 30,000- to 250,000-lb. class.
Lengths from 8 to 26 ft.
Custom designed to meet specific application
Manufactured with A-514 T-1 steel
Small excavators can be transported with the stick installed
L & G Products Company, Inc.
BIC Super High Flow Kit
Burlington Installation Corp. offers a Super High Flow Kit for Case 440, 450 and 465 Series III skid steers.
34 gpm at 4,500 psi equals 89 hydraulic hp, a 33% increase
16 gpm at 4,500 psi in reverse
Separate 8-gpm auxiliary for attachment control
Additional cooler keeps temperature down enough to drive almost any attachment
Factory ordered as the high-flow kit
Burlington Installation Corp. BIC
JRB VersaLoc Quick Coupler
The VersaLoc excavator quick coupler can handle hook widths from 9.75 to 17.18 in., and pin spreads from 13.7 to 16.6 in. up to 22.4 to 24.9 in.
Accommodate pin diameters from 60 to 110mm
Enable attachment changeout in seconds without leaving the cab
Lower offset and reduced weight allow more force to be available to the attachment
Pilot-operated check valve assures the cylinder is locked in the case of hydraulic pressure loss
Features a detent lock on the stick pin that retains the attachment
Paladin Heavy Construction
Model 200 Series Conversion System
The Model 200 series independent rubber track conversion system adds versatility to this aerial device based on a 4x4 Ford F-550 chassis.
All-seasons operation in all types of terrain and under poor travel conditions
18-in.-wide rubber track provides added traction and low ground pressure
Mattracks
Poly bolt-on track pads
Poly Bolt-On Track Pads enable reuse of predrilled steel triple grousers by replacing only the removable polyurethane track pad.
Save 35% to 40% in replacement costs and up to 50% in labor costs
Bolt directly to the pre-drilled triple grouser
Install and remove easily
Fit all Roadtec and most other milling machines and asphalt pavers
BLS Enterprises, Inc.
ProTrac Series Skid Steer Tracks
The PROTRAC Series self-cleaning skid-steer tracks are offered in three styles to handle virtually any job environment.
Manganese-enriched steel alloy construction
Use pins and links made of heat-treated forged chromium for greater wear resistance
Self-cleaning
Stabilizes skid steer bounce and eliminates tire slippage
McLaren Industries, Inc.
PWCE Extendable Dipper
The Extendable Dipper is designed to increase the reach of full-size and compact excavators, as well as backhoe-loaders.
Install easily for more versatility
Up to 30% more reach
Auxiliary hydraulics available
Transports with the machine
Able to lift heavy loads
Paul Wever Construction Equip.
Quick Couplers
Ajusta-Buckets quick couplers include many safety-minded features including lift hooks and safety front hooks.
Compatible with standard buckets designed using OEM specifications
Allow most buckets to be attached in the reverse position for shovel-style digging
"Snap-lock" latching mechanism available in sizes for compact and large excavators and tractor-loader-backhoes
Hydraulic-powered latches available for larger class excavators
Lighter-duty, lower-cost "Snappy" available for compact excavators and tractor-loader-backhoes
Ajusta-Buckets / York-Seaway
Ultralok Tooth System
The Ultralok tooth system features a hammerless lock that is integrated into the point to increase safety and eliminate the need for separate pins or locks.
Offered in seven construction sizes to cover 6- to 75-metric ton class excavators and 3- to 12-yd. class wheel loaders
Complete family of tooth shapes available
Lower profile system increases penetration for greater productivity and reduced fuel consumption
Increased usable wear metal for reduced maintenance and downtime
Allows for quick, easy point replacement in the field
ESCO Corporation
VTS Versatile Track System
The VTS Versatile Track System is a complete rubber track undercarriage that bolts directly to a skid steers standard hubs in under an hour.
Provides bi-directional suspension that adjusts independently from one side of the machine to the other
Suspension automatically applies the track undercarriages back to the ground to maximize track footprint, evenly distribute horsepower and improve machine stability on uneven terrain
Loegering Mfg. Co.