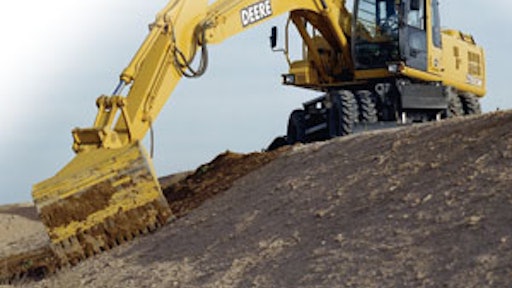 The excavator is probably the best platform for attachments because of the 360° swing and essentially 160° digging arc," says Matthew Hendry, product consultant, hydraulic excavators and articulated trucks, John Deere."You add the tilt blade, now you have added another component of flexibility to an incredibly flexible system."
Prior to being hired as a product consultant, Hendry was a contractor who performed a lot of specialty work."People who use tilt buckets learn that they can do all kinds of contour grading from one position," he says. This increases productivity and reduces costs."They are not going to be wearing their undercarriage as much.
"In the right application an excavator takes the place of a finish dozer or a motor grader with a tilt bucket," he continues."You eliminate the overhead of a dozer, a second operator-the whole shooting match."
Hendry adds that tilt blades are particularly well suited to wheeled excavators, especially for maintaining ditches on the side of the road."It is just a very quick and versatile tool," he states.
Mobility expands application
Pinto Construction Services Inc., Buffalo, NY, has been an innovator in Western New York for the past 50 years."We were the first in Western New York to have a hydraulic excavator," recalls James Panepinto."We were the first in our state to have a hydraulic shear. We had a LaBounty shear. We have always tried to stay ahead of the learning curve a little bit. We like technology and the advantages that it gives you."
Labor savings is always a primary consideration."Labor is our single most expensive portion of a project cost," says Panepinto."Anything that we can do to reduce that is a huge savings."
For that reason, Pinto Construc-tion Services was one of the early adopters of the swing and tilt attachments. They have since upgraded to the Helac PowerTilt."I would never buy a utility-size machine that digs foundations or does pipe work without a PowerTilt," says Panepinto.
"Imagine if you had a cast on your arm," says Panepinto."You could still use your arm, you could still use your fingers, but you cannot use your wrist. That's how much less mobility you will have without this attachment.
It gives you an extra joint. If you didn't have one of these, you would not know any different. But guys who have these, it is almost [to where we won't even consider] not putting them on our smaller excavators. We have them for 50,000-lb. excavators and down."
Digging a foundation provides a good example of the benefits."OSHA allows you to bench or slope," says Panepinto."Try to slope with an excavator that doesn't have one of these. It doesn't happen, not that easily. With the tilt, you tip the bucket to the slope that you want and you pull it. The next thing you know, you have an OSHA-approved hole as opposed to a step. A lot of times, steps do not hold up depending upon the cohesiveness of the soil."
In addition, the PowerTilts are used for ditch cleaning and with hydraulic breakers."I have the largest hydraulic breaker fleet in this area," says Panepinto."Probably 50% of the hours on all of the ones that I have are hammer hours. This unit allows you to angle your hammer in such a way that you have a good seating point and you can hammer on all different angles." It also allows you to hammer a foundation in a trench vs. bringing in employees with hand-held breakers.
Pinto Construction Services has been using the swivel attachments since 1993 with great success."It's been great and we are not kind to them. We still have our original one. I probably have 12,000 hours on it," says Panepinto."I have rebuilt it twice."
Prices for the swivels range from $7,000 to $14,000 installed and Panepinto claims it only takes about four weeks to get a return on this investment in his operation.
A true multi-use tool
Based in the Boston area, J.F. White Contracting Co. performs heavy civil construction, highway, railroad right of way and some marine work. It has 12 WainRoy tilt and swinging attachments that have been in use since 1996 on John Deere 410 and 710 backhoes and various wheeled excavators.
The tilt buckets prove useful in tight excavations."They are for utility work and work in tight spaces," says Steven White, director of equipment.
"Mostly, it was excavating below utilities. Then it grew into grading and handling material, as well."
The tilt blades allow J.F. White to grade and slope along sidewalks and roadways where it would not make sense to bring in a dozer. They were also well suited for work the company performed on the Big Dig project."Because of the machine's lifting capacities and reaches, they were more versatile around utilities," says White.
In fact, the superintendents have adapted to the increased capabilities offered by the tilt buckets."They are so used to it that it has almost become a requirement for our company to purchase them," says White.
Simplified grades and slopes
Universal Land Construction Co. uses approximately 11 Helac PowerTilt attachments in the construction of retention ponds. The attachments range in size from a unit mounted to a John Deere 35 excavator to models suited for 330 Cat and 330 John Deere excavators.
These PowerTilts have proven durable over the last five years of use."It is extremely reliable," says Dave Coesens. They have also increased productivity."In the old days, most of the retention ponds were done with dozers or with excavators that were sitting on a level pond bottom or a level top. With a regular bucket, however, your machine is sitting how your bucket is. You would slope either straight up or straight down to you," explains Coesens.
The tilt buckets do not require the excavator to be sitting on a flat surface."With a tilt bucket, you can be sitting on a steep hillside, yet you can cut a bench across it," says Coesens."You can reach out and flatten your bucket and cut that bench or, vice versa, slope off the side at any angle. You don't have to be lined up with your slopes. You can reach off to the side and you don't have to reposition nearly as often."
Coesens is currently operating a John Deere 230 excavator with a PowerTilt head and a 7-ft.-wide bucket that is approximately 2-ft. deep for grading."I run a 2-ft.-wide digging bucket whenever I have to dig hard," he adds.
Coesens says it is important to make sure you correctly match the tilt bucket to the excavator."I think the biggest problem is somebody buys one that is too big and they mount it on a machine that does not weigh enough. It ends up bucket heavy in the front," he explains."You end up putting more counterbalance on it and still it sometimes is not enough."
But the return on Universal Land Construction's $10,000 investment comes quick in this application."On the right application, the payback could come within a job or two," says Coesens.
Reduced labor
Arvy Construction is a Charlotte, NC-based contractor that works on highway, airport and city projects. The company is currently using two Rockland 42-in. tilt buckets mounted on Kubota 121 excavators. This combination has allowed Arvy Construction to reduce labor, reduce operating expense and increase safety on its city projects.
The company installs sidewalks for the city."We have to grade out for curb and sidewalk and then backfill all of that," says David Cummings, superintendent. Full-size wheeled excavators were previously used for this application, but they proved too big and expensive and they blocked traffic in the street."They are too tight for work on these little neighborhood improvements."
The Kubota 121 excavators with Rockland tilt buckets have proven a better tool for the job."You put one track in the grass strip between the sidewalk and the curb and walk right down doing the cleanup and putting in the good fill," says Cummings."The guys have got so good with this that we no longer have to rake. You are using it more as a blade than as a bucket."
The crew that replaces the grass to complete the project has been reduced to one laborer."We don't have any other equipment and one laborer," says Cummings. There is no raking cost because the Kubota is charged off to grading.
This setup also eliminates working in the street and having to close a lane of traffic."We don't get out in traffic at all," says Cummings."That has been a big plus. We got rid of a flagman-there is a liability savings and there is a huge labor savings. When grading sidewalks, it eliminates shoveling," says Cummings."You can edge it right out so that you are ready to pour the concrete.
Cutting out odd angles on driveways used to require the use of skid-steer loaders and rubber-tired backhoes. But the Rockland tilt buckets on the Kubota excavators have eliminated the need for other equipment. They easily cut the odd angles.
The smaller excavators also offer another advantage when working around existing concrete. The larger excavators have an abundance of power and will easily damage the concrete if you inadvertently come in contact with it."This Kubota doesn't have that problem because you don't have that kind of power," says Cummings. Plus you are closer to the work because of the shorter stick.
The economics have also proven attractive. On a recent project Arvy Construction completed, it paid for the Kubota and Rockland tilt bucket for the price it would have taken to rent a large wheeled excavator to complete the project."A Kubota (121) costs $34,000 and has a $3,500 bucket on it," says Cummings.
The contractor is finding new applications for the tilt bucket all the time. For example, on jobs where stone has to be placed underneath a curb, Arvy Construction will dig it out with a larger excavator or backhoe, then place the stone and grade it with the Kubota and tilt bucket.
And when installing a curb on existing road, the Kubota with the tilt blade has proven effective at placing asphalt along the 1-ft. crack between the road and curb."It works great for placing asphalt," says Cummings."We have found a lot of uses, and I am sure that we will find more. Anybody who gives these a try will be very impressed."