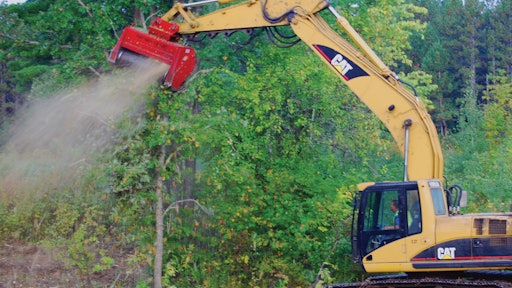 When the Bob Ray Company bid on the removal of volunteer trees and underbrush so that sound barrier walls could be erected along a stretch of Louisville's Watterson Expressway, it knew that the tight quarters would not allow a traditional tracked mulcher to be used. Tee Ray, the company's president, figured they would have to do it by hand, and estimated the project would take a month or more with a three-person crew trimming and chipping.
Fortunately, Ray recalled another clearing project where a Caterpillar 336 excavator was used with a Fecon BH80 mulcher head to enhance a river view project. The BH80 is powered by the excavator's hydraulics to quickly shred standing or fallen trees, as well as underbrush and nuisance vegetation. While hand crews had been used for this type of work in the past, the excavator/mulcher combination completed the project faster and at a third of the cost of hand crews. A carpet of mulch left behind is both aesthetically pleasing and provides a safeguard against erosion. 
"Mechanical mulching is 75% more efficient than hand work," Ray comments. He has observed the technology at work on a variety of clearing applications, including utility right-of-way, sewer main clearing, pre-construction clearing, real estate clean-up/aesthetic enhancements and more. 
Bob Ray Company handles a wide range of land clearing projects. Often, the excavator is used with different attachments, including a tree harvester, a feller-buncher, as well as the mulcher, and occasionally the bucket and thumb. Tee Ray enjoys the versatility that these attachments provide, which allows him to keep the excavator (and its operators) busy all year round. And purchasing attachments has proven far more economical than dedicated equipment such as tracked mulchers, or feller-bunchers. 
Fast, Efficient Clearing
Bob Ray Company was able to use the excavator-mounted mulcher for much of the clearing on the expressway project. The excavator arm and mulcher head were able to reach areas that were inaccessible to tracked mulchers, and the low ground pressure imparted by the excavator resulted in minimal ground disturbance. 
The mulcher's fixed carbide tipped hammers made quick work of Mulberry, Heaven, Silver Maple and Ash trees measuring up to 12 to 14 in. in diameter. Though hand crews were required on some portions, mechanical thinning helped trim three to four weeks off the project, according to Ray.
That efficiency benefited everyone involved. Bob Ray Co. crews moved on to other projects sooner, the wall installation crews got started (and finished) faster and nearby residents enjoyed the sound-deadening qualities of the finished project much earlier than anticipated.