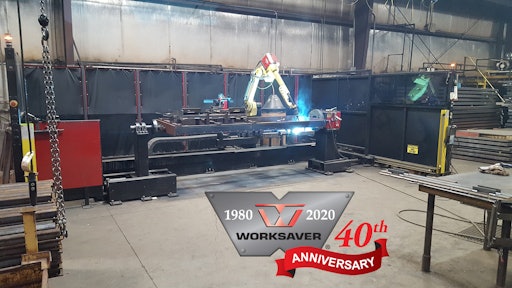 With a history dating back to the 1950s, the WIKOMI Company was re-incorporated as Worksaver in 1980. Worksaver continues today on a path of growth and innovation in manufacturing agricultural, industrial and construction attachments for a variety of applications. 
"It's hard to imagine we have reached this milestone, and I am extremely proud of our people and our industry partners for helping us get here," said Tom Burenga, CEO. "We keep growing with their help and have no intention of slowing down."
Worksaver offers a wide choice of attachments for land management, material handling, hay handling, snow removal and front loader adapters. Its products are used by farmers, ranchers, large property owners, contractors and more.
Robotic welders, fiber laser shape cutting and CNC machining centers are used to assure consistent delivery of quality attachments and products. Worksaver also "builds with sunshine" by utilizing a 411-kW solar panel array to help provide a renewable energy source.