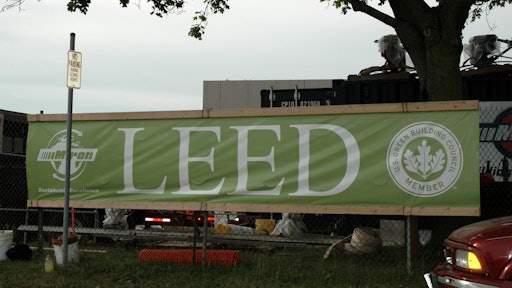 For the outsider looking in, it may be difficult to imagine the construction industry as a leader in environmental sustainability. But if they looked at the changes implemented in recent years, I suspect they'd be surprised to see how far the industry has come in a very short period of time.
It wasn't long ago that you'd find dozens of big machines lumbering around construction sites belching plumes of black smoke. Those days are gone for good thanks to advances in diesel technology throughout the past decade, driven largely by regulatory requirements. Today, emissions output on even the biggest construction machines rivals that of today's passenger cars, with little to no sacrifice in operating performance.
Sustainability As Part of the Process
Practices used on construction sites have also changed substantially. Dictated by a desire to obtain LEED credits and the need to control project costs, contractors are using careful deconstruction of existing structures to reclaim wood, metal, glass, brick, etc., for recycling purposes and/or processing concrete waste on site for use as base material in foundations, parking lots and roads. Old pavement is commonly milled in place for use as base material for new roads and highways, or transported back to the plant for re-purposing into new asphalt materials. Asphalt mixes are also being created from waste products such as reclaimed asphalt shingles and worn tires.
Through these and other practices, thousands of tons of materials are being recycled or reused annually in construction applications. This saves billions of dollars in material production costs and the associated transportation costs to haul materials to and from jobsites. Add to this the corresponding benefits to the environment - including dramatically reduced emissions output - and the advantages mount.
Also consider the tools and processes contractors are putting in place to improve operating efficiency and productivity per gallon of fuel consumed. Such "sustainable" practices include:
optimizing site logistics to reduce cycle times and shorten haul routes;
using newer, more fuel-efficient equipment (often via rental) that meets current emissions tier levels;
utilizing GPS-based automated machine control systems to manage and monitor the grading process, reduce the time of completion and minimize re-work;
incorporating telematics technology to better manage equipment utilization, monitor performance and maintain service intervals to keep equipment in peak operating condition;
utilizing biofuels, propane, CNG/LNG and other alternatives to power certain types of equipment, etc.
From a business standpoint, such efforts are a valid form of cost control. Fuel costs represent a sizable percentage of annual operating costs, and can place a significant dent in meager profit margins. Yet, environmental benefits of reduced fuel consumption go hand in hand – the less fuel consumed on the job, the lower the amount of greenhouse gases emitted.
It's An Image Thing
So given the advances in both equipment and sustainable practices, why is the construction industry still seen as a major polluter by the average individual (and politician)? In my opinion, it's an image thing.
This industry has done a poor job, historically, of tooting its own horn when it comes to the advances being made. Despite years of efforts by various associations, construction is still perceived as "dirty work." Until this image is shed, the industry will continue to struggle to move to the next level.
Perhaps the industry is simply made up of a bunch of humble, hard-working folks not worried about outside perception. Perhaps it lacks an understanding of how to convey the message in a way that's meaningful to a broad audience. Regardless, there is a resounding lack of coordinated effort to change the image of an industry that is evolving at a rapid pace.
Earth Day is simply one chance out of 365 to spread the word that construction has progressed beyond its "black smoke-belching" days. If we want to change perception, it will take a consistent, ongoing messaging campaign.
Plaster your projects with signs promoting LEED participation or recycling efforts. Participate in local environmental programs or summits. Promote your company's environmental initiatives on your website, including sharing percentages or tons of material recycled/recovered on specific projects. Consider hosting an event this time next year centered around an environmental message.
Being perceived as a partner in environmental sustainability is smart business. Increasingly, project owners are turning to those companies who are willing to go the extra step to preserve and protect our natural resources, and in turn reduce project costs. Promoting your company's sustainable initiatives could help bring in additional jobs. And over time, it could help foster a shift in perception on a much larger industry scale.