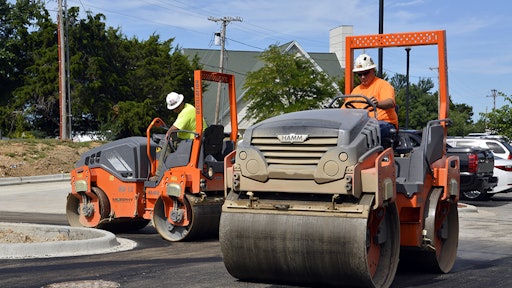 Leo Journagan Construction Company, Inc., Springfield, MO, first learned of the benefits of Oscillation technology via two Hamm HD+ 140 VO "ozzie" rollers it uses on mainline paving projects. Instead of vibrating straight up and down, the oscillatory design gives the drum a horizontal or "rocking" force that keeps the drum in contact with the mat. This attains high compaction numbers with minimal passes and no shattering of aggregate. Some contractors have even found it permits them to remove one or more rollers from a job.
"Oscillation has helped our compaction quite a bit," says Kevin McCann, Journagan asphalt superintendent. "It brings our density points up 1% to 1.5%. The other rollers might be on the borderline, but the different way oscillation compacts brings us up another couple of points."
Mixes spec'd by the Missouri DOT (MoDOT) tend to be Superpave designs. "Because the Superpave mixes have to cool down to a certain temperature before you can gain another point or two, oscillation can get us to density before the mix cools too much," says McCann. "Other rollers were giving us a hard time getting there.
"Breakdown compaction will take place at close to 300° F," he continues. "We let it get to 200° F, and we then will gain another point, point and a half with oscillation."
When Smaller is Better
On MoDOT projects, a density of 92% (minimum) to 96% is the target, notes McCann. Now commercial work is adopting MoDOT specs so density requirements are the same everywhere.
Consequently, when the new Compact Line 47-in. HD 12 VO and 54-in. HD 14 VO oscillation rollers became available in North America last year, Journagan jumped at the chance to put them to work on smaller paving projects such as commercial parking lots.
Last season, Journagan was building a parking lot for a new condo expansion in Branson, MO, including concrete curbs and gutters, placement of crusher run limestone base and paving a 3-in. asphalt lift. Some might say oscillation is fine for the big highway jobs, but overkill for smaller commercial work such as this one.
"I disagree 100%. If it's good for one application, it's good for all," says McCann. "With oscillation on parking lots, we've been able to get density quicker and easier. With regular up-and-down vibration, we would achieve a 91% or 92%, but with oscillation, we are at 93% and 94% - quicker and faster - without having to beat on it when it gets cooler, fracturing the aggregate. Oscillation in the small rollers has been a plus for us, no doubt."
Companies in this article