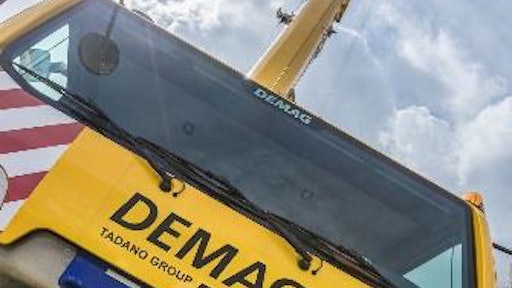 Terex Corporation startled the lift equipment sector earlier this year with the announcement of the pending sale of its Demag Mobile Cranes segment. Now, after more than two decades in the sector, Terex officially exits the business with the formal sale of Demag to Japan-based Tadano Ltd. Tadano announced completion of the $215 million acquisition on August 1st.
The transaction brings together two leaders in the lifting equipment industry. In August 2019, Tadano will celebrate the 100th anniversary of its founding. The Demag Mobile Cranes business also has over 100 years of history in the design and manufacture of large-capacity all-terrain cranes and crawler cranes.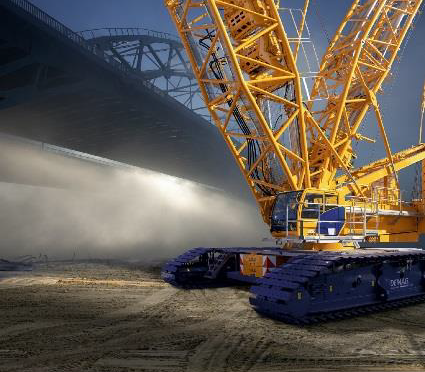 The acquisition of Demag marks Tadano's entry into the lattice boom crawler crane market. Shown is the Demag CC 2800-2.The acquisition of Demag marks the entry of Tadano into the lattice-boom crawler segment, as well as enhances its line of all-terrain cranes. Demag brings with it eight lattice boom crawler crane models with lift capacities from 440 to 3,525 U.S. tons, as well as 15 all-terrain crane models that extend Tadano's maximum lift capacity in-segment to 1,320 U.S. tons.
The Group's total lifting equipment lineup now encompasses more than 80 models, including rough-terrain cranes, all-terrain cranes, lattice and telescopic boom crawler cranes, truck cranes and more.
"The Tadano Group's strategy is to become the global leader in the lifting equipment industry and the premier choice with our customers. The Demag Mobile Cranes acquisition is one vital step toward achieving that goal," says Koichi Tadano, president and CEO of Tadano Ltd. "It expands our penetration into many markets throughout the world, adds lattice boom crawler cranes to our overall product line, and enhances the capacity range of our all-terrain cranes. By working together, we can better respond to our customers' needs and give them greater added value than ever before."
Tadano plans to unite and further enhance the strengths of Demag and Tadano Faun GmbH (TFG), a pillar of the Tadano Group since 1990. The complementary offerings between the two brands' all-terrain product lines will enable the company to leverage synergies throughout the value chain, including crane design, procurement, production and sales support.
Demag AC 45 CityThe Demag mobile cranes business will operate as Tadano Demag GmbH, a subsidiary of the Tadano Group. Effective August 1, it will be led by Jens Ennen, who brings a long history of leadership in the mobile crane industry to his new role as CEO.
"Demag's transition into the Tadano Group will be seamless, and our customers can expect that they will be able to carry out business as usual – right from the very start," Mr. Tadano states. "As our journey with Demag begins, we are committed to providing you with a seamless transition, so you can get on with your important business, smoothly and successfully."
Included in the transaction are Demag's manufacturing facilities in Zweibrucken, Germany, and multiple sales and service locations. Customers will largely continue to work with the same Demag sales, service and parts contacts they are currently using. 
Terex Sells Boom Truck, Truck Crane, and Crossover Lines to Load King
Companies in this article