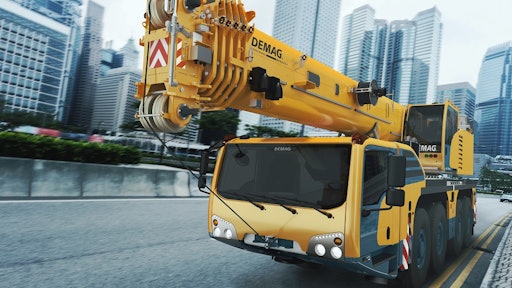 Terex Corporation will sell its Demag Mobile Cranes business to Tadano Ltd. for an enterprise value of approximately $215 million. Demag manufactures and sells all-terrain cranes and large crawler cranes. Included in the transaction are the manufacturing facilities in Zweibrucken, Germany, and multiple sales and service locations. The sale, which is subject to government regulatory approvals and other customary closing conditions, is targeted to close in mid-2019.
"The Demag Mobile Cranes business has been part of our company for almost two decades and produces world class products," said John L. Garrison, Terex CEO. "[It's dedicated] team members have made significant contributions to Terex and to the crane industry. The sale is based on strong industrial logic, as the Demag Mobile Cranes business will become part of a global crane company with complementary products and capabilities. We are pleased to have entered into this agreement with Tadano, a strategic buyer who values the... brand, technology, distribution network and team members."
Commenting on the rationale of the deal, Koichi Tadano, Tadano Ltd. CEO, said: "This is a strategic acquisition that offers Tadano considerable scope for growth. The addition of the well-respected Demag brand of all-terrain cranes and large crawler cranes range extends our product lines and options for customers. The addition of the Demag-branded mobile crane product lines will enhance our global position in this segment. We believe that the Zweibrucken facilities and its global team members, as well as the current distribution partners, are valuable to the future success of the business."
Terex will exit the North American mobile crane product lines manufactured in its Oklahoma City facility. "These changes will simplify our Oklahoma City operation, which will continue to produce telehandlers and re-manufactured units for our Aerial Work Platforms segment and various products for our Materials Processing segment," said Garrison.
A joint statement by Garrison and Steve Filipov, president, Terex Cranes, to customers stated: "As we exit these products, we are also in discussions to sell our boom truck, crossover, and truck crane products lines. We will be in touch with those customers affected by the exit to discuss the transition. Terex will continue to manufacture and support several specialized crane products, including Tower cranes, Pick and Carry cranes, and Rough Terrain cranes. We will now fulfill global demand for rough-terrain cranes from our Crespellano, Italy facility, including the popular RT100US for the Americas."
The company will continue to sell parts and offer service and support for the mobile crane products. "We want to assure you that Terex is committed to supporting your business on an ongoing basis with the parts and services needed to keep all of your Terex cranes working for you," the statement indicated. "This includes those products we are exiting and those we will continue to offer, as well as Demag Mobile Cranes business through the transition of ownership and services to Tadano.
"We believe the sale of the Demag Mobile Cranes business to Tadano is good for our customers," it continued. "It will create a company that is stronger together, with a common core business of lifting. Combining Tadano's 100 years of experience with Demag Mobile Cranes' nearly two centuries will create a global lifting company capable of bringing new leadership to the industry and continuing to create innovative lifting solutions for you."
Terex will continue to manufacture Terex Utilities products at its Watertown, South Dakota facilities. It will also continue to manufacture Terex Rough Terrain Cranes for the global market in Crespellano, Italy, Terex tower cranes in Fontanafredda, Italy, and Terex pick and carry cranes in Brisbane, Australia. 
"These are strong businesses that will continue to be an important part of Terex," noted Garrison. "During these transitions, our global team is committed to providing exceptional service to all of our global customers, including those affected by these changes.
Moelis & Company LLC acted as financial advisor to Terex on this transaction. Bryan Cave Leighton Paisner LLP acted as legal counsel to Terex on this transaction. 
Companies in this article