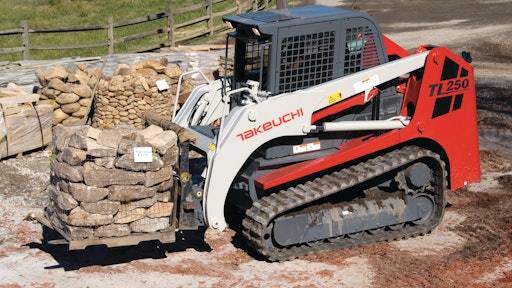 In part 3 of this series on advances in compact track loader designs, the editors at Equipment Today asked leading suppliers of compact track loaders (CTLs) to describe what lies ahead in the next three to five years for these machines, as well as the factors likely to drive changes in equipment design. Here are their responses:
David Steger, product and training manager, Takeuchi: The compact track loader design of the next few years will be primarily driven by changes necessary to comply with continuing EPA emissions regulations. Sure there will be several new ideas and changes that improve the productivity and versatility of the machines. But the biggest challenge for every manufacturer is to apply the necessary technology to meet EPA mandates at a cost-effective price for compact equipment customers, and in a way that doesn't drastically hinder the use of the equipment in the wide variety of applications the machines are found in today.
As the 75- to 100-hp engine class begins to encounter this hurdle in 2012, and the 25- to 75-hp engine class follows the next year, contactors will be faced with a sizeable price premium for a feature that in most cases doesn't proportionally boost productivity or performance. The benefits of cleaner air go without saying, and there is no reason to be fearful of the equipment or its new technology that has been applied. But it is essential that the customer be educated and prepared about the changes that are in process. (Some changes have already been implemented into the higher HP engines while other implementations are coming in the future.)
In addition, I believe we will see an increasing trend to do more with less and, believe it or not, develop even more applications and ways these tracked wonders can make us more efficient and profitable throughout the year. To support this effort, manufacturers will continue to optimize their machine size offerings, while refining the specs and features available on the machines.
Greg Rostberg, marketing manager, Bobcat Company: I think we'll probably see more machine integration and more electronic components, as well as continued laser integrate and machine control. These areas will all continue to grow.
Gregg Zupancic, product marketing manager, skid steers and compact track loaders, John Deere: We believe that customers will be expecting features that will help them operate and complete their tasks more efficiently. This could include features that help configure the machine to the customer or application; tools to help match a machine's performance to a particular attachment and measure production; and continued expansion into designs that help keep a customer comfortable (lower noise levels, less vibration to operator and machine, better visibility around structures for tight space operations).
Erik Ouwersloot, product manager, Construction Equipment, Kubota: Meeting the new Tier 4 emission standards, while simultaneously adhering to the highest quality standards that Kubota tractors are known for, will be a big focus for us moving forward.
Besides meeting Tier 4 exhaust emissions requirements, our goal is to provide solutions that will optimize fuel economy, ease use for the operator and maintain or increase engine performance, while at the same time providing superior quality and value to our customers. To ensure both improved fuel economy and performance, Kubota's SVL90 compact track loader will evolve with a new design to include Electronic Travel Torque Management. The ECU monitors machine travel speed, hydraulic power, attachment performance, engine load and prevents engine stall. All are continuously balanced for optimum performance.
Companies in this article