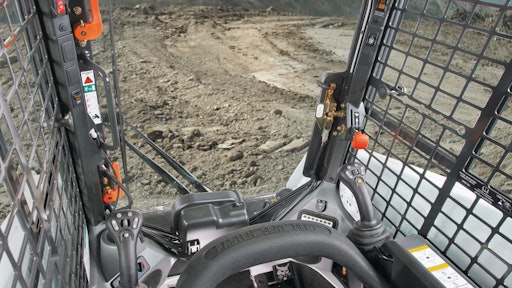 There has been a progression toward larger, more powerful skid steers and attachments. "Customers want the biggest possible machine that will fit into and operate in a confined space, and the greater the versatility through options and attachments, the better," says Tim O'Brien, brand marketing manager, Case Construction Equipment.
Larger skid-steer loaders tend to have more options. "The bigger machines are becoming more of a productive piece, where an operator sits in them six to 12 hours a day," notes Mike Fitzgerald, Bobcat Company.
These premium features and options add to the initial cost of the machine, but performance gains may quickly offset this investment. As such, it's important to investigate the available options and then weigh the potential benefits vs. the costs.
Adapt to the Task
The most important options depend on your application. Kaiser Skid Steer Services LLC performs site prep, concrete removal, laser grading, residential and small commercial excavation, utility installation, demolition, mulching and landscape grading and hardscape installation.
"We have run Case skid steers for the past 17 years," says Shane Kaiser. "The most important options to me are the enclosed cab, ride control, two speed and high flow."
J.T. Russell & Sons, Inc., Albmarle, NC, is a third generation DOT-certified contractor that provides grading, milling, utilities and environmental erosion control services. It also performs paving services such as parking lots, airports, commercial site development and highways. The company has 10 skid steers, including Case, Deere and three Caterpillar models. "We started with skid steers in the early '90s," says James Russell, CEO.
Skid steers are placed with the paving crews. Equipped with brooms, they are used behind milling machines for cleanup, as well as for cleanup in front of the pavers.
J.T. Russell & Sons has found Caterpillar's optional Advanced Machine Information and Control System (AMICS) very useful. This system is being used on a Caterpillar 272D XHP that runs a 36-in. milling head.
"You can dial variable speed down to creep," says Russell. It allows you to feather speed down while the milling head remains at a constant speed. "Many times, when you are in very tight quarters, having the ability to dial it down a little bit makes the job safer, especially when you are working around utilities."
Hydraulic Options Add Versatility
Large skid steers often serve as attachment carriers. Therefore, high-flow hydraulics can dramatically boost performance. "When we look at performance, the No. 1 item customers buy is our high-flow hydraulic option so they can be more productive with attachments," says Fitzgerald.
"High flow is mandatory for my operation," notes Kaiser. "I need a high-flow system that can run high-demand attachments [like mulchers] at high altitude and in tough terrain. The ability to keep the hydraulics cool is very important. As far as features, I like the ability to control flow from the joystick. Having the ability to run multiple hydraulic functions from the hand controls is also very important."
Both flow and pressure are important when you calculate the available hydraulic horsepower to run attachments. "The Cat High Flow XPS hydraulic system offers both increased flow as well as high pressure, which provides more speed and torque to the work tool," says Kevin Coleman. This hydraulic system maximizes productivity when used in applications utilizing high-torque tools such as cold planers, wheel saws or mulching heads."
Having both standard-flow and high-flow capability on one machine can increase versatility. "Yanmar offers a standard flow auxiliary option along with a high flow," says Jake Jeffords, product marketing manager, Yanmar America Corp."If a contractor orders a high-flow machine, the standard-flow couplers are still standard with the machine." This allows a choice between the two hydraulic flows to run different attachments.
Auxiliary hydraulics options further expand machine capabilities. "The Case Alpha Series skid steers offer several choices for auxiliary hydraulics, any of which can dramatically increase the machine's versatility by powering multiple hydraulic attachments," says O'Brien. "To help customers do more with their skid steers, we help them match their preferred options and attachments with the right optional auxiliary hydraulic systems."
Creature Comforts Keep Operators Productive
Options that increase operator comfort, safety and productivity are gaining in popularity. One example is the cab. "About 60% of Case customers order skid steers with cabs," says O'Brien. "Heat is standard with our cabs, and about half of the machines we sell with cabs are equipped with air conditioning."
Kaiser adds, "The more comfortable the machine is to run, the better the final product, especially toward the end of the day. Every machine that I order comes with enclosed cabs, the best seat options available and a radio. The new pressurized cabs have made life much more pleasant.
"The reality about these add on features is although they increase the price of the machine, you get a lot of the initial cost back at trade in time," he points out. "So when you look at what it really costs to add those comfort features to a new machine and the benefit they provide, it makes the decision easy for me."
The cabs on many skid steers now rival their counterparts in larger equipment with heat/air conditioning, sound systems and air ride seats. "Pressurized cabs have become the industry standard," says Kaiser. "When effectively integrated along with cab filtration, it has made spending long days in dirty environments much easier."
Case machines can be ordered with an aspirator kit. "Operating in the high desert conditions like we do, the aspirator has become priceless," says Kaiser. "The aspirator pulls dirt from the air filter and ducts it out the exhaust. It's an option that saves a lot of money in replacing air filters."
Bobcat also offers sound reduction packages that are popular when cab-equipped models. "As people get into the enclosed cab with air conditioning, they inherently select sound reduction as part of a package to keep operators comfortable," says Fitzgerald.
Along with the trend toward cabs, air ride seats have become popular. "An air ride seat is an extremely economical way to increase the comfort of a skid-steer loader," notes Jeffords. "A contractor that is an owner-operator will almost always add the extra option. But if it will allow his operator the ability to stay in the machine longer without fatigue, the cost is easily justifiable."
When You Need More Speed
Ride control provides a smoother ride and minimizes material spillage when you work on uneven ground. A lift circuit accumulator acts as a shock absorber to remove the bounce and reduce shock load on the machine.
Case was a pioneer in the development of Ride Control. "It is most advantageous in applications that require repetitive movement of materials across large jobsites and uneven work surfaces, as well as in applications in which the machine does a large amount of travel, with or without a load," says O'Brien.
"I have been getting machines with ride control since Case introduced it in the late 90s," says Kaiser. "It's as important to productivity as the two-speed [transmission]. When the two options are combined, it can significantly increase productivity. You can run faster, not wear out the operator and keep more material in the bucket or on the forks."
Caterpillar offers Speed Sensitive Ride Control, which engages automatically when the skid steer reaches the activation speed, and deactivates when you slow down to dump into a truck or dig into a pile. "The ride control allows better material (bucket) retention as well as a smoother, more comfortable ride for the operator, which allows utilization of all the machine speed," says Coleman.
Another feature that can increase the speed is the two-speed transmission. "Most applications involve a 'load and carry' type application, such as traversing a larger jobsite with material or retrieving material from a central location to use in a different location," says Coleman. "In either case, it's not necessarily all about top speed as much as it is about 'usable' speed." This is where ride control becomes an important option.
A two-speed transmission improves cycle times to get the job done faster. "I would not even consider owning a machine without two speed," says Kaiser. "Adding ride control makes it even more of a production multiplier."
Self leveling Beneficial for Lifting and Loading
Optional hydraulic bucket positioning keeps your bucket level when raising the lift arms, reducing spillage and allowing you to work more efficiently. Contractors are divided on the value of this option.
"My TR320 came with this option," notes Kaiser. "It was bundled with other options, otherwise I would not likely pay for it. If you are on flat ground loading trucks, it's a feature that can help the new operator. If you are not on flat ground, you have to adjust the tilt on the bucket to compensate anyway. So it's nice to have, but I don't go out of my way to spec it on a new machine."
The value you place on this option really depends on how you plan to use the skid steer. "Contractors who load trucks, load material into hoppers and lift materials with pallet forks will realize a benefit," says Fitzgerald. If you move dirt or run attachments at ground level, it's less of an advantage. "If you utilize attachments for a significant portion of the time you run the machine, then it is not as critical to have self leveling."
"One-way hydraulic self leveling can be especially helpful in applications requiring the use of forks and grapples, where you can work more quickly if the load stays level," says O'Brien. "Self leveling helps boost the efficiency of snow removal applications because it eliminates the need for constant adjustment of the blade or other snow-fighting attachments."
Customize Controllability
Really investigate the available machine control systems. "Advanced controls provide the ability to adjust the implement response as well as the drive system response," says Coleman.
The adjustable implement control response allows you to match the speed of the implement systems to meet your need for a specific job, operating condition and/or work tool. The drive control response selections provide the ability to customize the hystat drive response to match your preference, experience level and application requirements.
"Additionally, the machine speed control (creep control) allows you to find the optimal match between machine hydraulics, ground/operating conditions and work tool performance," Coleman notes. "This reduces operator fatigue and provides a better finished product."
The Bobcat Deluxe Instrumentation Panel option closely monitors key loader functions and allows Bobcat machines to utilize keyless start, which helps to prevent theft. "With keyless start, you can have an owner code and individual user codes," says Fitzgerald. "That machine will know when each individual operator is running and how many hours."
The instrument panel provides a wealth of additional information, including fuel consumption in gallons per hour, engine temperature and hydraulic temperatures and pressures. "It will allow you to turn on and off certain features," says Fitzgerald. "If an owner doesn't want operators running the two speed because it is a tight jobsite, he can actually turn that off and lock it."
It can also enable you to monitor and adjust machine and attachment performance. For example, Fitzgerald recently ran a skid steer set up with a laser system and grader attachment. Grade information was fed back to the Deluxe Instrumentation Panel. "You can adjust grade and slope from inside the cab," he points out. "It displays where you are so you can adjust accordingly."
The optional Bobcat Attachment Control Device enables the loader and attachment to communicate. "Some attachments actually tell the machine which attachment it is and whether it should be run on high flow or not," says Fitzgerald. "The operator can run the machine and the attachment without ever removing his hands from the control levers."
Many attachments also feature integrated electronics. "Recognizing the popularity of electrical accessory options, Case Alpha Series machines are available with optional pre-wiring to accept electrical accessories such as brooms and rock saws," saws O'Brien. "A 14-pin electric system provides four independent activation systems that can be called up with the touch of a button on the control handle,. This operates a fully proportional auxiliary hydraulic system, giving the operator pinpoint control of hydraulic flow in either direction. It has detents in both directions for continuous operation, resulting in less operator fatigue and more precise work."
Most manufacturers offer several control options, with electro-hydraulic (EH) controls providing the highest degree of customization. "Contractors who put multiple operators on each machine will benefit most from EH switchable controls," says O'Brien.
EH controls allow the operator to switch between "H" pattern and "ISO" pattern with a touch of a button. "Case EH controls enable multiple operators to preset their preferred sensitivity levels for bucket, boom and travel functions, in addition to controlling the speed of the boom and the travel functions," O'Brien indicates.
"As almost all machines now come with EH controls, the ability to control the reaction sensitivity and the speed of that reaction has become very important," says Kaiser. "Being able to preset the machine to how the operator wants it to respond is critical to operator productivity. Going even further, to be able to offer additional presets so operators can hit their personal preset and the machine will be ready to respond to how each operator prefers to run it is an added bonus.
"I think it is so important," he adds, "it should be standard equipment on machines equipped with EH controls."