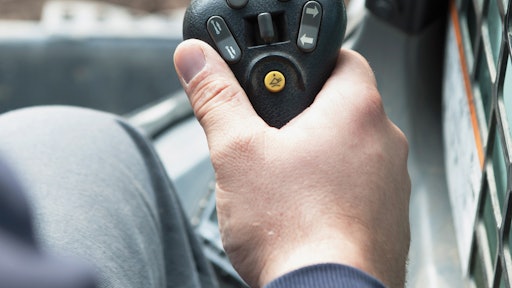 Some equipment operators may remember a time when a long day in the "office" meant physically pushing mechanical levers and pressing foot pedals while dangling arms haphazardly above a restraint bar — all while sitting on a rigid, vinyl-covered seat in an open cab enjoying the "perks" of working outdoors in the oppressive sun, pouring rain and blowing snow. But thanks to advancements made in the name of operator comfort, no one needs to relive those days.
"For maximum comfort, an operator's 'office' should be somewhere he wants to be," says Kevin Coleman, senior marketing engineer, Caterpillar. "It should have a comfortable 'chair' (seat), a 'view' (great visibility) and an ergonomic 'desk' layout (operator's compartment) with low-effort joystick controls that provide maximum control with minimum fatigue, especially when operating for long periods of time. It should also have an intuitive layout so everything is very easily accessible."
Even for someone who may never step foot in the cab or run the machine, improving operator comfort can go a long way toward making life better because it improves productivity. This means jobs get done faster and more efficiently, so a business owner can make more money. While features such as powerful engines, high-output hydraulic systems and fast response times are easily relatable to productivity, comfort features may admittedly be a little more difficult to quantify and may, at the outset, seem unrelated to how well or how quickly a skid steer moves dirt or a compact excavator digs a trench. But creature comforts have a big influence on an operator's mindset about performing a particular task, which in turn does affect productivity.
"Productivity is influenced by the general attitude of an operator... when the attitude is better, so is the productivity," says Jake Jeffords, product sales manager, excavators, JCB.
Equipment operators have also become accustomed to creature comforts in cars, trucks and even large farm tractors that may be used on a jobsite, relates Ashby Graham, global product manager, skid steers and compact track loaders, JCB. "Now they want many of those features in their compact equipment," she says. "And if they help them do their job faster and for less money, we want to be able to provide them."
"Equipment buyers equate an appealing machine with a productive operator," adds Tom Connor, excavator product specialist, Bobcat. "Our belief is that ergonomics/comfort is a key buying factor... as important as performance."
Comfort can also play a role in attracting well-qualified operators, as well as retaining them. "In many regions of the country, retention is an issue," Coleman says. "Providing the operator with comfortable equipment he enjoys running increases the likelihood of a long-term relationship with a company."
Joystick Evolution
There are few, if any, areas of a cab that haven't been touched by upgrades related to operator comfort, and manufacturers continue to up the ante.
Refinements in joystick controls and foot pedals allow for the addition of features that make a machine more comfortable to operate. Innovations in display information make it easier to monitor machine performance, while fine-tuning the location of gauges and screens provides better visibility to that information as well as the jobsite. Improvements to seats and arm/wrist rests add to an increasingly more comfortable work environment. Even seemingly insignificant amenities such as large cup holders, radios, clocks and Bluetooth capability are all comforts more and more contractors look for when purchasing equipment.
While joysticks are not new to compact equipment, the number of tasks that can be accomplished using buttons or switches integrated into them is relatively new. "Functions have definitely been moving to the hands in recent years," says Connor, adding that the trend frees up valuable foot space. "A recent evolution of the joystick has been in the area of auxiliary controls. If you looked at a machine 10 years ago, there might have been one switch on a joystick. Now, there are multiple buttons, either controlled by a finger or thumb, on each joystick. With the move to electrohydraulic controls, we can now put a control in a small thumb switch wherever we want to optimize performance and satisfy customer preferences."
Transitioning to hydraulic controls and/or electric over hydraulic controls also makes it possible for operators to customize operational features, thereby making tasks more comfortable to complete. For example, JCB allows operators to fine-tune control response modes based on preference. "Depending on the application, an operator may want a slower transmission speed and a quicker loader speed, or vice versa," says Graham. "Being able to change the mode helps them be more comfortable, productive and proficient.
"It's the same with features such as multiple patterns on the same machine and creep speed," she continues. "By providing multiple patterns, an operator can press a button to change the pattern and go straight to work. It used to be that machines had one pattern or the other. Now we offer two patterns on the same machine."
With creep speed, operators can set the machine at whatever percentage of full speed they want while maintaining full power. "Operators can then put the joystick all the way down and have a smooth, consistent cut with an attachment such as a trencher or cold planer," Graham says. "It's all about customer preference and making their 'office' as comfortable as possible so they can be more productive."
Foot Pedal Transformations
Tasks controlled by an operator's foot have also undergone a transformation. For example, Caterpillar offers a decelerator (Decel) pedal in its skid steers where the electronic dial-type "hand" throttle permits the operator to set the engine speed to a steady, precise rpm setting anywhere within the entire engine speed range, explains Coleman.
However, when the hand throttle dial is moved to the high-idle position, the foot throttle pedal function switches to act as a decelerator pedal. "This allows the operator to use the foot throttle pedal to decrease the engine rpms as required by job conditions and immediately return to high idle without removing his hand from the joystick controls," says Coleman. "Using the foot throttle pedal as a decelerator allows an added degree of control, permitting the operator to quickly modulate travel speed during precise maneuvers, such as working around objects or near trenches, or to regulate engine speed when using hydro-mechanical work tools."
Several manufacturers also offer foot throttle smoothing to regulate rpms. With JCB skid steers and compact track loaders, foot throttle smoothing can be activated/deactivated based on terrain, explains Graham. "If you are operating on rough terrain, you can turn it on to give a more constant rpm and minimize surging for a more consistent ride," she says. "You can turn it off if you are working on smooth concrete and want to maintain a quicker rpm response."  
To eliminate any loping where the operator's foot bounces on the pedal while pressing it, Caterpillar's Throttle Smoothing feature on its D Series skid-steer loaders, compact track loaders and multi terrain loaders monitors accelerator-pedal movement under the operator's foot as the machine travels over rough terrain. "Then it clips the extremes of pedal travel to yield steady, even travel speeds," says Coleman. "This feature adds to operator comfort by maximizing ride quality and aids material retention when using the foot throttle pedal."
Bobcat has also made some changes to the foot pedals in its compact excavators that allow the pedals to actually fold up if they are not being used. "We have foot pedals for controlling the travel function to accommodate operators who are used to using them," says Connor. "But pedals take up valuable foot space, so operators who prefer to control travel with levers, which are also included, can fold up the pedals and move them out of the way."
Display/Gauge Changes
Operators of the newest compact equipment models will also notice changes being made to gauges related to the information presented, as well as the size and location of screens. "We've changed how operators read the information, such as the hour meter, rpms, fuel level, etc." says Jeffords. "It makes it easier for them to run the machine at an optimal level. We've also made it possible for operators to change auto idle based on preference, and we've added service codes so they can hone in on how to best run the machine."
Some of these changes have been easier to incorporate given the move to Tier 4 emissions standards. "As we make changes to the engines, we can make other changes as well that allow us to upgrade to a new generation," notes Jeffords.
There is a bit more data operators need to be aware of with Tier 4 engines, especially on excavators above 25 hp, adds Connor. "We've also launched a depth guidance system and we need that information displayed in front of the operator, positioned in a location that doesn't interfere with line of sight but is still within it," he explains.
Moving instrumentation forward within a cab as opposed to moving it to the side makes it easier and more comfortable for operators to monitor display information. "You don't have to take your eyes off the task," Connor says. "You can use your peripheral vision to catch any critical messages without taking your eye off the bucket, which would happen if you have to turn your head 90° to either side. Even though we typically send an audio ping or beep if something needs addressing, there is a lot of noise within a cab — everything from backup systems to laser lights — that can be distracting and which operators can become immune to. Messages are much more likely to be seen if they are on a gauge in front of an operator."
Jennifer Hooper, marketing development engineer, Caterpillar, agrees that placement is critical. "With the introduction of new technology in mini-excavators, the ability to easily view and access gauges and displays allows for customized operation, which improves productivity and contributes to a positive operational experience," she says.
Displays such as the Cat COMPASS monitor include the ability to adjust the auxiliary flow rates; remove or attach work tools from the operator seat when using the dual-lock hydraulic coupler; secure the machine with an alphanumeric passcode; or set machine work modes (auto idle). "These features allow the operator to improve overall productivity and operational efficiency," says Hooper. In addition, some new Cat mini hydraulic excavator models will include a rearview camera option for optimal visibility and machine positioning, a site reference system for level grading and an auto engine idle shutdown for efficient operation and fuel savings.
As more information becomes available on displays, manufacturers are cognizant of how large they can become. "We focus on minimizing the size of controls and displays," says Graham. "Operators need to be able to see a load at full height, working area at ground level, etc. If we can minimize how bulky a display is, we can help improve visibility while still keeping the operator's eye on the task at hand. It's also critical from a safety standpoint... If you have multiple pieces of equipment and multiple people walking around a jobsite, you have to be able to see them."
Working visibility to displays, attachments, machine corners, tires/tracks and the jobsite is critical to all manufacturers. "If a machine can provide the operator with these sight lines around the machine, he will be more comfortable on the jobsite and, thereby, more productive," says Coleman. "Easy-to-read, heads-up displays with information such as coolant temperature, hydraulic oil temperature, rpms, fuel level and system voltage allow an operator to constantly monitor the status of a machine's system for maximum uptime."
"It's a bit of an elusive feature, but it is something operators evaluate," says Connor. "Visibility around a machine is highly valued and it's very common for people to climb into the cab and immediately check to see if they can see the front corners of the blade and the front of the track, which is critical for maneuvering in tight spaces and even for loading equipment onto a trailer. We've added a port window at the right side of the machine so operators can see that right front corner of the track and blade with ease."
To improve visibility, JCB offers 270° visibility from the cab and flat glass without traditional mesh. "Operators need to be able to see over the back end of the cab and to the side of the operator station," says Jeffords. "The location of gauges and screens needs to be low enough to be visible at a comfortable level, while also being able to see the working environment. We never want operators to have to take their eyes away from their working environment just to add a feature. We continually work on display screens that don't hinder visibility."
Improved Seating
Not to be forgotten, manufacturers also place an emphasis on seats and arm/wrist rests. Today, operators will find fully adjustable cloth seats with lumbar support and recline adjustments, optional heat, high backs and air suspension to absorb vibration and shock.
"We offer seat-mounted joystick controls that move with the operator and allow precise and easy control," notes Coleman. "They can also be adjusted independently of the seat to provide a wide range of comfortable operating positions for operators of any size."
Dedicated adjustable arm/wrist rests provide support and better control and can oftentimes move independently of the seat. "Arm rests can stabilize the hand relative to the joystick and prevent fatigue," notes Connor. "Some operators also tell us they help them operate the machine more smoothly."
Companies in this article