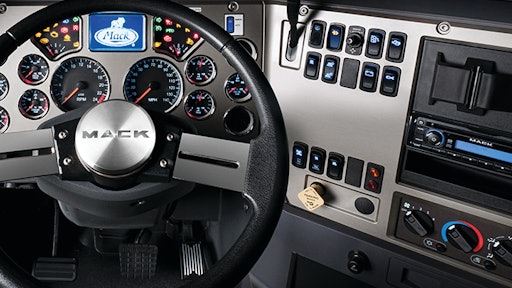 Finding drivers could prove more of a challenge as the economy recovers. This places a strong emphasis on driver retention. Truck manufacturers have stepped up to the plate with a vast array of options to increase comfort, productivity and safety.
"Anything to make the driver more comfortable throughout the day will help with driver retention," says Alan Fennimore, Kenworth vocational marketing manager. Comfortable, easily adjustable seats, automatic temperature control, an ergonomic dash, panoramic windshield, complex reflector headlamps and LED interior lighting are some examples of comfort specs that can help make the driving experience more pleasant, thus increasing driver retention rates.
"There are a variety of options a fleet owner can spec to increase comfort for a vocational truck operator — items such as a wing dash, air suspension seat, noise abatement and extreme climate insulation," says Mary Aufdemberg, director of product marketing, Freightliner Trucks. "Some fleet owners may even consider spec'ing Bluetooth technology for operator phone use. For certain applications — those spending long hours at the jobsite or on the road — an extended cab with a mattress and privacy curtain provides the operator with a nice environment to take a quick rest.
"Other popular options include an air suspended cab, air ride suspensions, lumbar support options and armrests on seats, maximum fore/aft seat adjustability, tilt and telescopic steering column for increased belly room, high-performance HVAC and defrost systems, cab fresh air intake and cabin air filters, a roomy cab for better ergonomics and driver equipment storage," says Aufdemberg.
Ergonomics are difficult to subjectively compare, but they play a key role in driver satisfaction. "Feet discomfort is one of the biggest complaints with drivers, and making that a non-issue was one of the design focuses of the Kenworth T880 cab," says Fennimore. "A flat floor, hanging pedals, an opened-up toe box around the throttle pedal and returning to a tail dragging throttle pedal all help significantly in making the driver comfortable throughout the day."
Even pedal effort requires careful attention. "The air-assisted hydraulic clutch we designed on the T880 only requires half the pressure of a traditional clutch, plus less travel, so it's very easy to engage," says Wally Peltola, Kenworth design director. "It allows a woman in the fifth percentile of size as well as a male in the 95th percentile to have easy clutch control. That is a major leap forward in accommodating drivers."
Designed to Ease Operation
It's important to assess the potential skill level of your drivers.
"As the trucking business continues to grow, it has become more difficult to find experienced drivers for vocational markets," says Aufdemberg. "This has led to an increasing trend in new vocational trucks being specified with automated manual or fully automatic transmissions. These transmissions are electronically controlled and not only take the need to shift away from the driver, but calculate the best gear to ensure the best fuel economy and performance for the application."
Placing all necessary controls in front of the driver also reduces fatigue. "Spec'ing a wing dash provides operators with the ability to place necessary switches easily within reach, much like a plane's cockpit, making the driver's job easier," says Aufdemberg.
"The wrap-around dash is key for seeing and reaching all the necessary gauges and switches without moving from the driver's seat," says Stu Russoli, construction product manager, Mack Trucks. "This feature improves comfort and reduces distraction. It's much simpler to have everything within arm's reach. The goal is to ensure drivers do not need to lean or stretch out of their seat."
Being able to customize the dash layout can also simplify the driver's task. "The Freightliner SmartPlex system gives operators a great deal of flexibility with regard to switch placement," says Aufdemberg. "Fleets can place switches and indicator lights where they are most ergonomically advantageous for their operators." The system offers up to 24 switches in various combinations, including the overhead console on the driver's side (up to six switches/indicator lights), passenger side (up to six switches/indicator lights) and/or center (up to 12 switches/indicator lights).
In addition, information displays play a crucial role in keeping the driver informed at a glance. "The Mack Co-Pilot delivers all the information to the driver through an easy-to-read display positioned in the top center of the main instrument cluster," says Russoli. "Drivers can select which information Co-Pilot provides, and the system has redundant warning icons to alert the driver of any warning lights that may be triggered. Maintenance information, like a clogged filter, low fluid level or upcoming recommended service interval, is sent to the driver via the Co-Pilot display on the dash."
The goal is to relay information to the driver in the easiest to use format. "Kenworth designed its graphic user interface for the Driver Performance Center to ensure that the information was easy to read and understand while being easy to access," says Peltola.
With more trucking companies vying for good drivers, operators can't afford to neglect driver comfort and driver performance-related items. The Kenworth Driver Performance Center uses a full-color, high-resolution, 5-in. thin film transistor display screen, which includes current truck information, diagnostic data and pop-up alerts. The center also displays situational-specific recommendations, which help improve vehicle performance.
In addition, Kenworth offers NavPlus as an option on all of its trucks. This dash-mounted, multi-function communication system provides hands-free cell phone capability via Bluetooth connections and voice commands. It also offers true truck navigation, diagnostics, gauges, camera inputs, AM/FM/weather bands and iPod or MP3 integration, among other features.
Built for Added Size and Comfort
Drivers come in all sizes and shapes, but in general they are getting bigger.
"Mack has been studying and designing vehicles around a range of driver sizes for many years," says Russoli. "Prior to launching the current vocational cab, we studied various sized drivers through CAD model simulations and with cab mock-ups using employees and drivers. We conduct surveys and walk participants through evaluations of our products and possible upgrades regularly. With the launch of our current cab, we added 4 in. to the rear and introduced an entirely new ergonomic wraparound dash. At the same time, we focus on visibility of the gauges, switches and, most importantly, the road."
When looking at competitive models, compare cab width. Cabs are available in many different sizes.
"First and foremost, it's important to have a wide enough cab to be comfortable. There are still old, 'narrow cabs' out there in the industry, but most OEMs are changing to a 'medium-width' cab. It is also critical that a cab for vocational applications not be so wide that it restricts the maneuverability of the truck or limits visibility," says Russoli. "The 'wide cabs' are more suited for on-highway, long-haul applications. A medium-width cab optimizes both comfort and vocational application needs.
"Other options for driver comfort include an air-ride cab, air suspension seats, arm rests, tilt and telescopic steering wheels and air conditioning," he adds. "Most importantly, these features help reduce driver fatigue, but they also help improve driver retention. A driver should not feel beaten up after a day of driving."
Versatility to fit a wide variety of body sizes is critical. "Freightliner's 108SD and 114SD trucks feature a wide and roomy cab that can accommodate drivers of all sizes," says Aufdemberg. "Those models also offer an optional adjustable tilt and telescoping steering column and a variety of seat choices that are capable of seat back recline and slide adjustment to comfortably accommodate drivers. The 122SD has one of the largest cabs in its class, and features a standard adjustable tilt and telescoping steering column, plus a variety of air seat choices."
Extended day cabs offer even more room. "Kenworth was among the first companies to develop an Extended Day Cab to provide additional space for operators. It enhances driver comfort with extra length, height, leg room, seat recline and room behind the wheel compared to the traditional B cab," says Fennimore. "The Extended Day Cab is an option on the Kenworth W900, C500 and T800 models."
A new cab was developed for the recently introduced Kenworth T880 vocational truck. The company performed an in-depth study when designing the 2.1-meter wide cab for the new truck.
According to Jim Bechtold, Kenworth director of product planning, today's drivers are different in physique than their counterparts of 25 or 30 years ago. And there are more women drivers. "Bottom line is today's drivers need more space, plus adjustable dash consoles," he states. "What's more, they need more amenities, more integrated technology and a higher level of execution and refinement in their trucks. They see it in their personal vehicles; they want it in their trucks."
Unlike its predecessor B cab, no Extended Day Cab option is needed for the T880 as extra room is already built into the new cab, fore and aft. An extra 4 in. of space behind the seats allows for more seat travel, accommodating a wide range of driver sizes, and there is 23 in. of room between the seats.
Keeping It Quiet
To keep outside noise to a minimum, many truck manufacturers offer noise abatement packages that consist of additional insulation.
Squeaks and rattles can also be an annoyance that leads to operator fatigue. "The Freightliner 122SD dash is formed as a single piece to minimize squeaks and rattles, resulting in a quieter cab environment," says Aufdemberg.
Kenworth reduced cab noise with the use of electric-over-air (EOA) dash switches. These switches allow two main benefits. "A reduction in non-essential air circuits in the dash means less noise and one less thing to leak. In addition, EOA switches allow us to take advantage of all the ECUs now on the truck and use that information to provide electronically controlled safety interlocks from the factory," says Fennimore. In the past, safety interlocks were manually installed by the body builder through solenoids, micro switches and relays.
"For things like the fifth-wheel slide and PTO, because of the interfacing with the onboard ECUs, if a condition is not met, the switch will not activate the component on the truck," Fennimore explains. "For example, if an operator decides to activate the fifth-wheel slide above a set speed, the ECU will not allow the fifth-wheel to move until the vehicle speed is below the set threshold. It will also send a message to the driver performance center informing them of the non-compliant condition."
Easy In and Out
Vocational construction trucks benefit from large door openings and low step-in heights, since operators are in and out of the trucks numerous times throughout the day.
"Not only are these items important from an operator safety perspective, but low step-in height, large door openings and grab bars also result in a driver who spends less effort getting in and out of the truck, reducing fatigue and increasing comfort," says Aufdemberg. "That means a more productive operator and one who is less prone to accidents with the truck or body equipment."
"Entry and exit of a work truck is critical from both ease of entry and safe entry standpoints," agrees Russoli. "Mack has worked hard to ensure the Granite model offers one of the lowest cab floor-to-ground heights among Class 8 vocational trucks. A mixer or dump truck driver gets in and out of the cab many times each day, so easier entry and exit means less fatigue."
Grab handles are positioned so that anyone entering the cab maintains three points of contact at all times — both hands and a foot or a hand and both feet. "Part of the entry and exit is keeping the steps free from mud, snow and ice, so we make our steps with teeth to grip and open grate to release mud, snow and ice," Russoli adds.
As you can see, manufacturers have incorporated many options and features to enhance drive comfort. But these efforts are not readily apparent when simply comparing spec sheets. With good drivers in short supply, it's worth the time to explore all the available options before selecting your next truck.
Companies in this article