Hydraulic systems and components in compact equipment have evolved dramatically over the past several years. Even as engine ratings have dipped, hydraulic systems have become more "intelligent" with enhanced power and performance.
"Due to Tier 4 regulation, many of today's skid steers and track loaders are using less powerful engines than comparable loaders of 10 years ago," says Nathan Ryan, skid and track loader product manager, Manitou Americas (Gehl and Mustang). "For this generation of loaders to maintain comparable performance specifications, the hydraulics systems have to be smarter and more efficient.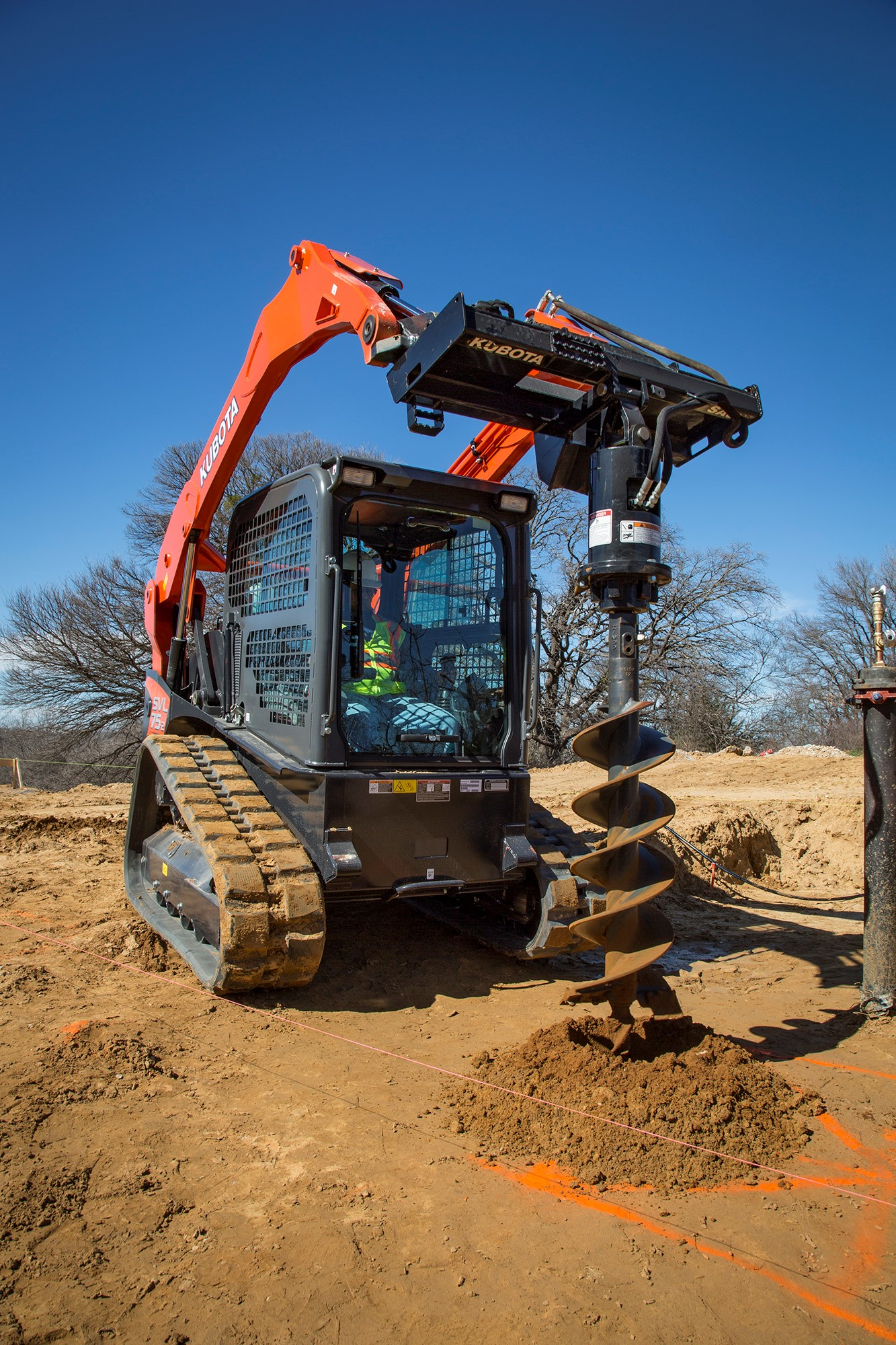 Manufacturers continue to increase both hydraulic pressure and flow to meet the requirements of high-performance hydraulic attachments."Whereas in the past finding flow to operate a specific circuit meant simply increasing the pump size, systems now look to find that flow by combining circuits that would very rarely operate simultaneously," he explains. "Pump and valve efficiencies have also improved over the years as manufacturing technologies have evolved, creating higher quality components. Using the available power as efficiently as possible has allowed loaders to continue to operate powered attachments — in most cases, with increased flow availability."
"High flow continues to migrate to higher settings," says Jorge De Hoyos, Kubota senior product manager, skid steers and compact track loaders. For example, Kubota's new SVL95-2s comes in a high-flow model that boasts over 3,500 psi and 40 gpm. "Manufacturers continue to increase both pressure and flow to satisfy the requirements of... mulching heads and cold planers, among other high-performance hydraulic attachments."
Caterpillar skid steers and compact track loaders offer four hydraulic performance packages that can produce up to 94 hydraulic hp. "Hydraulic horsepower, or working horsepower, is a calculation using the pressure and the flow produced by the machine to reflect the power available to the attachment in order to complete the job at hand," notes Alex Gajewski, sales support consultant, Caterpillar. "The improvements in the hydraulic systems have allowed for more and more performance from a machine and, in turn, higher hydraulic horsepower figures."
As a result, jobs can be completed faster, particularly high-production applications like milling and mulching.
Cleanliness is Critical
Yet, there are certain challenges associated with this higher performance. According to Ryan, the improvements in hydraulic component efficiency are largely the result of tighter tolerances on internal systems, which can make the systems more susceptible to damage by smaller contaminants.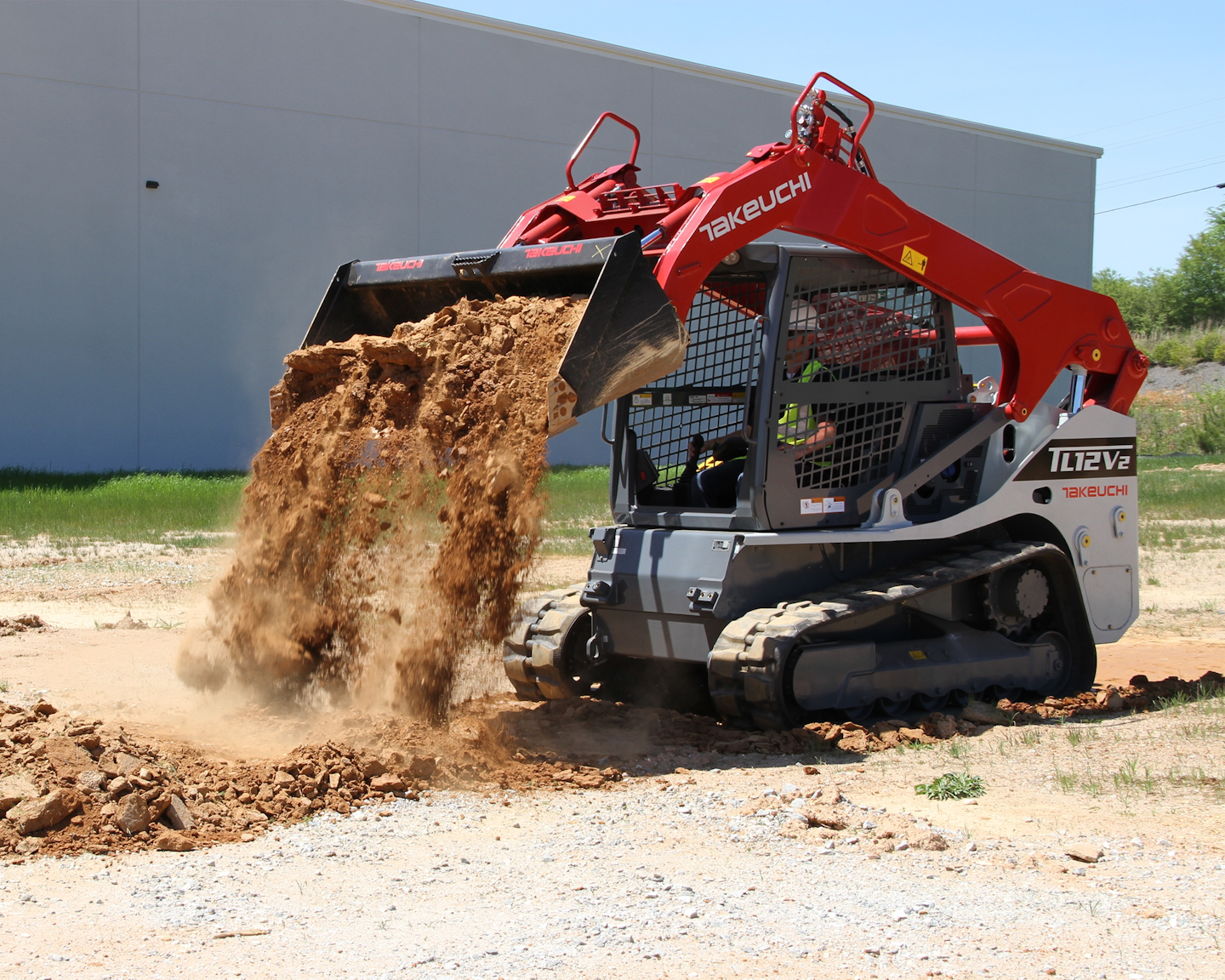 Today's sophisticated hydraulic systems have little tolerance for contaminants. To protect components, follow recommended maintenance, and clean fittings on the machine and hydraulic attachments before connecting."Like modern [emissions-compliant] diesel engines, today's more sophisticated hydraulic components are not much different when it comes to little tolerance of contamination," says Michael Shebetka, product manager, Takeuchi-US. "Contamination will most certainly shorten [the life of] or completely wipe out hydraulic components, depending on how much and what type of contaminants."
To protect sensitive components, Shebetka advises practicing routine maintenance of filters, hydraulic fluid change intervals, fluid testing and adding or replacing manufacturer-recommended hydraulic oil.
"Contamination is a risk in any system," says Gajewski, "and as hydraulic systems evolve, so do the performance capabilities of filters and contamination avoidance methods. The best way to avoid any contamination risk is for a good cleaning routine to be followed."
Cleanliness is also critical when swapping out attachments. "Pressure-relieving quick disconnects are provided on Cat skid-steer and compact track loaders. When connecting an attachment, those disconnects oftentimes end up on the ground," Gajewski notes. "It is very important that an operator carry a rag or some method to clean the surface of the quick disconnects on both the tool and the machine."
"Cleaning attachment fittings on both the machine and attachment side before connecting [will prevent] introducing dirt and other contaminants into the system," Shebetka adds. He also recommends cleaning the refill cap and surrounding area before replenishing hydraulic fluid.
You can further limit contaminant risk with a little advance planning. "To minimize exposure, try to plan your work efficiently so that you disconnect attachment hydraulic couplers only when absolutely necessary," Ryan advises. "Clean attachment and loader connects thoroughly before connecting them, and when not in use, cover the connectors with a sealed cap or plugs."
Drain any pressure built up in the hydraulic lines of the attachment after use. "A combination of both cleaning the quick disconnects and relieving pressure will minimize the chance of debris entering the hydraulic system," Gajewski indicates. Though relieving pressure won't directly lower the potential for contamination, it will reduce the chance that an operator will need to loosen hydraulic fittings, which can lead to greater contamination risk. It also makes it easier when it's time to re-connect the attachment.
Take particular care when connecting an unfamiliar hydraulic attachment to your equipment. "I would not recommend connecting any hydraulic attachment to your machine unless it is new or your own," Shebetka cautions. "You do not know what condition the stored hydraulic oil in the attachment is in... Beware unless you are willing to take the time to test the hydraulic fluid already stored in the attachment."
In addition to contaminants, there is the risk of fluid incompatibility. "The risk depends on the [attachment's] oil retaining capacity and type of oil," says De Hoyos. "If the hydraulic oil specification on the attachment matches that of the skid steer or compact track loader, then the risk is minimized to any contamination that may have entered one or the other. If the oil specifications are different, then it depends on how much oil the hydraulic attachment retains, since this will be mixed with the hydraulic oil of the [loader]. The greater the oil capacity, the higher the risk of lubricant properties changing."
Find the Right Match
Protecting your equipment also means properly pairing the carrier and attachment.
Higher hydraulic horsepower capabilities allow high-production applications such as milling pavement to be completed faster."It is very important to match the performance of a skid steer or compact track loader with the capabilities of the tool," says Gajewski. "On high-powered rotary attachments such as brush cutters, mulchers, cold planers (milling heads) and wheel saws, the tools [require] larger amounts of both hydraulic flow and pressure. In order to deliver the high performance expected, they must be used with high hydraulic horsepower machines."
"Using loaders with marginal flow for an attachment's recommended flow requirements will result in attachment performance that won't meet the operator's expectations and reduced efficiency," Ryan agrees. Consider a snow blower, for example. "With borderline flow, the attachment may operate in light snow, but with a heavy snow, it will not throw the snow as far or will require a lower travel speed to sustain the same performance.
Exceeding the attachment's max pressure and flow can have more dire ramifications. "Using excessive flow for an attachment can result in faster wear on the attachment and its hydraulic components or unsafe operating speeds of the attachment," says Ryan.
"If you operate full throttle, then you are maximizing both flow and pressure [of the carrier], which may exceed the maximum settings of the attachment and inevitably damage attachment components, seals and hoses," De Hoyos warns. "In those cases, a flow metering valve may help decrease the risk."
Doing your homework can help to minimize the risk. "Before buying an attachment... review the recommended flow requirements. In many cases, the manufacturer will have several options available to best match the loaders' needs," says Ryan. "If a variety of attachments with varying flow requirements are to be used, then operators should consider loaders with both standard and high-flow auxiliary hydraulics capabilities."
Companies such as Caterpillar are striving to make the process of matching carrier and attachment more seamless by offering work tools that are performance matched to the hydraulic package of their machines. In Caterpillar's case, a nomenclature system is used to help direct the correct combination of attachment and carrier.
"Both the machines and the tools are identified with their performance packages," says Gajewski, "and when switching between attachments, the machine with higher hydraulic performance can always operate an attachment that may not have the higher flow/pressure requirements. For example, a machine with high hydraulic horsepower can still run a work tool with lesser requirements, such as a standard-flow broom." Only the required flow needed for operation is sent to the attachment.
To ensure an ideal match, the Kubota high-flow SVL95-2s offers up to five pre-settings designed to match multiple attachment requirements. By presetting the flow, the operator can eliminate the risk of overloading the settings of the attachment.
Designed with Multiple Attachments in Mind
Skid-steer and compact track loader suppliers are adding other attachment-friendly features into equipment designs, as well.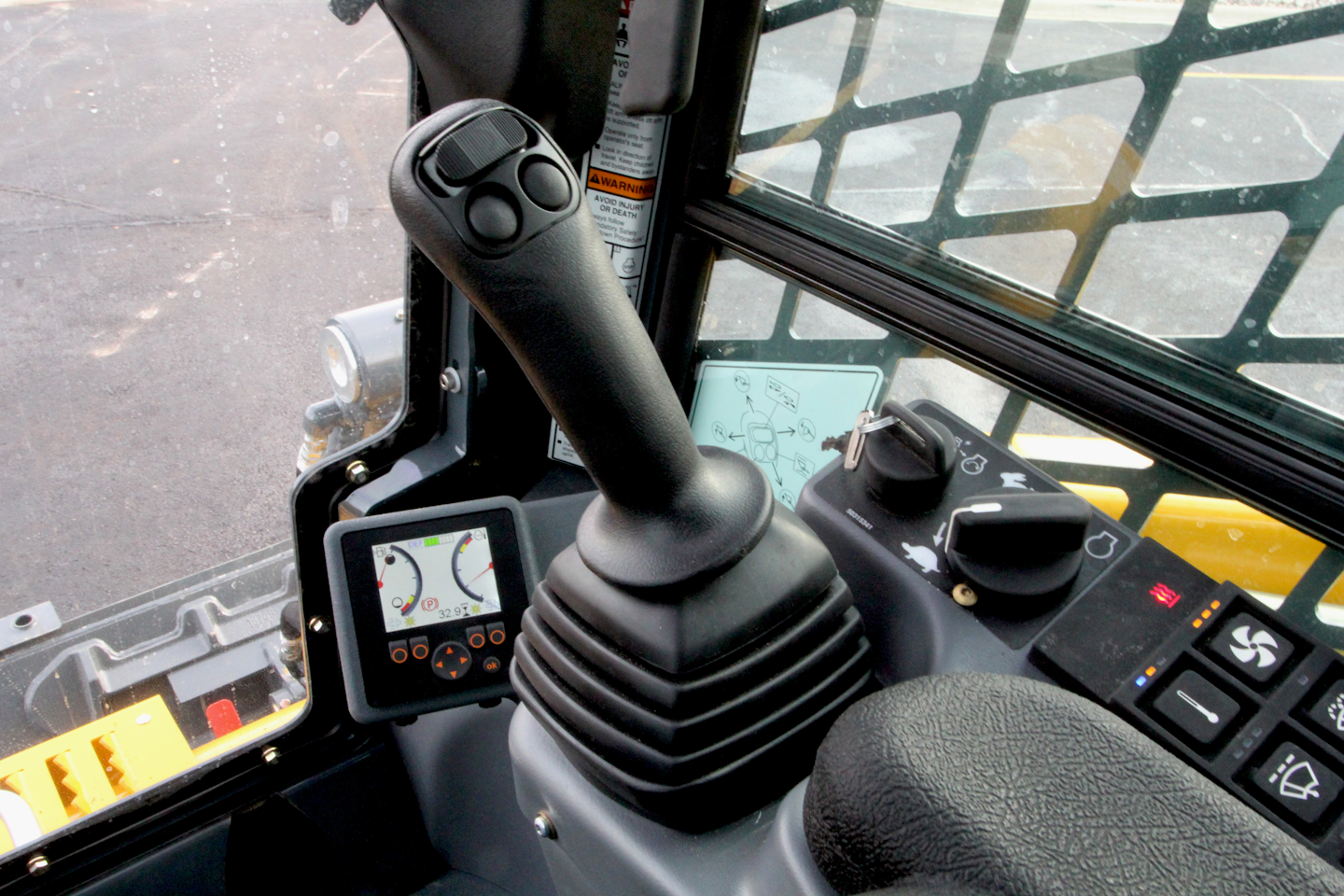 Today's compact machines, such as this Gehl skid steer, feature electric hydraulic proportional controls that allow operators to maintain precise control of attachments and allow instantaneous ramp-up to full flow — all at the touch of a button on the joystick."Today's compact track loaders and skid loaders are equipped with electrohydraulic proportional controls that allow operators to maintain precise control of their attachments during the slightest of movements, but also allow instantaneous ramp-up to full flow when required — all at the touch of a finger on the joystick," says Ryan.
"Many modern attachments have onboard flow control mechanisms and today's loaders are equipped to support them," he adds, "but require the loaders to be equipped with electrical auxiliary options like a 14-pin control harness and joystick."
To that end, in addition to primary auxiliary hydraulics, Takeuchi skid-steer and compact track loaders offer a secondary auxiliary circuit, 3/4-in. high-flow hydraulics and a 14-pin electrical connector for attachments offering multiple functions. Such functions are then operated via joystick thumb controls.
"We also have the ability to change hydraulic flow and multiple attachment presets on our multi-function monitor to dial in the proper attachment settings for maximum productivity and efficiency," says Shebetka. "This gives us the ability to run about any attachment out there."
Technology improvements aren't limited to hydraulic performance. "There have also been major strides in methods to improve operator use of the power available," says Gajewski. "Features such as creep control, work tool positioner, self-level, ride control and programmable settings for drive and implement response have led to greater control of attachments."
Take the use of the the Caterpillar creep control feature in cold planer operation. "The creep control feature can be used to match the ground speed of the machine with the capabilities of the attachment, thereby reducing the opportunity for stall," says Gajewski. "In that application, cutting 2 to 6 in. of asphalt off a road requires high hydraulic power and an attachment that can harness that power and efficiently cut the concrete or asphalt. The tuning of the machine/task/tool solution is imperative to maximize production."
Such features can also translate to standard hydraulic attachments. "The work tool positioner feature allows you to set an angle for an attachment and return to the same angle repeatedly," says Gajewski. "Also, Dual Direction Self-Level helps in bucket and pallet fork work where the machine takes care of leveling the load, avoiding any spillage or uneven distribution of material.
"All the improvements made to performance and control add up to a highly productive package," he adds, "which can improve the efficiency of the way tasks are completed on the jobsite."