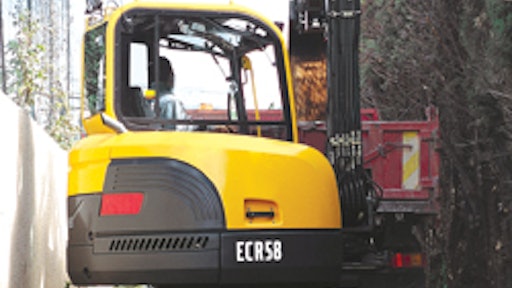 Volvo ECR Short Swing Compact Excavators
ECR28 and ECR38 models offer a counterweight that turns within the track width
ECR58 and ECR88 feature offset digging
19.3- to 59-gross-hp Volvo diesel engines
Bucket digging force from 4,429 to 12,589 lbf.
INDICATE 104 ON CARD
Kubota KX71-3 Compact Excavator
27.5-hp V1505 four-cylinder engine
Long arm provides 9-ft. 9-in. digging depth
3,274-lb. arm breakout force with a bucket breakout force of 6,349 lbs.
Overall width of under 5 ft. with a tailswing overhang of 18 in.
Intelligent Control System (KICS)
INDICATE 109 ON INQUIRY CARD
Yanmar SV100
Ultra Tight tailswing
16-ft. 1-in. maximum digging depth with a maximum reach of 23 ft. 9 in. at ground level
12,216-lb. maximum bucket digging force
73.5-hp Tier II-compliant four-cylinder turbo diesel engine
Features a standard hydraulic quick-coupler system, VICTAS offset track design and VIPPS Progressive 3-Pump system
INDICATE 105 ON CARD
Takeuchi TB145
10,494-lb. operating weight
12-ft. 6-in. dig depth
10,825-lb. bucket breakout force
72-in. overall width
Rubber or steel tracks
Auxiliary hydraulics
INDICATE 106 ON CARD
Compact Power Boxer BX-10
1,764 lbs. of ripping force with the standard 9-in. bucket
13-hp Honda engine
35.5-in.-wide dedicated track system
6-ft. 6-in. maximum digging depth
INDICATE 107 ON CARD
Komatsu PC18MR-2 and PC20MR-2
15-hp PC18MR-2 features 4,090-lb. operating weight and 3,570-lb. maximum digging force
20.8-hp PC20MR-2 features a 5,060-lb. operating weight and 4,235-lb. maximum digging force
HydrauMind hydraulic system
INDICATE 108 ON CARD
Ingersoll-Rand Compact Excavators
16,538-lb. ZX-75 and 27,563-lb. ZX-125 feature zero tailswing, as well as articulated boom systems
72- and 94-hp four-cylinder turbocharged diesel engines
Maximum digging depths of 13 ft. 11 in. and 15 ft. 4 in.
Choice of ISO/SAE control patterns at the push of a button
INDICATE 110 ON INQUIRY CARD
Deere D-Series Compact Excavators
Two models in the 3- to 5-metric-ton class
Zero tailswing designs
30- to 40-hp Yanmar Tier II-compliant engines
10- to 11-ft. 9-in. maximum dig depth
Various Worksite Pro attachments available
INDICATE 111 ON INQUIRY CARD