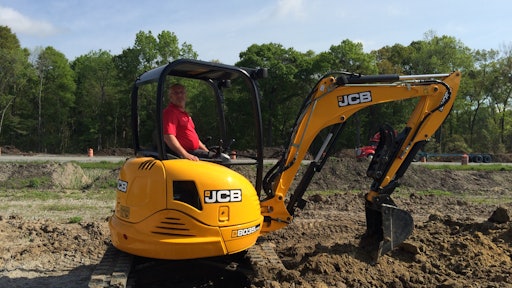 Plumbing isn't a career for the faint of heart. A job where you encounter leaking pipes, broken sewer lines and clogged toilets on a daily basis requires a person who can roll with the punches. Jason Abbott, general manager of Rooter Man Plumbers in Savannah, GA, knows firsthand the unique challenges that plumbing professionals face every day.
"At Rooter Man, we basically take on any type of service-related plumbing job for both residential and commercial sites," Abbott says. "We don't install plumbing in new construction projects, so that means we primarily handle maintenance issues on existing systems. From fixing a simple dripping faucet to cleaning out a sewer line, our technicians have seen and done it all."
Video: What Rooter Man Plumbers Loves About Its JCB 8035 ZTS Compact Excavator
Rooter Man is a national plumbing franchise with over 450 locations nationwide. Locally owned and operated by Scott Thompson, the Savannah location serves what the region's residents refer to as the "Coastal Empire," which includes the Savannah metropolitan area, Hilton Head Island and surrounding communities. Abbott manages the franchise's day-to-day details, drawing upon his 25-plus years of experience in the plumbing business. Three office staff and nine field workers keep the business up and running.
Profitable Addition to the Team
Until recently, Rooter Man was renting various brands of compact excavators from a local rental house. Then, its technicians happened to be working on a job at JCB North America's headquarters in Pooler, GA, just outside of Savannah.
"One of JCB's executives happened to be around and he stopped to talk with us about the machines we use," Abbott recalls. "He told us about some financing specials they had going on for compact excavators, and since JCB is a local company, we decided to explore the idea of buying a machine from them."
Abbott began discussions with JCB of Georgia, the dealer in the Savannah area, and eventually purchased an 8035 ZTS compact excavator in Spring 2015. The 8035 ZTS is a true zero tailswing model with a 31.6-hp Perkins 1.7-liter engine. Its stable undercarriage is carefully matched to its dig envelope for optimum performance and added safety. The undercarriage and dozer blade are designed to ensure debris doesn't build up underneath or in front of the machine. A two-speed tracking motor provides a top tracking speed of 2.6 mph, as well as maximum traction. Additional tie-down points make it easier to strap the machine onto trailers when moving it from jobsite to jobsite.
Abbott says that buying the compact excavator was an excellent business decision for a variety of reasons. "We love the maneuverability of the 8035 ZTS, as well as its smooth operation," Abbott says. "The JCB makes our job easier, and we're more efficient, which increases our profit margin. We're able to do more jobs in less time, so we're more productive.
"We use our 8035 ZTS every single day," he continues. "It operates for around five hours on a daily basis, excavating sewer lines and water lines on sites where we're searching for suspected leaks."
According to Abbott, the throttle control on the machine also helps keep his operators safer on the job. "The JCB throttle control gives our operators the ability to reach down and adjust the throttle on the fly. It's a lever, which is much easier to work than the other brands of excavators we've used," he states. "The operators can continue to focus on their tasks when they need to ramp up the machine's RPM."
A Leap From Renting to Owning
Rooter Man made the leap from renting a compact excavator to purchasing one, a decision Abbott doesn't regret. Occasionally, the business needed to rent a machine, but the rental house did not have any units available. Or sometimes the only machine available would be older and in rough shape, causing jobs to take longer and lowering the business' overall productivity.
"You have to look at your cost outlay when comparing renting vs. buying," Abbott explains. "We got busy enough to warrant owning our own machine, and we no longer wanted to rely on someone else's. Buying the 8035 ZTS made good sense for us."