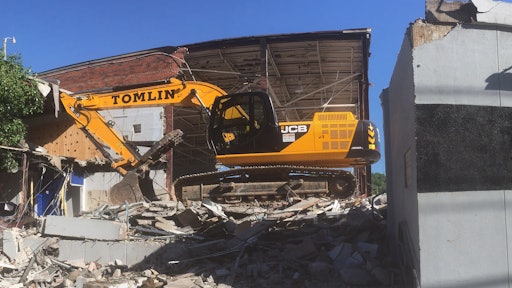 Bobby Tomlin of Birmingham, AL, knows a thing or two about demolition and excavating. And he should, because he's worked in the business for nearly four decades.
"I actually worked on a demolition crew when I was in the Army," Tomlin recalls. "When I got out, I came back to Birmingham, took what I'd learned from my time in the service and went to work for a local demo company. After a while, I decided I'd be better off taking my experience and going into business for myself. And that's what I did, way back in 1978."
Tomlin is the president of Tomlin Excavating, a company that started with just three employees back in the days of disco and leisure suits. Today, the company employs 20 people and specializes in both demolition and concrete recycling within a 100-mile radius of Birmingham. About 75% to 80% of Tomlin's business comes from commercial and industrial jobs while the remainder comes from residential projects.
"We demolish all types of structures—restaurants, office buildings, factories, warehouses, burned or condemned buildings and some homes," Tomlin says. "We tear them down, then clean them up so the owners can rebuild."
Tomlin's wife, Kay, serves as office manager and is in charge of sales for the company. The couple's sons are also involved in the day-to-day operations. Their older son, Chace, is the estimator and runs the scale house for the concrete recycling portion of the business, which takes left-over concrete from demolition jobs, grinds, crushes and screens it, then makes it into three different sizes of gravel for resale to home builders and other area construction companies. Tomlin's younger son, Traland, works in the field on demolition projects, operating one of the company's three JCB hydraulic tracked excavators, all purchased from Birmingham-area dealer, JCB of Alabama.
Lower Costs, Added Productivity
Tomlin Excavating currently owns two JCB JS220 models and one JS260. Ranging in size from 22 to 26 tons, the machines are used to demolish structures and then move the resulting rubble.
"The first JCB excavator we purchased a few years back was a used JS220," Tomlin says. "Last year, we bought another JS220 because we were so pleased with how the first JS220 had performed. A couple of months ago, we purchased a JS260 for our fleet. We used to own another brand of excavator, but I started having trouble with those machines. They were coming out with their new Tier 3 and Tier 4 engines, and we just weren't happy with how those machines were changed to comply with the emissions requirements. With our new JCB excavators, we don't have to worry about DPFs (diesel particulate filters) or any aftertreatment. That means we can be a lot more productive in the field and worry less about maintenance issues."
Tomlin also says that the fuel economy of the new excavators has been a significant benefit to his company's bottom line. "On average, our JS220 model will run two days on a single tank of fuel," Tomlin explains. "Our previous excavator from a different manufacturer would run for maybe one day or a day and a quarter on that same amount of diesel. In fact, in some situations, we're even getting two and a quarter days from one tank of fuel with our JCB excavators. And these are long, eight- to 10-hour days in the field. The JCBs are really fuel efficient."
Tomlin estimates he's saving around $2,500 per month in fuel costs alone since switching excavators. His 2005 excavator from a competing manufacturer was burning approximately 130 gallons of diesel per day. Today, each of his JCBs is using only about 65 gallons per day. "When you add up the fuel savings on a five-day work week, 20 days per month, that's quite a bit of money," he says. "Diesel prices are down right now, but when they go up again, the amount of money we'll save in fuel costs for these new machines will be even greater."
A Win-win Solution

A good relationship with local dealer JCB of Alabama has made Tomlin Excavating's transition to JCB equipment even smoother. "Mark Long and his crew at JCB of Alabama have been great to work with," he says. "They've been very responsive if we've had questions or concerns."
Tomlin says he's been so impressed with his JCB excavators that he's also considering purchasing a skid steer from JCB of Alabama for additional help with jobsite cleanup. These versatile, compact machines feature a side-entry door that provides easier, safer entry and egress for the operator. "I tried out a JCB skid steer, and I think it's the best thing since sliced bread," Tomlin says. "When you're getting a little older, it's harder to climb over the attachment like you have to do with skid steers from other manufacturers. With the JCB, I can just open the door and easily step in."
JCB is continuing to win Tomlin's business for good reason. "Their excavators offer a Tier 4 engine with no DPF or aftertreatment, great fuel economy and excellent performance," he states, "so you're getting an overall excellent machine."