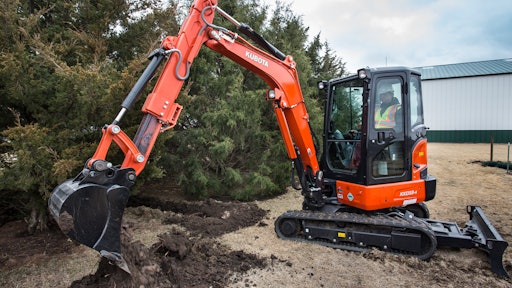 For the past decade full-sized excavators have adopted new technologies and features that make them more productive and fuel efficient. Now many of these features and technologies are trickling into the compact excavator market.
"More and more often compact excavators are being tasked to do the job of their larger counterparts, so they are equipped with greater hydraulic flow for improved hydraulic attachment/tool versatility, larger better-equipped cabins and fleet management/telematics to help manage machine location, usage, downtime, etc.," says Lee Padgett, product manager, Takeuchi-US.
Comfort features from full-size machines are also trickling down into compact excavators. "It was not that long ago that none of the compact excavators had air conditioning," recalls Tom Connor, product manager, Bobcat. "Now it is a fairly high take rate as far as a factory option." Cabs have also continued to grow. "When the zero tailswing craze took off 15 years ago, one of the quick ways to help get to zero tailswing was to shrink the cabin space." In the last five years, creative engineering has gained back space for the operator. "We were able to get about an inch and a half more in width of the cab, which doesn't sound like a lot, but in a cab that size, it is actually quite noticeable. It allows us to put a wider seat in the machine."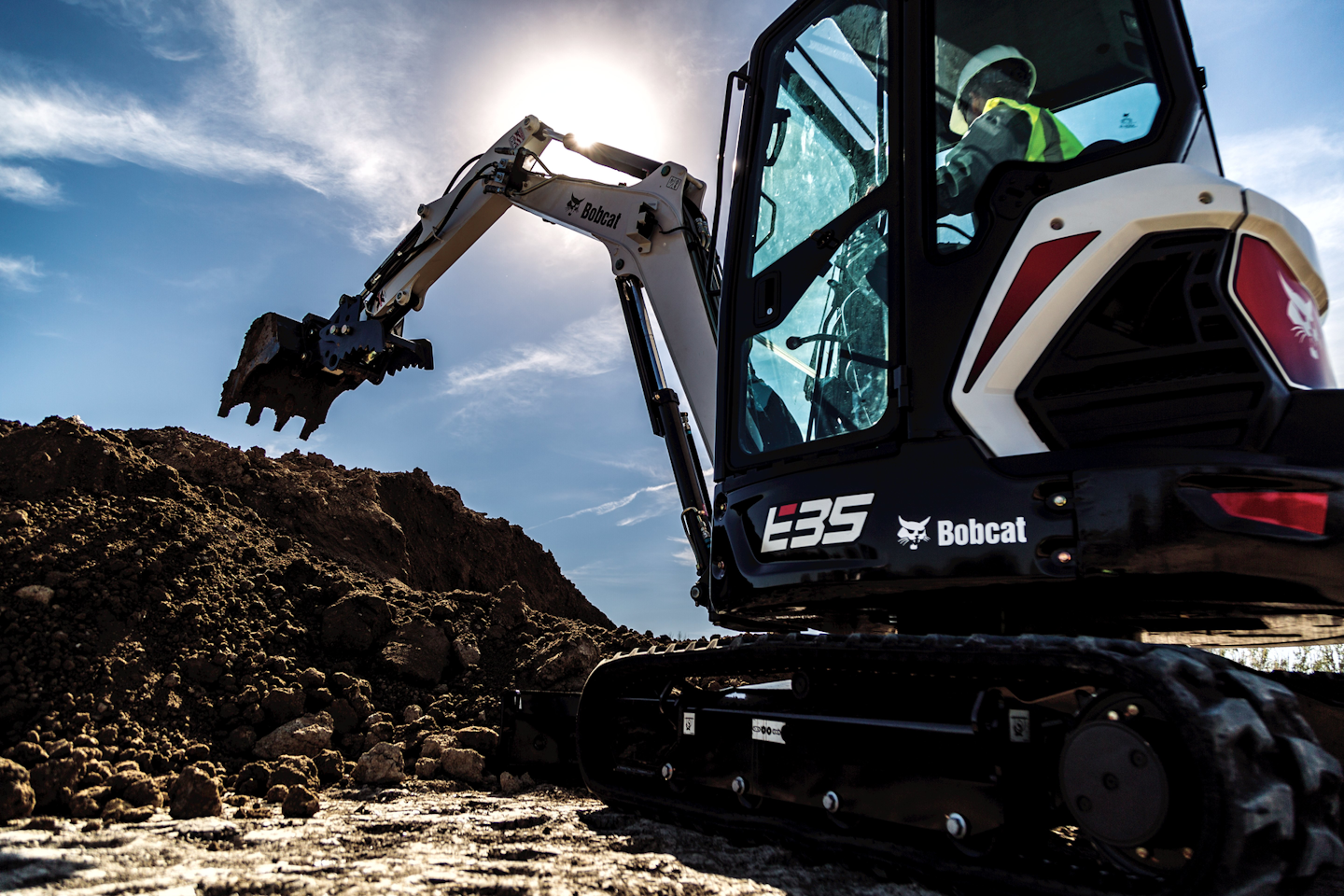 Bobcat offers several seat choices tailored to customer requirements. "For the R Series, the standard seat is a vinyl suspension seat on an open canopy machine," says Connor. "But you can option that up to a cab with heat and air that comes with a cloth seat, which is a nice upgrade, especially in the hot weather." You can even go above that and order a heated cloth seat in the cab-enclosed options.
According to John Comrie, product manager, compact equipment, Volvo Construction Equipment, larger cabs and air conditioning allow operators to focus more on the work with less fatigue, potentially extending the working season. "Many of Volvo's compact excavators, like the ECR88D short swing model, offer the same features and spacious cabs found on our full-size machines," he notes. Compact excavators increasingly have not only more cab space and foot room, but also storage. "Operators are often spending an entire day inside these machines. They want to focus on their work with minimal fatigue."
Hydraulic Versatility Meets Growing Attachment Demands
The ever-growing use of hydraulic attachments is helping drive the popularity of compact excavators. This means the hydraulic system must adapt to a wide variety of demands
"Flow requirements are attachment dependent," says Connor. "What is needed for some of the attachments is a detriment to other attachments."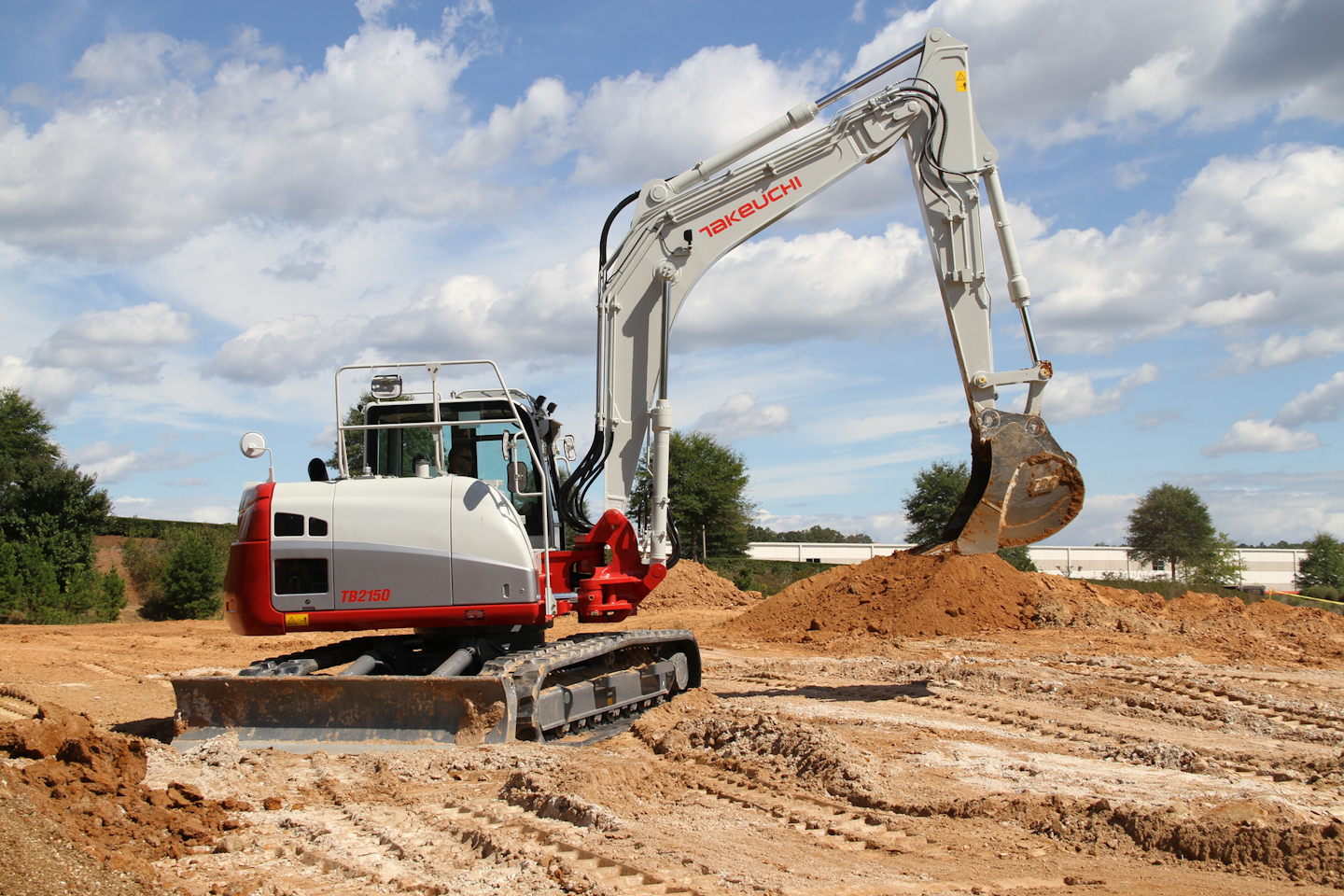 More compact excavators are offering greater hydraulic flow for improved attachment versatility, larger better-equipped cabs and fleet management/telematics.Many OEMs, such as Bobcat, offer the ability to tailor the flow rate to best match individual attachment flow demands. "A breaker, an auger or a plate compactor — those types of attachments typically want every ounce of flow you can get," Connor states. "But a thumb or a clamp attachment is a little more sensitive depending upon what you are doing. Sometimes you want very precise, delicate control of a clamp attachment to grasp and release items gently, so we have the ability to back that flow off."
Being able to make necessary hydraulic flow adjustments from the seat aides efficiency. "Adjustments that can be done from the seat are welcome features on any size machine. Flow control helps match the machine output to the attachment requirement for efficient operation and longer attachment life," says Jeff Jacobsmeyer, product manager for excavators, wheel loaders and TLBs, Kubota.
Modern control panels allow quick changeovers between attachments. "Most Kubota compact excavator models have the ability to program up to five different flow rates for specific attachments on our digital control panels," says Jacobsmeyer. "No tools are required and this can all be done from the comfort of the operator's seat. Simply set the required flow amounts for up to five different attachments and, with a couple pushes of a button, hydraulic control of the attachment is set just where you need it to be most efficient. There is no need to continually adjust the flow every time you change the attachment because now there are five programmable settings stored in the dash memory."
Modern in-cab interfaces make quick adjustments to flow possible. "It's relatively easy to offer flow adjustment on the auxiliary hydraulics with the type of hydraulic components used today," says Comrie. "All Volvo machines above 3.5 tons have a cab interface where the operator can easily adjust the flows to suit the attachment. The same feature is available on the below 3.5-ton models, but is done mechanically from inside the cab."
Hydraulic flow adjustability will be critical as the industry adapts to newer attachment trends. "Like other construction trends that tend to start in Europe and then make their way to the U.S., we are seeing increased use of tiltrotators and we expect it to continue to gain traction in the coming years," says Comrie. "A tiltrotator is best described as a wrist at the end of the boom. This attachment allows an operator to achieve greater flexibility for attachments, rotating them 360° and tilting +/- 45° in either direction. Equipment owners and operators who use tiltrotators tell us they would never go back to a standard bucket or pallet forks."
In response to an ever expanding array of attachments, the popularity of hydraulic-activated quick couplers continues to grow. "That is just becoming more and more commonplace. We offer a hydraulic quick-tach on our 3-ton all the way through the 8-ton [excavators] now at a pretty respectable take rate," says Connor. "On an 8 ton, the quick-tach is almost a necessity because those attachments get so heavy. In the old days of aligning pins, you may have gotten by with it on a 3-ton [excavator], but on an 8 ton, you don't want to be wrestling attachments if you change more than once a week. Quick-tachs have essentially been the norm and now hydraulic powered are really coming on strong."
Auto Idle and ECO Modes Boost Fuel Efficiency
Auto idle is commonplace on larger excavators. If the controls are not moved in a pre-set timeframe, the engine automatically transitions to idle to save fuel. On larger size excavators with corresponding larger displacement engines, this technology promises a rapid return on investment.
But auto idle has been trickling down to smaller size excavators. "The average 3-ton machine on the market now has auto idle," says Connor.
Bobcat initially started offering auto idle on its Tier 4 Interim machines. Many of these were pre-electronic control engines. "It required an electromechanical device to literally move the fuel rack," Connor points out. "The advent of electronic engine controls has made it easier to add the auto idle feature."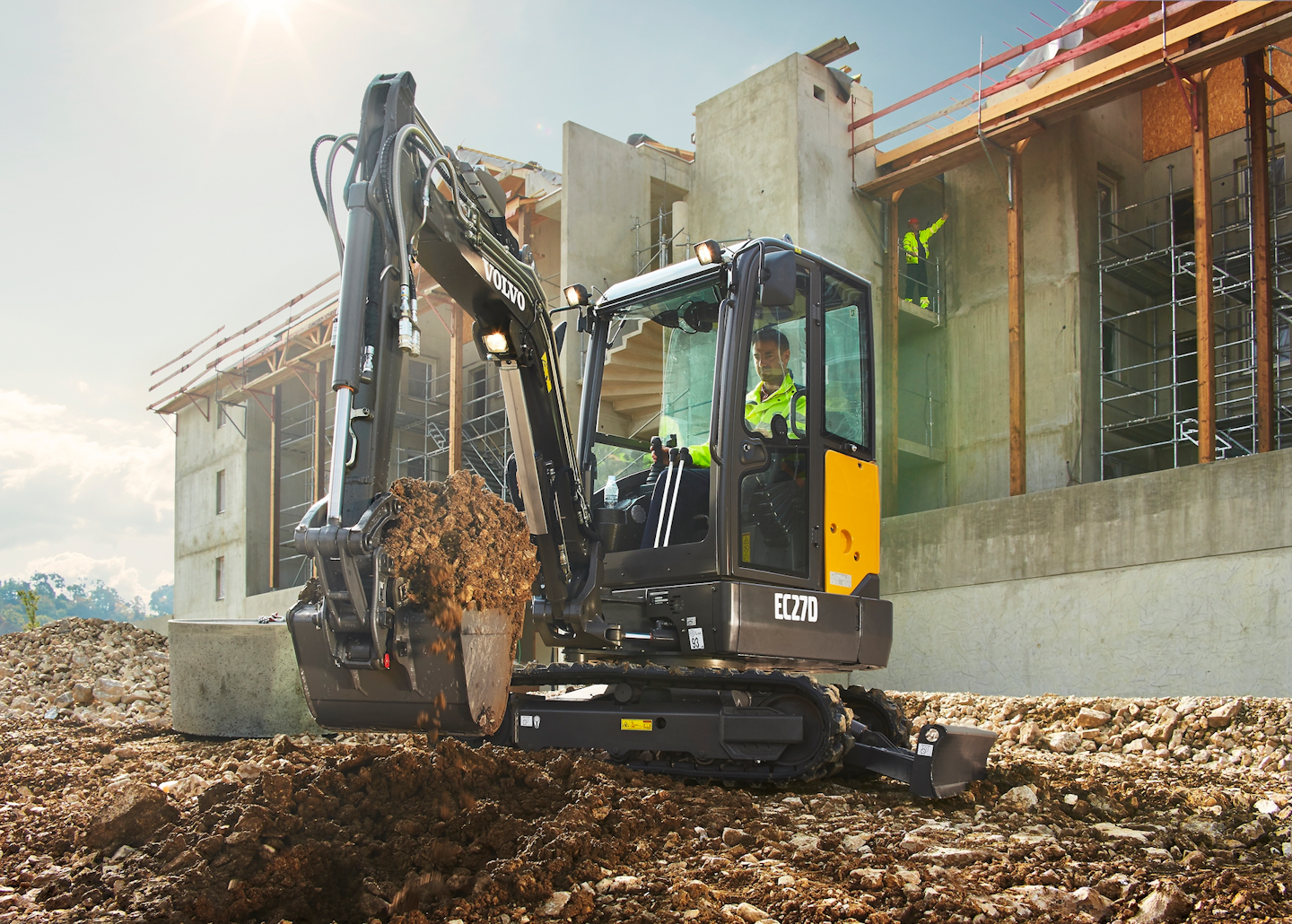 Auto idle and auto-engine shutdown are useful on compact excavators because they protect equipment from long idle times.Such features are about more than just fuel savings. "Auto idle and auto engine shutdown are useful on most compact excavators because they protect equipment from long idle times, adding value by protecting the more sophisticated exhaust emissions devices," says Comrie.
Another feature gaining traction is ECO mode. "ECO mode largely limits your high-end throttle," reports Connor. The popularity of this feature depends on the operator. "It is appealing to some of the more progressive mentality. It is more of a fleet solution where it is mandated."
"Electronic features like auto idle and ECO modes have been offered for several years on many Kubota compact excavator models," says Jacobsmeyer. "Today, engines that are less than 25 hp usually do not offer an ECO working mode of operation because of the lower horsepower. Machines with less than 20 hp commonly do not offer an auto idle mode feature. As the smaller models begin to adopt electronic fuel systems, features like auto idle and ECO modes may become more common because the cost of adding these features becomes less with the advancement of electronic fuel systems."
Some manufacturers offer working modes similar to those found on full-size excavators. "Both auto idle and multiple working modes are standard equipment on most Takeuchi excavators," says Padgett. "With today's fuel prices, fuel economy is a concern for operators when pricing out jobs even when using a compact excavator. Multiple working modes allow the operator to match machine performance to the job at hand while reducing fuel consumption. These features are often found on 3-ton machines and larger."
Advanced Hydraulic Systems Maximize Available Power
"Another feature becoming more common on compact machines is load-sensing hydraulics, which make the machines smarter and increase their power," says Comrie.
It is about maximizing machine efficiency. "Kubota's Advanced Load-Sensing Hydraulic System maximizes efficiency by providing optimum oil flow to each cylinder," says Jacobsmeyer. "This feature, combined with an advanced hydraulic regeneration circuit, provides the speed, precision and power that will improve cycle time and productivity. The auxiliary hydraulics provide versatility to maximize the machine potential with impressive flow amounts."
Growth in Smart Technologies
Depth guidance systems have gained traction in the full-size excavator market and are now starting to move into the 3-ton and larger compact excavator market. Typically, cost has been the highest hurdle to more extensive implementation.
"Historically, customers were willing to spend $11,000 on a full-size excavator system," notes Connor. "But it was hard to convince them to spend that same amount of money on a machine that costs one-third of a full-size excavator."
Bobcat created its own depth guidance solution to address this challenge. "We were able to incorporate it into our excavator electronic system and dash panel," Connor explains. This reduced the investment required, and it has proven an increasingly popular option.
Another smart technology making the leap from larger excavators is telematics. "Telematics systems are becoming more popular for both the owner-operator and larger fleet managers," says Jacobsmeyer. "Geofencing, machine health and maintenance can be monitored more accurately, resulting in less downtime."
"All Takeuchi excavators come equipped with Takeuchi Fleet Management (TFM)," says Padgett. "TFM will remotely provide alerts and machine information to include location, performance and maintenance data, giving insights into where and how the machine is being utilized. This allows customers to take a wide view of their equipment and monitor the machines' health and service needs without having to go out on the jobsite, saving time and money."
The types of information customers want varies. "There's definitely growing interest in telematics, but how much information owners want depends on the customer," Comrie comments. "Some want a lot of data. Others only want the basics like machine hours and location."
Telematics systems simplify tracking multiple machines when contractors have several crews working. "It becomes a challenge keeping track of machines as regular service intervals come about," notes Connor. A telematics system allows the customer to be notified in advance when upcoming service intervals are due.
Track Options Move Beyond Rubber
The vast majority of machines up to 8 tons are sold with rubber tracks since they are easier on existing landscaping and concrete compared to steel. "We do sell steel tracks on our 3- through 8-ton excavators," says Connor. "The steel track take rate is extremely small, but it absolutely leaps when you get to the 8-ton unit."
While rubber tracks still dominate the market, hybrid tracks are becoming more popular.Customers' desire to combine the rubber tracks' ability to run on finished surfaces without creating jobsite damage and the increased durability and stability offered by the heavier steel tracks has led to a hybrid solution.
According to Connor, there are actually two forms. One is a steel track with bolt-on rubber street pads. There has also been a growing interest in a segmented track, which is like a steel track except each grouser pad has a rubber coating.
"We are seeing more demand for that on our 8-ton excavator," says Connor. Customers have had no problem driving across improved surfaces, and they still have the peace of mind that they will not destroy a traditional rubber track in the event they hit a chunk of rebar or concrete. Each segment can be individually replaced if damaged.
Hybrid tracks can provide the best of both rubber and steel tracks. "Track pads, such as TUFPADS, which bolt onto the steel chain and allow the machine to work in all surfaces, is an option that has been gaining popularity," Comrie indicates. "Customers are looking for ways to make their machines more versatile. These TUFPADS allow the machine to work on asphalt, concrete, gravel and most other surfaces. They also have a longer life than single rubber tracks, and the individual pad can be replaced if damaged instead of the whole single rubber track.
"An added benefit is improved stability on short radius machines," he continues, "thanks to the added weight track pads give to the machine."
Mini-Excavator Features Also Migrate Up
In addition to features migrating down from larger excavators, some features are actually migrating from smaller units up to the larger compact models. Two of the most notable examples are center pivot swing booms and dozer backfill blades.
"The 8-ton and smaller machines have almost exclusively gone to the swing boom and to a backfill blade as standard equipment," says Connor. "If you go back 10 or 12 years, a swing boom was a rarity on the 8-ton machines." Some did have it as an option. "Swing booms basically have become the norm in this size machine over the course of time."