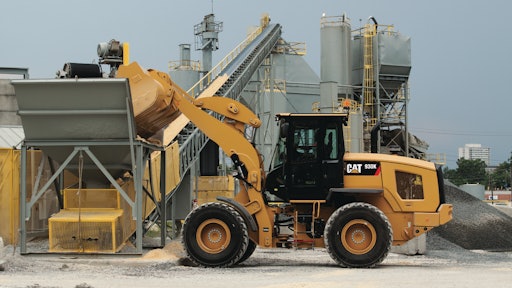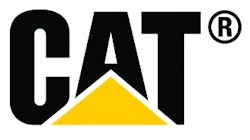 The Caterpillar display at World of Concrete 2012 will cover 5,000 sq. ft. of prominent floor space in the Central Hall (C5371) and feature a range of new earthmoving and lifting machines, along with a variety of new work tools, along with the Cat CT660 Vocational Truck in dump- and mixer-body configurations.
The F Series backhoe-loaders (416F, 420F and 430F) are redesigned center-pivot models that use the Cat C4.4 Tier 4i engine with ratings from 87 to 106 hp. A new loader linkage provides greater lift and dump heights and increased lift capacity. Specific enhancements include an electronic torque limiter for improved hydraulic performance and power management, new torque converter for improved roading characteristics and power-boosted brakes.
The D Series skid-steer loaders (272D and 272D XHP) and compact track loaders (299D and 299D XHP) are large-frame models built to take on the toughest digging applications and handle the largest work tools. They use a more powerful Cat C3.8 Tier 4I engine and feature a 19% boost in lifting force. The XHP models have an auxiliary hydraulic flow of 40 gpm that produces 22% more hydraulic horsepower compared with C Series models.
The 303.5E CR, 304E CR, 305E CR, 305.5E CR and 308E CR SB (swing boom) Compact Radius (CR) excavators feature Tier 4i engines and refined auxiliary hydraulic systems that provide adjustable flow rates, pre-set work-tool flows and continuous-flow capability. Secondary auxiliary-hydraulic controls are integrated into new ergonomic joysticks, and the implement hydraulic system features an economy mode. A new monitoring system with the COMPASS digital display panel simplifies operator interface.
The new K Series small wheel loaders (924K, 930K and 938K) use the Cat C6.6 ACERT engine, which meets Tier 4 Interim emission standards and can deliver fuel savings of up to 30% compared with H Series models. The new loader linkage blends Z-bar linkage with the VersaLink or IT linkages. The units are equipped with a new Intelligent Hydrostatic drive system, front-axle differential lock, new cooling package and new operator station with automatic climate control.
The K2-Family dozers (D3K2, D4K2 and D5K2) are powered by the Cat C4.4 Tier 4i engine, and feature hydrostatic drive and a new Traction Control system that reduces track slip during maximum load conditions. The Stable Blade system complements the operator's blade-control input, and an Eco Mode can improve fuel economy up to 10% with appropriate reductions in engine speed.
Cat C Series TL1255 telehandler
The TL1255C telehandler is the largest machine in the new C Series range. It has a maximum lift capacity of 12,000 lbs. and a maximum lift height of 54.3 ft. The Cat C4.4 ACERT Tier 4i engine develops 142 hp and can accommodate B20 biofuel. The unit has a top speed of 20.4 mph, and features a simultaneously extending boom, new 4F/3R powershift transmission with clutch modulation and new styling and color scheme.