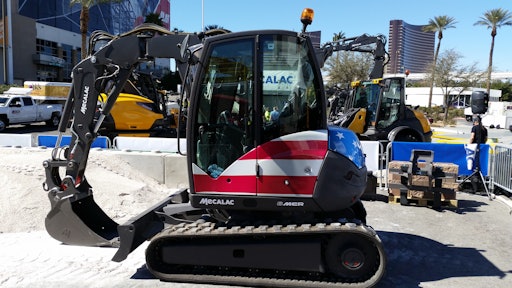 Responding to a great deal of interest from U.S. contractors, Mecalac has now launched distribution of its loaders and excavators in the U.S. Mecalac signed a cooperation with Massachusetts-based Lorusso Heavy Equipment (LHE) that will distribute in Connecticut, Rhode Island and Massachusetts. LHE will market MCR Crawler Skid-Excavators, AX and AF Wheel Loaders and, later this year, the new MWR Wheeled Excavator.
Mecalac S.A., headquartered in Annecy-le-Vieux, France, manufactures a range of compact excavators and loaders designed for urban, railway and utility construction sites. Founded in 1974, it has manufacturing facilities in France, Germany, Turkey and now in the U.K., and a network of 200 authorized dealers and service partners in Europe, Africa, Australia and the U.S.
Acting on the desire to broaden the company's range of products, distribution reach and industrial know-how, Mecalac acquired the Terex production facility in Coventry, England in December 2016. This unit, renamed Mecalac Construction Equipment UK Ltd., manufacturers a full range of high-tech backhoe-loaders, site dumpers, formerly sold under the Fermec and Benford brands, as well as compaction rollers. This purchase will expand Mecalac's range of compact equipment designed for urban settings to include machines for more massive work sites often found in the Americas.
As part of the goal of moving into both North and South America, Groupe Mecalac has created a holding company based in the U.S.: Mecalac Americas LLC. Key U.S. target markets for Mecalac machines are urban jobsites that require space management and versatility in the building, construction, civil engineering (pipe, electrical, cable laying) and landscaping sectors.
Mecalac Marketing Manager Patrick Brehmer stresses, "Ours is a very different approach from other manufactures who are focused on individual products.  At Mecalac, we are process-oriented and are driven by a jobsite approach, not a product approach."
Mecalac is exhibiting for the first time at CONEXPO 2017 in Las Vegas, March 7-11, 2017. There are nine machines on Booth S6439 in the Silver 3 Outdoor Area. Mecalac models include the 6-, 8- and 10- ton MCR Crawler Excavators, the 9- and 15- ton MWR Wheeled Excavators, the AX 850 Wheel Loader and the AF1200 Wheel Loader. Terex models include the 6- ton TA6S site dumper and the TLB840R Backhoe Loader.  The 6MCR will be demonstrated.