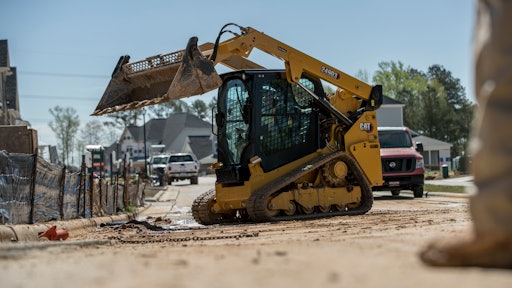 Caterpillar
Offering a wide range of attachments and working in varied underfoot conditions, compact track loaders (CTLs) are a staple piece of equipment for many contractors. The rubber track undercarriages provide more than tractive effort. Their unique design also contributes to high flotation, low ground pressure, machine stability and a smooth ride. For these and other reasons, CTLs are at home on general construction projects, landscape work, agricultural tasks and roadwork, among many other applications.
However, one of the more challenging choices you may have is equipping the CTL with the right track for the application needs. From block and bar tread to general and premium track designs, manufacturers offer multiple track options to suit applications. So, taking the time to work with the local dealer to help find the right fit for the applications most encountered is a must.
In addition, the higher initial investment for a set of tracks vs. tires makes it imperative that you follow proper operating and maintenance practices. "On average, customers can expect a lifespan of 1,200 to 1,500 hours from rubber tracks when properly operated and maintained," says Kevin Coleman, compact track loader product specialist for Caterpillar, "but there are a number of factors that can affect track life."
The Right Choice         
Whether for a new machine purchase or a set of replacement tracks for an existing machine, it's important to investigate the available options to find the best rubber track fit for the machine and working applications. One initial choice offered by many manufacturers is general  vs. premium duty designs. "Expected service life, relative low/high CTL operation and pricing are the main differences between these two options," says Coleman.
For machines that have relatively low hour accumulation and work in applications like snow removal, material handling and auger work, general duty tracks allow contractors to lower owning and operating costs. Service life for this design will excel with underfoot conditions such as snow, turf and concrete.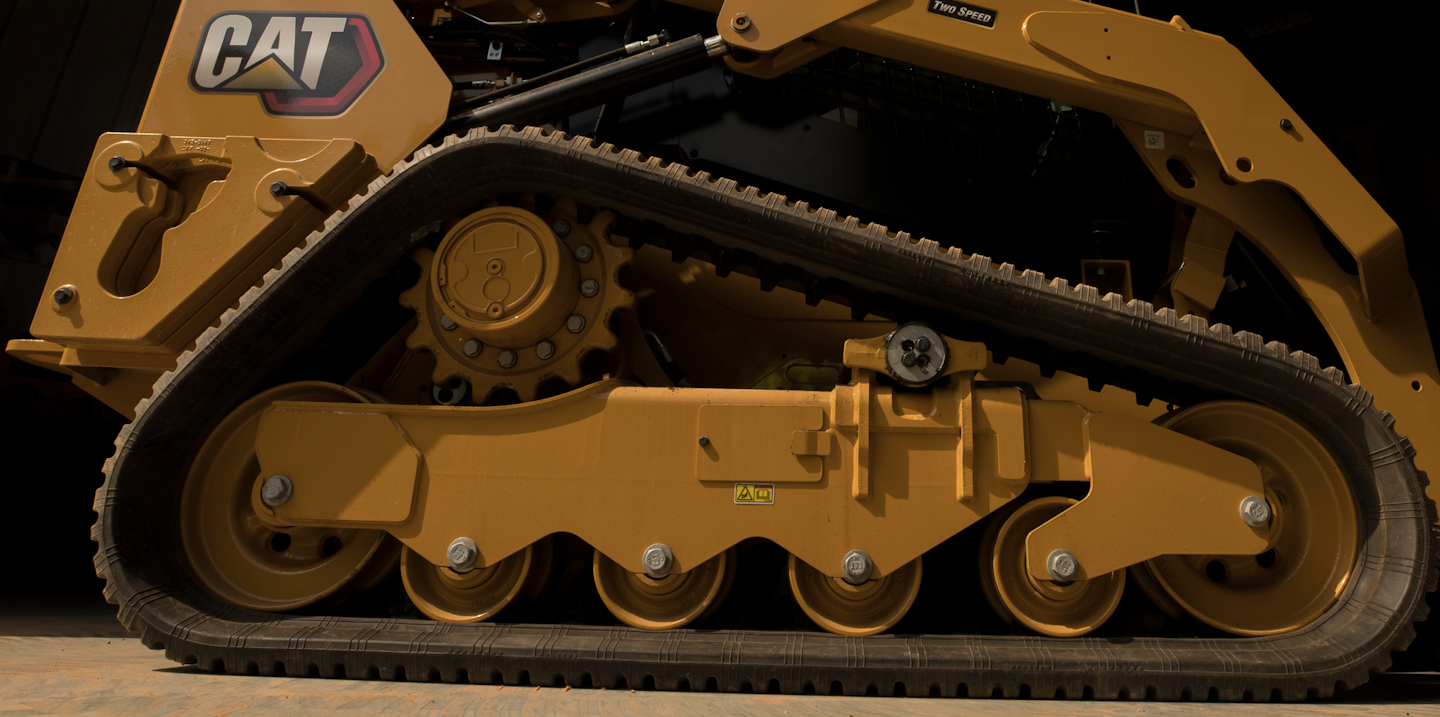 From block and bar tread to general and premium track designs, manufacturers offer multiple track options to suit applications.CaterpillarPremium duty tracks, as the name implies, are designed for high-hour operation machines and will, on average, deliver a longer service life than general duty tracks. Premium duty tracks are often offered in either narrow or wide track widths and give the option of bar or block tread patterns.
When choosing between narrow or wide track width, consider the applications most encountered by the CTL. "Is low ground pressure with better flotation required? If so, the wider track option is the best choice," says Coleman. If the application demands the narrowest overall machine width, then the narrow track option is the best fit.
There are subtle differences that you should consider when deciding between a block or bar pattern for the track. The block design delivers optimal track durability and works well in a wide range of applications. However, this pattern may not be the best option for applications such as snow removal.
For a good all-around, all-season track, the bar pattern does very well in snow, delivers low ground disturbance and leaves behind a good finish, which is especially beneficial for new construction and landscaping applications. As a bonus, the bar track gives the operator a better ride on hard surfaces like concrete and asphalt.
Maintenance is Key    
As with any machine, following daily and preventive maintenance guidelines is critical in extending its service life. Keeping tracks in good operating condition is a key factor in equipment maintenance for CTLs.
"The better contractors care for their machines, the longer individual components will last," says Coleman. "When the machine is operated efficiently, kept clean and maintained per the Operations & Maintenance Manual (OMM) recommendations, track life will be maximized."
It is good practice to incorporate a machine walk-around at the start of the workday. "On Cat CTLs, there is a service chart inside the rear door that illustrates the scheduled service intervals and maintenance points," adds Coleman.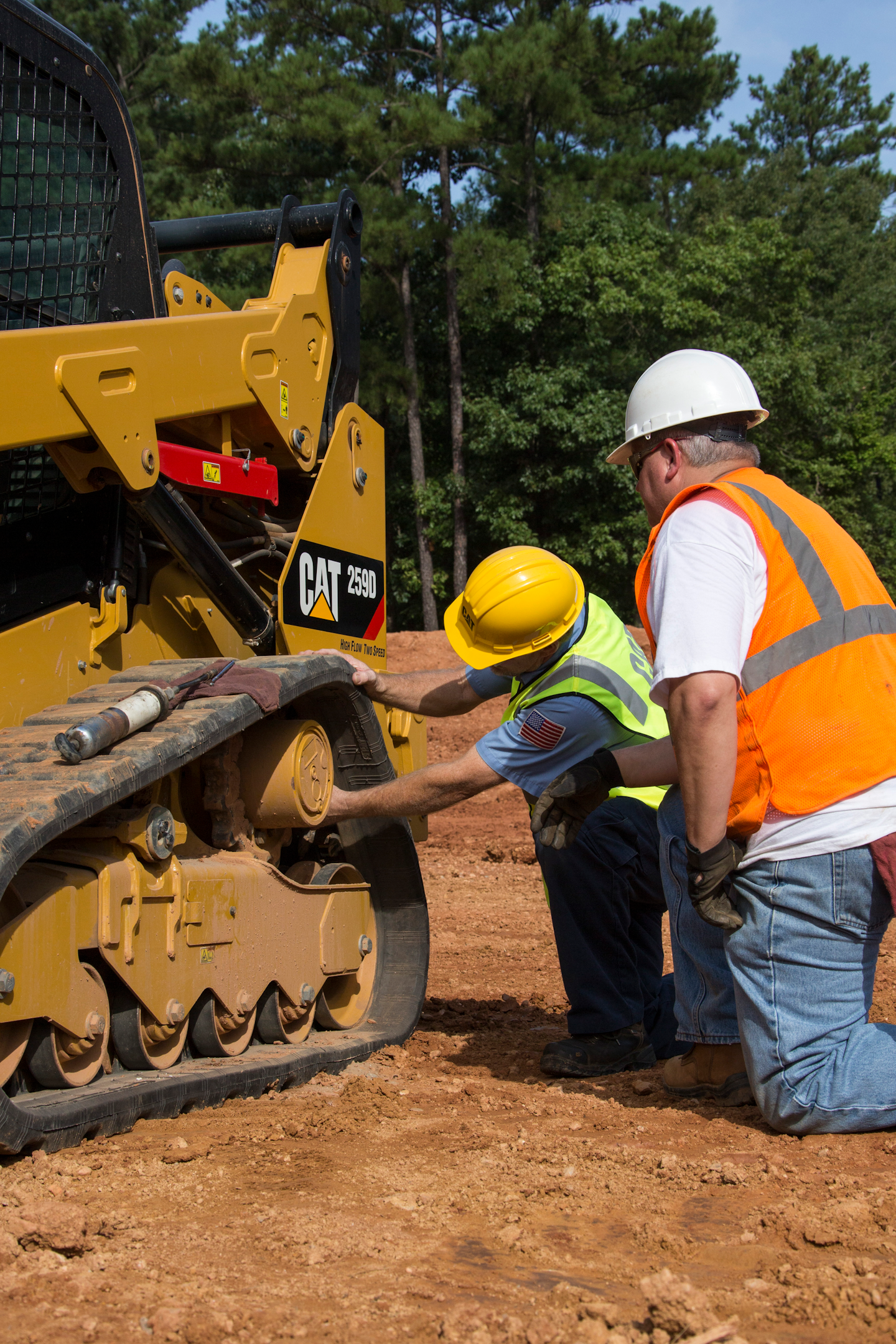 Daily cleaning and greasing of the undercarriage along with inspecting the track for damage and checking for proper tensioning will help to maximize life component.CaterpillarCleaning and greasing the undercarriage daily will maximize component life. Daily inspection of the track for any signs of damage and checking the track tension are also recommended to help extend its service life.
Intervals for track maintenance vary depending on the application, the operator, soil conditions, climate and condition of the undercarriage components. Therefore, keeping an eye on track tension daily is extremely important. It will help to improve the service life of the track and undercarriage components.
Tracks that are too tight can cause premature track failure, power loss and bearing failures. Tracks that are too loose increase the possibility of track derailing and damage due to drive lugs misfeeding on the drive sprocket.
Factors Impacting Track Life
While contractors can expect, on average, a 1,200- to 1,500-hour lifespan from rubber tracks when properly maintained, several factors can affect track life. "Beyond maintenance practices, application, operating techniques and underfoot conditions can significantly impact track life," offers Coleman.
The amount of torque and horsepower required by an application has a direct effect on undercarriage component wear. Working any piece of equipment to its maximum potential will cause higher wear to certain components. In general, tough applications like excavation and dozing maximize the torque and horsepower being transferred through the sprocket to the tracks and cause increased wear. Easier and less demanding jobs, such as trenching and finish grading, require less torque and horsepower and cause minimal wear.
Operating technique can greatly affect undercarriage wear and operating costs. Aggressive operation may help get the job done faster, but it can also increase the rate of wear and overall operating costs. As an example, making a quick change in travel direction by counter-rotating can ingest material into the undercarriage and may cause unnecessary, accelerated wear on the tracks and undercarriage components.
"When practical, three-point turns are a good way of turning. Turning without counter-rotating may take more time but can extend the service life of undercarriage components and reduce operating costs," says Coleman. "Another operating technique to avoid is excessive spinning of the tracks while digging or pushing into a pile, which also contributes to accelerated track wear."
While Cat CTLs are rated for work on slopes up to 3:1, working across slopes can cause faster wear on undercarriage components. Unnecessary side loading wear can be reduced by operating up and down the slope, rather than across, whenever possible. "Avoid making direct 90° turns when operating on a slope," advises Coleman. "Sharp turns on slopes can cause unnecessary wear on track guides, can shove material between the track and roller wheels and can lead to track derailment and subsequent damage."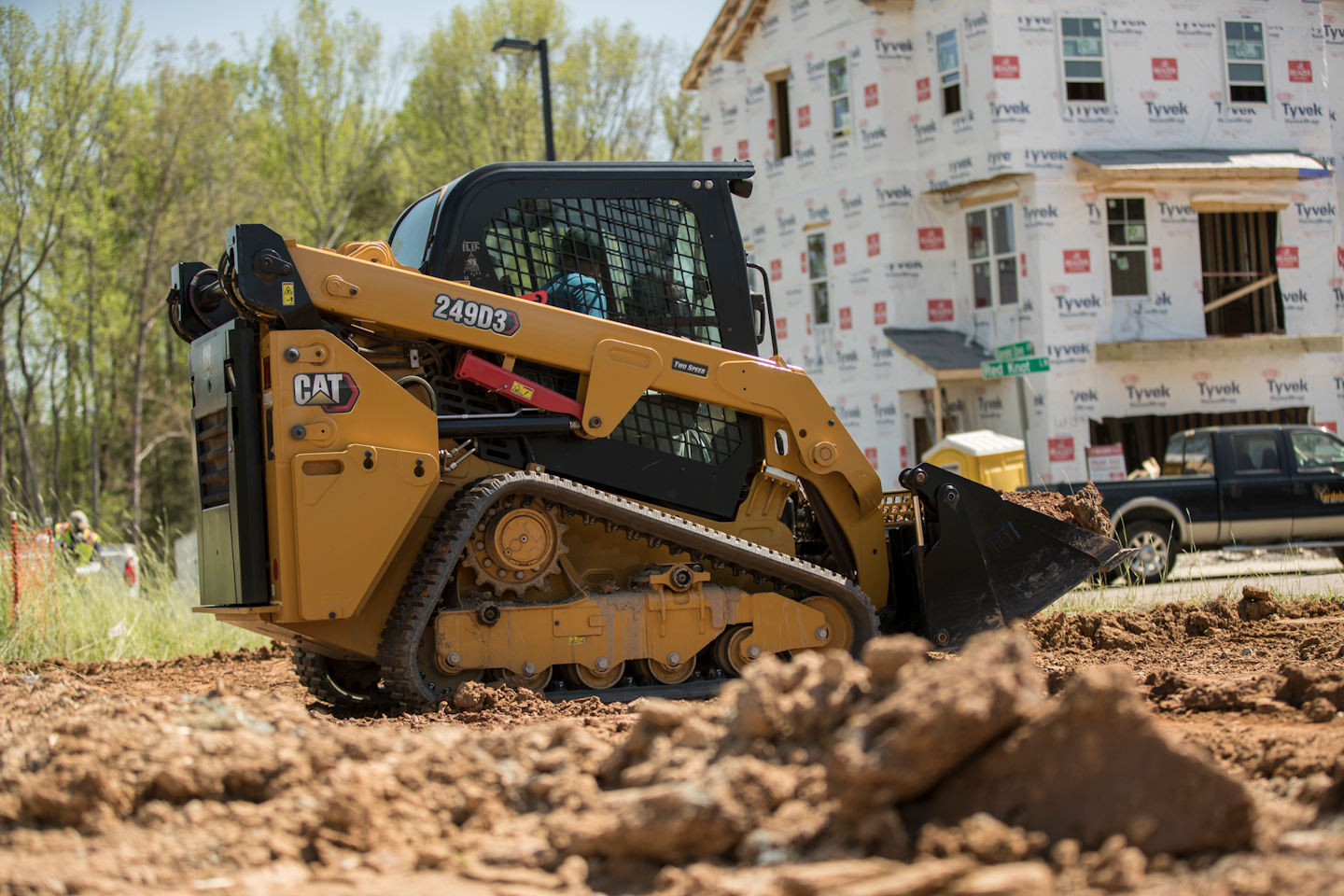 Underfoot conditions affect track wear. Contractors will see longer wear life when working on soft, loamy soil and non-abrasive surfaces.CaterpillarIn terms of underfoot conditions, track wear over time is going to be different for contractors who work primarily on grass compared to dirt, rock or snow. Rocky, jagged material or construction debris can cause accelerated wear on the track and other components of the undercarriage. Because of a CTL's flotation, traction and versatility, they can work on any material, including scrap or demolition debris, but these harsh underfoot conditions can cause significant track wear. Typically, contractors will see longer wear life when working on soft, loamy soil and non-abrasive surfaces like turf and finished landscaping.
Regardless of how well it's maintained or its type, there will come a time when a CTL's track will need to be replaced. Coleman offers some parting advice to help you determine when it's time to do so.
"What it comes down to is tracks will need to be replaced when they no longer provide good traction on the job or if the track has been damaged to the point that it no longer holds tension," he says. "There are many sources to purchase tracks from but not all offer the same quality products. So, purchasing from a reputable source, like your equipment dealer, is a good way to make sure you're getting a good, quality track."