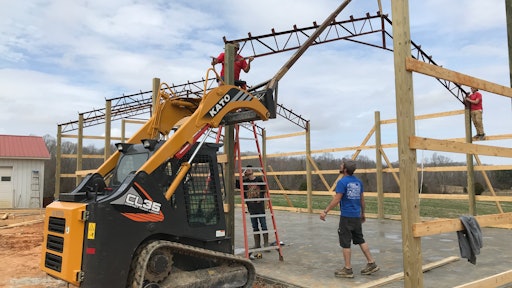 KATO Compact Equipment Sales
Lexington, TN-based Precise Rebuilders started selling and rebuilding alternators, starters and hydraulic cylinders 27 years ago. But the company recognized the industry was changing and its very survival could be in jeopardy. Instead of waiting to see what would happen, the company took proactive steps to ensure future growth. "As we noticed that the rebuilding industry was evolving, we got a little concerned about the future," recalls Keith Garner, owner. "We decided to diversify. About 15 years ago we purchased a single trencher and we started renting it."
This began a gradual transition into the rental business. "We just started to buy a piece of equipment here, a piece of equipment there," says Garner. This eventually led to a large fleet of rental equipment earning a steady income stream. "We have nine excavators and six skid steers." The fleet also includes boom lifts, scissor lifts, telehandlers, concrete mixers, fork lifts, light towers, trailers, trenchers and a large assortment of attachments.
Downtime is the Enemy
Everyone in the rental industry understands the importance of equipment availability. Every hour of downtime is another hour of lost income potential. With one of Precise Rebuilder's most trusted equipment suppliers, the supply of parts for the machines became an issue. "The company that I had been really loyal too, I would wait up to four days to get parts," explains Garner. The turning point came when the supplier began have an issue with a particular excavator model's new engine "Within the first year, I was putting the third engine in it. They were just having issues. They took care of me under warranty, but I lost my whole rental season that year. I didn't get to make a bit of revenue off that piece of equipment the whole year because the supplier had to take that piece of equipment in, diagnose it and it was a process to get the engine and [install] it."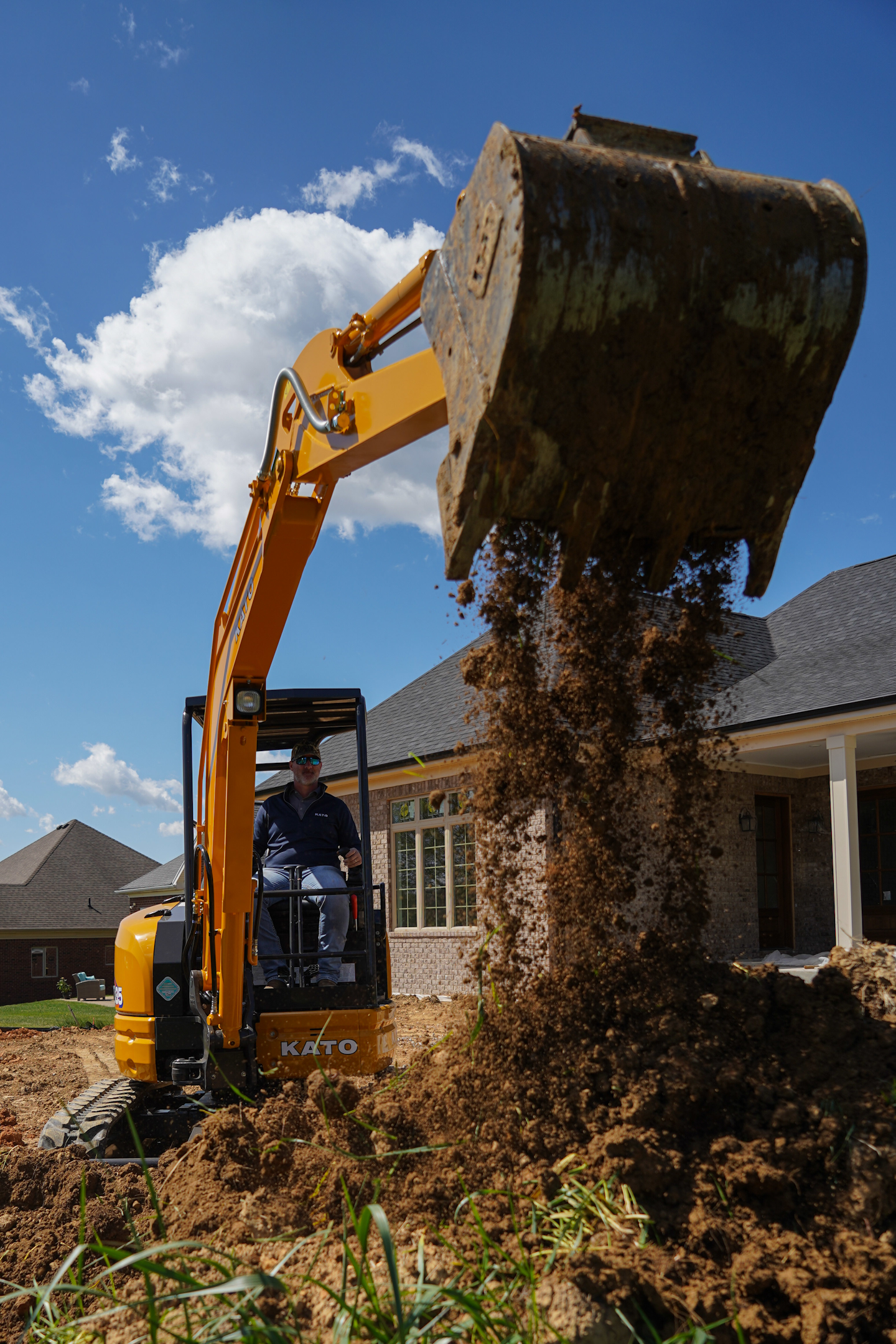 Customers who are not familiar with KATO are often convinced when they see quality components, such as the Kubota engine. Customers often express an interest in purchases the units after gaining seat time.KATO Compact Equipment SalesThis lost revenue forced Precision Rebuilders to consider other alternatives. "That is what finally convinced me that I needed to move to a different company," says Garner. The American Rental Association (ARA) show provided a solution. "I went to the ARA show and noticed there was a lot of activity around the IHI (Now known as KATO) Compact Excavator Sales booth. I started making inquiries about IHI." The consensus was that IHI made a durable product that was easy to maintain and that the parts were readily available from its Elizabethtown, KY facility – a relatively very short distance from Precision Rebuilder's facility. "If you are in the central United States, you pretty much have one-day service and every part they have is warehoused in Elizabethtown."
Building a Successful Partnership
Compact Excavator Sales was not exactly a newcomer to the North American market. It had been distributing Japanese-built IHI-brand machinery - which included crawler carriers, mini excavators, skid steers, track loaders and concrete buggies - in the United States since 1994. It was family run by Mike and Markie Smith and successfully built a reputation for customer service.
Precision Rebuilders' initial relationship with Compact Excavator Sales began 8 years ago. Then, in November of 2016, KATO Works - a Japanese manufacturer of large hydraulic excavators from 16,000 to 101,000 lbs., rough terrain cranes, all-terrain cranes, boring trucks, street sweepers, and wheeled cranes - acquired IHI to expand its line of construction machinery into the compact range. The family-owned U.S. distributor has subsequently changed its name to KATO-Compact Excavator Sales.
This change had no impact on Precision Rebuilders' growing relationship with KATO-CES (Compact Excavator Sales). "The people don't treat you like a number, they treat you like they care about you. It has been a very good relationship," notes Garner. "If we run into any issues, they are very accessible with information. They will take any suggestions that I might offer. We have been in business for 27 years, so if there is something we are struggling with and we want to make a suggestion, they are always open to that."
Name recognition is one of the initial challenges faced by Precision Rebuilders when offering the machines for rent. Most people have not heard of KATO like they have other common brands. "We spend some time acquainting our customers that it is a Japanese-made machine and assuring them that they build a high-quality machine," notes Garner. The quality of the components used helps sell the customers. "Everybody recognizes Kubota as a very reputable and high-quality engine. The customers are impressed that KATO is using the Kubota engine."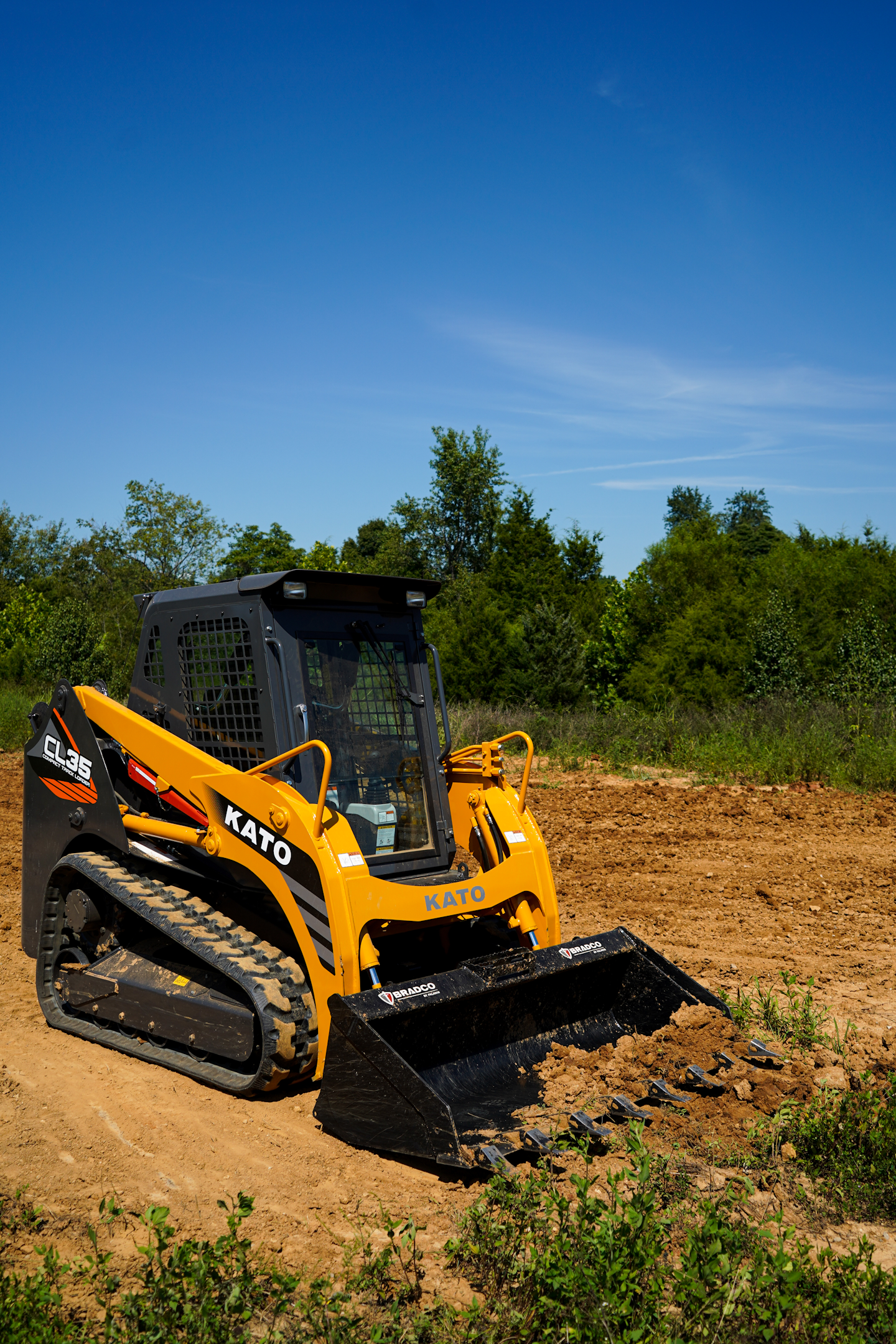 KATO Compact Equipment Sales
Since these are rental machines, ease of use is a very important concern. "A user-friendly machine is much easier for us from an administrative standpoint because it doesn't take as much time to train operators," says Garner. "We have to at least give some knowledge to the people who are operating it. If it is a real complicated touch screen, it is a real learning curve. We like simplicity better than we do a complicated touch screen." In addition, owner and parts manuals are available to be printed off the website.
Ease of maintenance also ranks as an important comparison factor. "That is very important to us," says Garner. "It was one of the things that persuaded me to look toward KATO. The people I talked to said the accessibility on the KATO equipment was much better than competitor models."
Reputation Shortens Rental Life
Precision Rebuilders often turns its rental fleet more frequently than planned. "I usually sell my machines before I want to sell them because we have a reputation of maintaining our equipment very adequately," says Garner. "We like to keep machines until they have 2,500 to 3,000 hours." This rarely happens since customers often make offers to purchase the units during the rentals.
A recent example was a CL35 compact track loader. "A customer picked it up last week," says Garner. He paid one month rent on it and then called back to negotiate a sale price. "It has less than 1,500 hours on it. I usually don't get as many hours out of them as I would like before someone comes in here and purchases them."
KATO has also proven it listens and responds to customers. Precision Rebuilders purchased a new Tier 4-compliant CL35 track loader three months ago. One of the issues on the previous iteration of the machine was the ease of use of the bucket quick attach levers. "They have improved the way the bucket quick attach pins and levers operate," notes Garner. The joystick controls are also drawing praise from customers. "Everyone says the controls are really responsive. It is powered well for the size of the machine. We have only had it for three months, but we have not had any complaints.