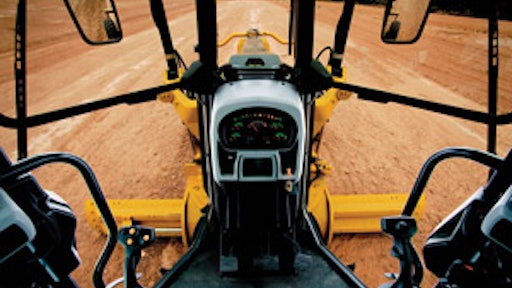 Caterpillar M-Series Motor Graders
The M-Series includes seven models featuring a joystick-operated, electro-hydraulic control system.
Two three-axis, low-effort joysticks simplify control and reduce operator arm and hand movements by as much as 78%
125- to 500-hp Cat C-Series Tier III engines with ACERT Technology
Direct-drive countershaft transmission (excludes 24M) with Electronic Clutch Pressure Control
All-wheel-drive option delivers 42% more torque, plus features a front wheel-only hydrostatic mode
New Holland Motor Graders
New Holland motor graders range from 140 to 200 hp with standard blade lengths from 12 to 14 ft.
Operator cab mounted behind articulation point for greater visibility to both ends of the blade
69-in.-diameter steel moldboard circle with full 360° rotation
Moldboard can be angled up to 90° for slope or ditch work
Standard five-position moldboard saddle
Heavy-duty box-section frame construction
Volvo G900 Motor Graders
The G900 motor graders are available in seven models, including two all-wheel-drive units.
7.2- or 9.4-liter Volvo Tier III engines
HTE840 transmission with selectable Manual, Autoshift (optional) and Travel modes
Autoshift standard on the optional HTE1160 11-speed transmission with 11 forward/six reverse speeds
Proportional Demand Flow intelligent load-sensing hydraulics
Twin-gear, direct-drive circle turn system
LeeBoy 685B Motor Grader
The 16,000-lb. LeeBoy 685B offers a choice of 100-hp Caterpillar or 110-hp Cummins diesel engine.
10-ft. sliding moldboard with a total side shift reach of 36 in.
Center-mount scarifier and optional front blade
Hydrostatic drive system
18° of frame articulation
Fail-safe braking
ROPS canopy or optional fully enclosed, climate-controlled cab
John Deere D-Series Motor Graders
The 672D, 772D and 872D six-wheel-drive graders and 670D, 770D and 870D tandem-drive units offer optional enhancements such as a mid-mount scarifier and integrated grade control package.
Low-speed precision mode and differential front steering on all-wheel-drive models
Blade pull ranges from 28,200 to 43,760 lbs.
185- to 245-hp Powertech engines
Event-based shifting transmission
Pressure-compensated load-sensing hydraulics and low-effort hydraulic controls
Optional cruise control
Champion C80 C and C86 C Motor Graders
The C80 C and C86 C motor graders feature a redesigned front axle that provides 50° of steering angle left and right.
25-ft. straight frame turning radius with a 19-ft. radius when fully articulated
Box-type front axle design allows a 22-in. ground clearance
Spherical bearings on front axle and articulation ¬cylinders provide increased service life
21-in.-high moldboard offers a full 4-ft. blade lift stance for increased featherability
NorAm 65E Compact Grader
The 16,800-lb. NorAm 65E Compact grader features an articulated frame, torque proportioning rear axle, wheel lean and inch control.
110-hp Cummins engine and ZF full powershift transmission/torque ¬converter
A-frame/circle configuration mated to a 10- or optional 12-ft. "rollaway" moldboard
18-ft. turning radius
Standard air ride seat and "lo-effort" hydraulic controls
Available with canopy or cab and air conditioning
Case 800 Series Motor Graders
The 800 Series motor graders ¬feature Tier III-certified diesel engines that deliver a stronger throttle response at every rpm, improved cold-start capability and reduced noise.
845 DHP (dual horsepower) maintains horsepower range for fine grading, while providing a 14% increase for tough conditions
865 VHP incorporates variable horsepower
885 features a fully electronically controlled Cummins engine
One-piece hood for easy access to engine and cooling package
Temperature-controlled reversing fan
Companies in this article