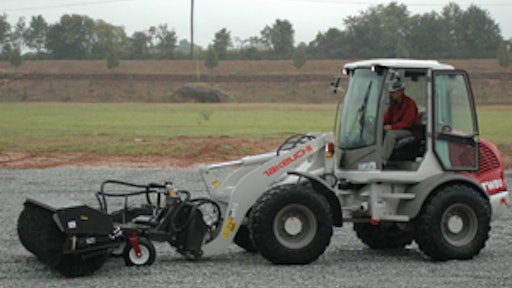 In early August, Takeuchi's North American operations celebrated the move into a new 250,000-sq.-ft., state of the art headquarters, training, parts and distribution facility at Valentine Industrial Park in Pendergrass, GA. The move marks the fifth relocation for the company due to continued growth.
Just one month later, it brought dealer and trade press representatives in to tour the new site. At the same time, it introduced the latest additions to its growing line of compact products.
New loader line
According to Mike Ross, national product and training manager, sales of compact wheel loaders (100 hp and below) have climbed steadily since 2002, and are expected to more than double from current levels by 2010. "It's really a good time for us to get into this business," he states.
Consequently, Takeuchi has jumped into the market with four new models. The TW50, TW60, TW65 and TW80 range in operating weight from roughly 8,700 to 12,600 lbs., and are equipped with Perkins or Deutz diesel engines rated from 51 to 73 SAE gross hp. The compact units produce 8,992 to 15,287 lbs. of breakout force and 7,644 to 13,567 lbs. of lift capacity at ground level.
The loaders offer +/- 12° frame oscillation, as well as center pivot steering that enables 40° articulation left or right. A hydrostatic drive system incorporates outboard planetary final drives for efficient power transfer. Momentary push button control of the 100% front and rear differential lock ensures added traction in harsh terrain.
The spacious operator's compartment includes a six-way adjustable suspension seat for productive, fatigue-free operation. Cab controls include a 100% inching pedal that allows for reduced travel speed while providing full power to the hydraulic system. Forward, neutral and reverse functions are controlled on-the-go via a thumb slide switch.
The TW60, TW65 and TW80 incorporate Z-pattern lift (Z-bar) kinematics for added breakout force and pushing power, while the TW50 comes in a parallel-lift configuration. All four models include a bucket float function and automatic bucket positioning. A hydraulic quick attach and auxiliary hydraulic lines plumbed to the bottom of the loader arms are standard.
Additional features include low- and high-range travel speeds, a dual element air cleaner, front and rear work lights, automatic fuel bleed system and vandalism-protected, lockable engine compartment.
Zero-swing addition
The company also presented a new model in its excavator line, the zero-swing TB180FR. Available with rubber or steel tracks, the unit weighs from 18,370 to 18,821 lbs.
The TB180FR has a patented side-to-side (STS) offset boom system coupled with zero tailswing to allow 360° slew capability only inches beyond its track width. Maximum dig depth is 14 ft. 11 in., with up to a 16,335-lb. maximum bucket dig force. Maximum reach at ground level is 23 ft. 1 in.
Power is supplied by a 60.5-hp (SAE gross) Yanmar 4TNV98 diesel engine. Variable-displacement piston pumps efficiently utilize engine horsepower while continuously adjusting power and speed for fast cycle times. Two-speed travel with automatic shift down drops the machine into low speed when additional traction is needed, then shifts back up to high when added tractive force is no longer required.
The excavator permits simultaneous operation of cab swing and two digging functions with no reduction in the working speed. It also allows for straight travel with simultaneous hoe attachment and swing functions.
A control pattern selector valve enables quick changes between SAE and ISO patterns. An electrohydraulic push-button and proportional slide switch located in the left-hand joystick ensure precise control of the auxiliary hydraulic circuit.
The tilt-up operator's platform and full-opening engine compartment provide quick access for service and maintenance. An automatic fuel bleed system eliminates the downtime required to bleed conventional fuel systems.