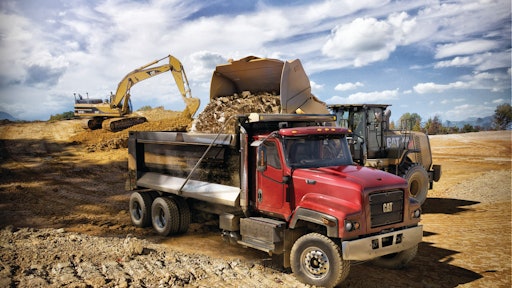 Prior to CONEXPO-CON/AGG, Caterpillar brought industry editors from across the globe to its Tinaja Hills Demonstration Center -- nestled in southern-Arizona desert hill country -- for a press briefing. Despite rare rain, we were able to climb aboard the new machines Cat will introduce this week in Las Vegas to test out their key features.
Caterpillar will showcase more than 40 machines in four exhibit areas totaling about 60,000 sq. ft. of floor space at CONEXPO-CON/AGG. We got a chance to crawl all over more than a dozen new models, including: 
Creating Connections
The pre-show presentations from Cat subject matter experts included a heavy focus on technology, which will be reflected in Cat's CONEXPO-CON/AGG displays. Roughly 85% of the equipment in its exhibit areas will feature some form of the Cat Connect integrated technologies. Historically discussed as a "connected worksite," Cat Connect products and services are being offered in integrated and scalable forms designed to deliver value in four key areas: equipment management, productivity, safety and sustainability. Technology offerings encompass solutions such as grade control, telematics, productivity monitors and more, all of which can be managed through the Vision Link online interface.
According to John Thomas, construction technology marketing and strategy manager, 38% of the Cat employees working the show will be Cat Connect experts, and 40 of the 47 machines at CONEXPO will have at least one Cat Connect technology. The intention is to educate attendees on how available technology can deliver positive results for their business, regardless of the size and complexity of the operation or the number of machines in their fleet.
"No matter the fleet size, no matter their application, we can find a combination of technologies and services to deliver value to them," he states. "Even if they only own one piece of equipment, we can find something that works for them."
Thomas also noted the importance of being able to deliver solutions that work across mixed fleets. "We've heard our customers. Mixed fleets are important," he states. "We have to provide solutions for older machines and those that don't say Cat on the front. We're working with Trimble as a partner to unify customer fleets and the information that comes with it." This includes plans to provide kits that enable data capture from older machines, as well as competitive models.
New Cat, Trimble Accord to Extend Site Technology across Machine Brands
In addition to its CONEXPO education efforts, Caterpillar recently announced a sweepstakes in which it will be giving away $20,000 to five customers and sending a Cat Connect crew to their jobsites to analyze how the customers can improve their operations. Details can be found at BuildYourSuccess.com.
On the Show Floor
New Cat machines to be on display in the North Hall exhibit, booth 10915 include the F Series hydraulic excavators, M Series medium wheel loaders, new C Series articulated trucks and G Series off-highway rigid-frame trucks, a new track-type tractor, a new wheel tractor-scraper and a new track drill.
New F Series excavator models include the next-generation 336F Hybrid. It incorporates the hydraulic hybrid technology used to reduce fuel consumption by an average of 25% in 336E H applications, while being even more finely tuned to lower fuel consumption even further. It is also available with Production Measurement, an optional onboard payload measurement system.
Other models in the F Series lineup include the 323F (shown in an ES, or extreme service, configuration), the 335F CR (compact radius), the 336F standard version and the 390F, each of which benefits in some degree from the advanced technology utilized in the Hybrid model to optimize fuel efficiency. For example, the 336F standard model incorporates the Hybrid's ESP main pump to lower engine speed and optimize engine/pump output to meet demand, while the 390F uses the Adaptive Control System (ACS) main valve for intelligent hydraulic flow and pressure management.
The new M Series wheel loader line will be represented at CONEXPO-CON/AGG by the 972M XE. It features the XE advanced powertrain first introduced with the 966K XE loader which, according to Cat, XE technology, results in 25% lower fuel consumption on average compared to machines with traditional torque converters. The new 982M will also be on hand. This Tier 4 Final machine delivers the capability to load highway trucks in two passes, can dig in sand and gravel pits and can effectively handle earth bank excavation.
Also in the North Hall will be several models of the recently introduced Cat D Series skid-steer loaders, compact track loaders and multi terrain loaders will be displayed, featuring a completely redesigned cab, new lift arm design for improved sight lines and increased engine performance.
In booth 1015 in the Gold Lot, about 15 machines will be on hand, including a new motor grader representing the M Series 3 line, which features a number of in-cab enhancements, and a new scraper from the 620K Series wheel tractor-scraper line.
Nearby in booth 1332 you'll find the latest from Caterpillar OEM Solutions, including an articulated truck with bare chassis available for mounting specialty bodies and other equipment. In the South Hall booth 84318, Caterpillar Product Support will present various components, parts and services available to keep machines running efficiently.
More New Product News
Additional new models highlighted during the pre-show event included a new material handler, a new compact wheel loader, a new track drill and a prototype vocational truck.
The purpose-built MH3037 wheeled material handler is the third member of the new wheeled material handler line that Caterpillar is introducing in the 25+-ton size class. It features the patented step-in cab that lowers to the front or the side of the machine, and incorporates optimal flow management to allow multiple machine functions to operate at the same time without compromising performance. An independent, closed-loop swing system maintains swing priority at all times.
The K Series compact wheel loaders feature a new platform to address Tier 4 Interim emissions requirements. New to the line is the 910K, which is designed to fill the gap between the 908H2 and 914K. According to Jim Joy, marketing engineer, the 910K has a slightly lighter rear counterweight with hydraulics to match. "It is targeted especially to municipalities, which tend not use the maximum capacity of the machine," he notes. Both models feature the Optimized Z-bar loader linkage, Cat Hystat hydrostatic drive system and newly designed cabs.
The new MD5150C track drill is the first of the C Series drills and the first to incorporate true Cat "DNA", while retaining many of the legacy features of previous models. Compared to the MD5125 that it will replace, the new drill has 18% more power, a compressor that can deliver 33% more air volume and 40% more air pressure, 19% faster tram speed and 40% greater ground clearance.
Also on hand was a prototype version of the new CT681 vocational truck, a set-forward axle model designed for customers who prefer a longer wheelbase truck and for those who have to comply with restrictive load limitations on bridges and roads. The new model has a 114-in. BBC with a BA of 28 in., and is designed to allow for automatic or manual adjustment of pressure on the lift axles to accommodate load weight.
Fuel Efficiency Studies Released
In addition to its new product offerings, Caterpillar announced it will be releasing a series of studies highlighting is competitive industry advantage in fuel efficiency. Twelve out of a series of 75 studies are being made public comparing Cat machine fuel efficiency performance to competitive models in the same size class. Caterpillar defines fuel efficiency as the tons of material moved per gallon of fuel burned.
"Fuel efficiency is a key fundamental way to evaluate how our machines are performing," says Jim Stettner, global construction and infrastructure.
Visit the Caterpillar CONEXPO-CON/AGG booths, Cat.com or your local dealer to learn more about the studies, as well as the new models being introduced at the show