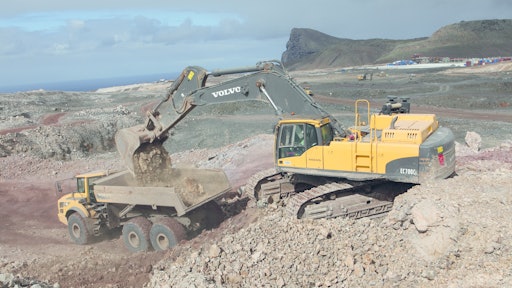 Article originally published in volume 52 of Volvo's Spirit magazine
The challenge:
Building the first commercial airport on the remote island of St. Helena in the middle of the South Atlantic Ocean.
The players:
Basil Read
The process:
St. Helena is a small island in the middle of the South Atlantic Ocean, and its 4,255 inhabitants only lifeline to the outside world is a monthly visit from an old British Royal Mail ship that sails up from South Africa. But that is about to change. A commercial airport is being built on St. Helena capable of handling Airbus A320s and Boeing 737-800s and 757-200s with the first flight scheduled for February 2016.
Funded by the British Government with the two phases — design-build and operations — valued at $418 million. Phase one will see the construction of the airport and supporting infrastructure, including an 8-mile road to the capital Jamestown, a winding, twisting route that climbs more than 1,640 feet in the first three miles, an engineering challenge in itself. Phase two of the project will cover airport operations for 10 years.
Volvo lands 
South African construction giant Basil Read won the contract, and in July 2012 its 1,530-tonne NP Glory 4 flat-deck shallow-draft cargo ship docked at a temporary jetty in Rupert's Bay. The first-ever machine to drive on to St. Helena, as opposed to being lifted by a crane, was a Volvo G940B motor grader followed by a Volvo EC700C-Series crawler excavator and several Volvo articulated haulers.
"Considering St. Helena's unique environment, the project's significance to the island's residents and the terrain, it was clear that the equipment had to be of high quality, capable of operating safely in tough conditions while showing respect for the environment. This project was the perfect match for Volvo CE products," said Volvo CE Customer Support Manager Leif Waad. 
 According to Basil Read's Project Director Jimmy Johnston, "Since that first Volvo grader arrived in 2012 we have delivered more than 100 extra construction machines including 65 Volvo units — EC700C crawler excavators, A40F-FS and A30E articulated haulers, EW140C wheeled excavators, DD24 and SD200DX compactors, EC380 and EC480 crawler excavators, an MC115C skid-steer loader and, of course, the G940B motor graders."
Babcock, the Volvo CE dealer for South Africa, had previously shipped in service personnel, technicians and parts personnel, assisted by a technical supervisor from Volvo CE, to support Basil Read and ensure machine uptime across the fleet.
Perhaps the biggest single undertaking of the entire project is the filling of Dry Gut Gorge with around eight million cubic meters of blasted rock to a height of more than 328 feet and spanning some 2,460 feet. "In order to create the runway we need to fill this gorge," says Johnston. "The filling will have taken two years to complete when it is finished in September this year [2014]."
This huge earth-moving project has relied heavily on the Volvo machinery. "Now we are this far into the project I would say the reliability, fuel efficiency and productivity of this equipment has been extremely good," Johnston acknowledges.
Dock of the bay 
St. Helena's government and the UK Department for International Development have also contracted Basil Read to design and build a permanent wharf in Rupert's Bay allowing ships to dock alongside a proper wharf for the first time in the island's history. Needless to say, this secondary construction project is also making good use of the Volvo machines.
Work has already started on the 6,397-foot-long runway, a taxiway and apron and is due for completion in February 2016. "Building the 37,673-square-foot terminal building and combined air traffic control and fire department is also on schedule," confirms Johnston.
The project is providing real opportunities for the islanders to acquire new skills and expertise. "Some 340 Saints — as the island's residents are known — are now working alongside our expat staff, many of whom have their families with them," says Johnston.
Basil Read's Island Director Deon de Jager says Basil Read employees are now completely immersed and fully integrated into the community. "I myself have been made president of the local golf club, and there isn't a cricket or football match, a fishing challenge, a walk, a target shooting competition or a motocross event that now takes place without some of our employees being involved," he says.
Wherever possible, Basil Read employees are accommodated by locals who have helped them integrate into the community. With some 340 Saints working on the airport project alongside expatriate staff, St. Helena now boasts zero unemployment.
Environmental impact 
The construction partners are also acutely aware of the impact these projects will have on the environment. "Before construction started, a major environmental program was initiated alongside an Environmental Management Plan covering flora, fauna and heritage issues," Johnston says.
Basil Read is also supporting a four-year Landscape and Ecology Mitigation (LEMP) program with the focus on habitat restoration and landscaping resulting from the airport construction and infrastructure activities. 
Obviously, such a small island with such a rich history has heritage issues too, such as historic fortifications, houses, and remnants of a Boer prisoner-of-war pipeline and desalination plant. "There is much we need to protect on the island, but hopefully the new airport will address some of the Saints' socio-economic difficulties and boost their prosperity through tourism," concludes Johnston.