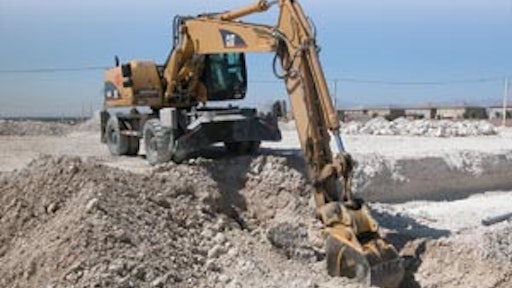 For the 20 years of its existence, Dow Industries has specialized in underground work. And in the bustling Las Vegas economy, there's plenty of underground work to keep the company's 310 employees busy. Dow is trenching some 8,000 ft. per day to build the subdivisions and shopping areas needed to stay ahead of the thousands of new residents moving in each month. The company is currently on pace for a $55 million year.
For Michael Davis, Dow's shop and equipment manager, that means managing a diverse fleet that includes 18 track hydraulic excavators (15 to 110 tons), 20 wheel loaders and 27 backhoe-loaders. In November 2005, Dow added an entirely new machine to the fleet: 20-ton Caterpillar M316C wheel excavators. Nevada Caterpillar dealer Cashman Equipment provided the first M316C as a demonstration trial. It was the machine's first and only demo.
"I saw wheel excavators working a few years back and kept thinking they'd be good for our business," says Davis. "It's a move that's worked out well for us. We now have three and plan to add a fourth soon."
The third one purchased just happened to be the 15,000th M300 Series wheel excavator delivered by Caterpillar.
Built-in flexibility
Versatility is a key value to Dow, says Mike Decker, Dow's president,. He recalls times when the company used tires, steel plates and conveyor belts to move track excavators across a road. That's not necessary with wheel excavators. Neither is the time and costs involved with transporting the machines.
"We have 25 jobs going now, anywhere from 1 mile to 90 miles away," he notes. "In any of those areas, we can just drive from one job to the other. We've driven the M316s up to 10 miles."
Decker doesn't foresee the wheel machines replacing its track excavators. "But we do find ourselves deciding which model to use. For the most part, it involves the length of a job. While we don't have a hard-and-fast rule, it's become automatic that any job involving a week or less will be done with a wheel excavator. If a job is longer than that, we put pencil to paper," he explains.
Often, both types of excavators will be on a jobsite. While Decker and Davis are quick to point out that wheel excavators don't offer the same stability and pure production capability of their track counterparts, they agree there's no comparison when it comes to flexibility.
"Our operators are constantly moving from one machine to the next," says Davis. "On a typical site, those machines would be both types of excavators, backhoe-loaders and a wheel loader. It's an easier transition for the operator to go from one type of excavator to the other than to a backhoe-loader."
Reducing fleet size
As Dow continues to reconfigure its fleet, Decker anticipates reducing its heavy reliance on backhoe-loaders. Decker and Davis has originally believed a single wheel excavator would replace five backhoe-loaders in digging applications. They are currently reducing the backhoe fleet by 12 machines thanks to the three M316Cs.
"We're underground, so our main backhoe usage was the excavator end," Davis explains. "We used the loader end only 20% of the time."
As a fleet average, Dow was getting only 50% to 60% utilization from its backhoe-loaders. Utilization figures for the wheel excavators are proving the wisdom of the fleet shift.
"We're getting 77% out of the M316Cs," says Decker. "That's better than the 70% we average with our track excavators. Most important, that's more work with fewer machines.
"A wheel excavator gives us up to three times the production of a backhoe-loader," he continues. "Its breakout force often means we don't need a hammer to break up the hard soils and rocks we find here. Plus, it can go just about anywhere a backhoe-loader can."
This is critical to Dow. It's not uncommon for the company to find itself digging between framed residential structures. Typical practice in the Las Vegas area means the curbs are poured prior to power installation in most subdivisions.
"We are always having to jump curb in order to dig our power trenches," says Decker. "With backhoes-loaders, we were damaging curb and having to replace it. The wheel excavator has reduced the amount of damage by 75%."
Of course, backhoe-loaders will continue to have a place in Dow Industries' equipment arsenal. "Backhoe-loaders will be an integral part of our fleet and our business," says Davis. "They do things no other one machine can do."
Yet, the wheel excavators are proving they can play just as integral a part in the company's operations.