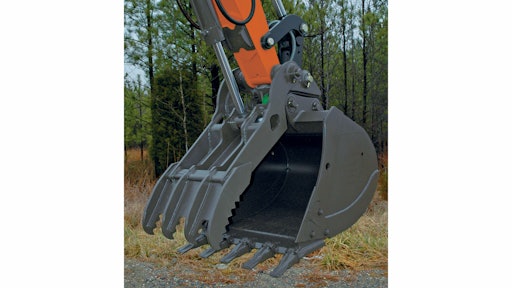 Burr Oak Tool, a customer for nearly three decades, came to James Ware Construction for a 120,000-sq.-ft. expansion to a state-of-the-art building that the contractor had originally built at Dresser Industrial Park in Sturgis, MI. A full-service design/build general contractor and qualified builder of Butler pre-engineered building systems, James Ware Construction sought to improve productivity on the expansion by using its first Doosan machine, a DX225LC-3 crawler excavator configured with a clamp attachment.
According to owner James Ware, the excavator with a 48-in. bucket is being used to perform general excavation duties, including trenching foundation footings and utilities, and loading topsoil, gravel and refuse into dump trucks. Ware also put the 167-hp excavator to the test digging a 10,000-sq.-ft. drainage pond and breaking up frozen fill during a construction schedule that ran through the winter. The machine's hydraulic system and strong breakout forces — topping 33,500 ft.-lbs. — provided the muscle to help remove approximately 2,000 yds. of topsoil, as well as level and grade 1,000 yds. of gravel.
The bucket's abrasion-resistant (AR) steel construction had the added durability to excavate and backfill 1,200 linear feet of footing at a depth of 42 in., as well as trench more than 1,000 ft. to install 36-in. drain pipe backfilled with stone.
Ware says the excavator and its pin-on clamp has improved his crew's productivity and profitability compared to its previous equipment solutions. "The Doosan excavator replaced another excavator with a stationary clamp. With its increased size, we can dig and load faster," says Ware, "and we can use the clamp later this year for a demolition project."
The excavator's joystick controls were a top performance option that James Ware Construction evaluated before purchasing the machine from Carleton Equipment. Equipped with two-way auxiliary hydraulics, joystick controls and joystick-mounted attachment control buttons, Ware's operators can make more precise clamp movements even in the most abrasive jobsite conditions.
Ware's success with the excavator's clamp has him planning ahead to the productivity advantages he can gain with future Doosan attachments. "The DX225LC-3 is plumbed for a hydraulic breaker that we'll rent as needed," he says.