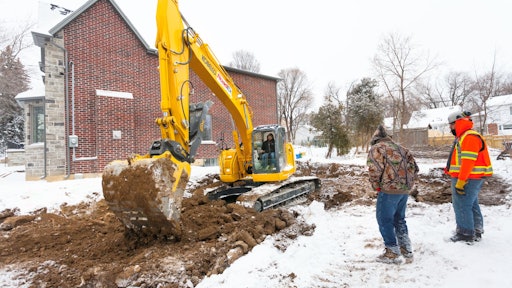 Trailering in a 59,300-lb. excavator to demolish a brick building will definitely draw notice – especially when the buildings on either side of the structure to be razed are literally just a couple feet away.
That's the challenge that family-owned RoadEx Contracting Ltd., a third-generation owner-operator construction company located in Toronto, Canada, frequently faces. "We've had occupants of buildings sit and watch our operators all day as we knock the structures down," says Ernie Campoli, RoadEx owner. "Having the right equipment to operate smoothly in tight places provides the confidence we need to work quickly but safely."
RoadEx was established in 1977 to provide excavation and grading work for general contractors and design build firms in Toronto. It specializes in earthworks from site remediation to bulk excavation, and is also an expert in demolition services for the commercial and residential sectors. In the last year, the company has more than tripled the size of their business.
Up until this year, the contractor had never operated a Kobelco machine. "We've purchased and operated excavators from Caterpillar, Case, John Deere, Volvo and Komatsu," says Ernie Campoli. "We're always looking for an edge to compete against the big fleets around town. Paul Ambler, our salesman at Robert Green Equipment, finally convinced us to demo a Kobelco 350."
That meant the patriarch of the family, Ernie's dad Joe, got first dibs during the test run. "The next day, Ernie gives me a call and tells me right off they don't like the Kobelco," recalls Bob Green, founder and owner of Robert Green Equipment. "But before I could respond, he adds, 'we love it' and I knew we had a sale."
There were three things that won Joe, Ernie and the other operators over as they put the 350 through its paces during the trial: smoothness of operation through every maneuver they attempted, overall operation comfort and fuel economy that was up to 40% better than what they were used to seeing in the other excavation equipment they operated.
"The combined benefits mean greater productivity on the jobsite for us," says Ernie Campoli. "But the fuel savings alone allows us to now bid on and win projects we traditionally might not have gotten."
Completing Tight Work at a Lower Cost
RoadEx chose to purchase a smaller, more nimble Kobelco 260SR to handle demolition on the brick structure. The SK260SR has a "short rear swing," which provides the ability to perform continuous dig, 180-degree swing and dump operations within a working space as small as 12 ft. 6 in.
RoadEx operator Jason Rorsion appreciates the stability of the smaller machine. "Other short tail excavators have a tendency to be so neutrally balanced that they're like a rocking horse to operate," he comments. "The 260SR is the first short rear swing machine I've operated where I don't have to slow down in even the tightest of spaces."
Demolishing the all-brick building was quick work for the 260SR. The maximum digging height of 36 ft. 9 in. and digging reach of 32 ft. 4 in., combined with the compact swing capability, provided ample power and control for the operators to topple the building safely and quickly. After a while, even the onlookers were convinced their structures weren't going to be affected by the work being completed.
The full-size cab was another welcome surprise. "In other short tail machines, I'm lucky if I can fit a sandwich in the cab with me," says Rorsion. "The 260SR has the same full-size cab as the 350 with plenty of room to store my lunch pail, construction hard hat and a whole bunch of other stuff."
But the greatest number of comments center on the fuel-sipping technologies of the machines. "We received a call from one of the RoadEx operators saying he thought the fuel gauge was broken because it wasn't going down fast enough," says Green. "We told him to check the liters per hour rating and he was amazed it showed 2.1."
"With our new Kobelcos, we're saving thousands of dollars a week on fuel," says Ernie Campoli. "Fuel use is consistently lower across all modes of operation."
Lower fuel consumption boosts productivity, as well. "On the other excavators, as soon as the fuel gauge hits the one-quarter mark, I have to call for a refueling truck," said Rorsion. "With these excavators, I know I can finish out the day's work without a worry."