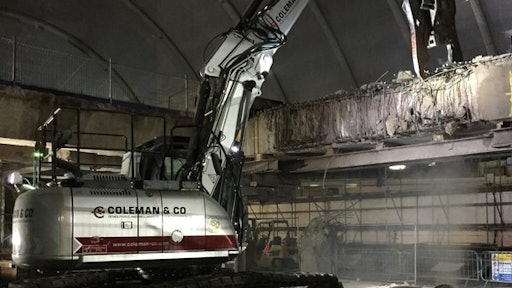 Birmingham, UK-based Coleman & Company is a third-generation-run family business that is one of a market leader in the provision of demolition and associated specialist services to blue-chip, high-profile companies, public sector organizations and strategic partnerships. It is also principal demolition contractor working on the highly prestigious redevelopment of Birmingham New Street Train project, which will include a redeveloped station and Grand Central shopping center. Coleman is now in its fifth year on site.
The current phase of the project requires the removal of 6,613.9 tons of mass reinforced concrete during 2014/2015. Some beams weigh as much as 88.2 to 99.2 tons and are 8.2 ft. wide and 4.9 ft. deep. Outside, on an industrial site, these would present a significant challenge – yet this project is taking place inside, directly beneath the newly constructed, multi-million-pound atrium steelwork structure, which must be protected from all aspects of the demolition. It is also taking place within a live construction site while 140,000 people continue to travel through the station each day.
Coleman turned to JCB to design a machine that could carry out specific tasks in high-risk and technically challenging environments. "Nothing was ever an issue or problem. It was more a challenge the company rose to," said Chris Holland, Coleman & Company Technical Manager. "This was very encouraging as the stakes are very high at New Street given we'll be operating above 12 live train lines carrying thousands of passengers per day."
Designed for Demolition
The development of the new demolition machine required close cooperation between Coleman Engineering Services, dealer Gunn JCB and JCB Heavy Products in Uttoxeter, Staffordshire. The 23.1-ton remotely-operated excavator combines a JCB JS190 excavator's upper structure with a JS220LC excavator's undercarriage and rubber track pads. The result is a machine powerful enough to deploy a 4.4-ton multi-processor attachment without exceeding a gross weight of 27.5 tons.
The new excavator has been designed with the health and safety of operators, site personnel and the people below as the primary focus. Remote control enables the operator to work the machine while positioned in a mobile elevated work platform or cherry picker above the beam being demolished allowing for close assessment of the task in hand. The integrated infrared laser fence restricts the unit's operation to a designated safe zone, preventing it from operating too near the edge of the suspended floor.
In addition, the excavator features LED lighting for night vision, a non-biodegradable safe fuel system, TAB (triple articulated boom), range control, on-board auto fire fighting equipment, on-board dust suppression and a jet ski-style emergency stop pull chord.
The machine is working 20 hours a day on the Birmingham New Street Train Station, and is expected to be on the project for the next nine months. Its work involves the removal of existing reinforced concrete floors to create a void beneath the new atrium roof. Once completed, it provides Coleman & Company with a unique tool for highly complex demolition tasks.
"The remote control machine gives Coleman & Company the option to operate in restricted and confined areas while the operator remains in a safe location," noted Malcolm Hurst, Coleman's Contract Support Manager. "It can be used on demolition projects that are deemed too dangerous to risk an operator in the cab or in contaminated structures where human access is unsafe."