Liebherr
Demolition work is inherent with hazards. There are ongoing examples highlighting the consequences of not using the appropriate safety equipment or following proper safety procedures at work. Occupational Safety and Health Administration (OSHA) safety training outlines several demolition hazards.
Primary Demolition Hazards
OSHA notes that construction and demolition materials consist of the debris generated during the construction, renovation and demolition of buildings, roads and bridges. Those materials often contain bulky, heavy materials, including concrete, wood from buildings, asphalt from roads and roofing shingles, gypsum (the main component of drywall), metals, bricks, glass, and plastics.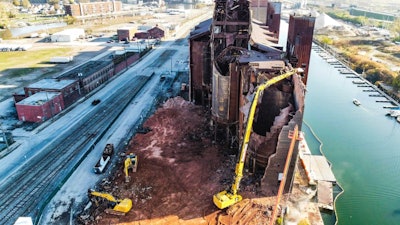 They also include salvaged building components such as doors, windows and plumbing fixtures. Trees, stumps, earth and rock from clearing sites may also be present. Primary hazards unique to demolition include:
Changes from the structure's design introduced during construction
Approved or unapproved modifications altering the original design
Materials hidden within structural members such as lead, asbestos, silica and other chemicals
Heavy metals requiring special material handling
Unknown strengths or weaknesses of construction materials, such as post-tensioned concrete
Personnel exposure to excessive dust, noise and vibration created by the demolition methods
Worker Safety Concerns
The most common hazard is people getting hurt on the job, said Ian Lewandowski, ShearCore director of global accounts.
Lewandowski is a member of the National Demolition Association. He also holds positions with the Institute of Scrap Recycling Industries. As such, he has a birds-eye view of demolition safety challenges.
"Hydraulically powered mobile shears and processors offer a controlled demolition process, making the process safer and more efficient," he said of the prime way to mitigate the hazards to personnel.
Airborne Material Hazards
Marcus Barnes, senior product manager for Liebherr USA, noted that high exposure to airborne materials such as silica from the deconstruction of buildings is a common hazard. These materials can lead to illnesses such as lung cancer, he added.
"To help mitigate some of this risk for operators on equipment, you will see dust filtrating devices used that keep this dust from penetrating the operator's cab," Barnes said. "This dust filtrating device works by over-pressurizing the cab with air to prevent the penetration of hazardous substances like gas, insecticides and particulate material into the cab."
Protecting Others on the Jobsite
For those outside the cab exposed to these substances, many excavators and high-reach demolition equipment have water dust suppression systems at the end of the stick. They help minimize the amount of hazardous material in the air, Barnes noted.
He added, "This kind of equipment does the bulk of the deconstruction work on a jobsite. The water that is being sprayed through nozzles at the end of the stick helps in keeping the dust down."
Equipment Design Promotes Safety
"Demolition is a rough and rugged application where hazards include falling debris, challenging visibility and pushing machines too far," noted Tony den Hoed, director, national accounts – demolition, Volvo Construction Equipment.
Demolition safety is the highest priority on a demolition job, he pointed out. How demolition equipment is designed to address demolition hazards is critical.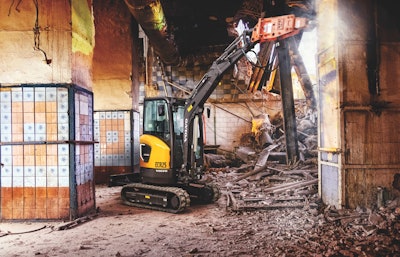 "A factory-fitted machine designed for demolition often means a safer machine," den Hoed said. "A strong demolition-specific application package straight from the original equipment manufacturer (OEM) is a great way to mitigate some risk because it will incorporate heavy-duty guarding specific to the machine and features that help with visibility, like bigger, stronger window panels and cameras."
OEMs Differ in Approach
Aftermarket options are available. However, aftermarket packages can be very expensive, often involve a third party that provides limited support, and can void machine warranties, den Hoed added.
"Even among factory-fitted demolition machines, there will be differences by brand," he said. "For instance, almost every OEM that purpose-builds their high-reach excavators includes a modular joint boom concept, but the pins that hold the joint to the boom can differ."
Some use a half hook for the top pin and short pins on the bottom. However, a well-designed demolition excavator uses full-length hydraulic pins, den Hoed said.
"Because they are hydraulic, an operator can pull them out without leaving the cab, which is always preferable," he added.
Telematics can help prevent major downtime issues. It also spots instances of machine misuse to address with operators. That supports safety and the total cost of ownership, den Hoed noted.
The Operator's Role in Safety
Demolition safety depends in large part on the operator, as is noted in "5 Tips to Maximize Jobsite Safety With Remote-Controlled Demolition Machines," on ForConstructionPros.com detailing five tips to maximize safety. Those tips include:
Being vigilant
Staying at arm's length
Conducting daily machine inspections
Being mindful of overhead dangers
Using personal protection equipment
Safety First
To prevent and reduce hazards associated with the likely exposure to hazardous substances, OSHA has advised construction crews to conduct worksite inspections before beginning operations. Assess for the presence, contents and condition of tanks and equipment that might contain hazardous chemicals, gases or flammable materials. If the condition of tanks or equipment is suspect, avoid disturbing them until after the assessment is completed.
Develop a plan of action to reduce exposure or eliminate hazardous substances. To eliminate hazardous substances that have been identified prior to and during demolition, construction crews should purge lines, tanks and equipment containing hazardous chemicals, gases or flammable materials.
OSHA

Guidance

OSHA also advises crews to use air monitoring equipment such as a combustible gas indicator, toxic gas monitor or oxygen monitor to determine if any hazardous conditions remain. When necessary, provide additional controls such as forced ventilation and respiratory protection to protect response and recovery workers.

Common accidents resulting from demolition hazards are falls from elevated work surfaces, exposure to hazardous air contaminants, being struck by falling or collapsing structures and electrical shock.
Engineering Surveys Identify Hazards
OSHA points out that the engineering survey must identify framing, floors, walls of the structure and any adjacent structures that might be unstable. Key engineering and work practice controls for the hazards associated with structural instabilities during demolition include shoring and/or bracing walls and floors as needed to maintain safe work areas during demolition activities.
A competent person can recognize existing and predictable hazardous conditions and has the authority to take quick corrective measures to eliminate them, OSHA notes. That person should maintain an ongoing presence to inspect the work area to detect hazards resulting from weakened or deteriorated floors, walls or loosened material.
Demolition crews are advised to not allow falling debris, stored materials or heavy equipment to exceed the safe carrying capacity of the floor. Demolition work should be conducted from the topmost floors down. Load-supporting members should not be cut or removed until upper or supported loads have been removed. During demolition, unsecured objects such as glass and structural members may fall while workers are under them.
Hazard Control Strategies
Key control strategies for the hazards associated with unsecured hazards in the work area during demolition include using debris netting, sidewalk sheds, canopies or catch platforms to reduce hazards from falling objects, OSHA notes. Ensure that employee entrances to multistory structures are completely protected by sidewalk sheds or canopies or both to provide protection from the face of the building for a minimum of 8 feet. OSHA advises that canopies should be at least two feet wider than the building entrances or openings capable of sustaining a load of 150 pounds per square foot.
Check Utilities for Potential Hazards
OSHA also notes the importance of reducing or eliminating hazards from utilities that are not properly located and secured. To do so, verify the location of all other utility lines; ensure that the lines have been shut off, capped, or otherwise controlled outside the building before beginning work. Notify utility companies before controlling their utility lines.
Walkways Provide Safety
To prevent slips, trips and falls, the site should be set up so that safe walkways are provided and used to reach any point without having to walk on exposed beams. Walkways should be at least 18 inches wide and formed by using 2-inch-thick wood with stringers installed as needed for support.
To ensure safe access to the structure, crews should use only inspected and designated stairways, passageways and ladders designated as access points to the structure of a building. Other access points must always be entirely closed.
In a multistory building when a stairwell is being used for access or egress, OSHA advises that it must be properly illuminated by either natural or artificial means. It should be completely and substantially covered over at a point not less than two floors below the floor on which work is being performed. Access to the floor where the work is in progress must be properly lit and protected and serve as a separate passageway.
Confined Space Challenges
One type of confined space demolition contractors often encounter at industrial sites includes those with open tops and a depth that restricts the natural movement of air. Another is enclosed spaces with limited openings for entry, including storage tanks, vessels, degreasers, pits vaults, casings and silos.
OSHA notes that the hazards encountered when entering and working in confined spaces can cause bodily injury, illness and death. Accidents occur when workers fail to recognize a confined space is a potential hazard. It should be considered that the most unfavorable situation exists in every case and the danger of explosion, poisoning and asphyxiation will be present at the onset of entry, OSHA points out.
Current Technologies & Equipment for Greater Demolition Safety
Current equipment and technology used in demolition are expanding the field of options. They include factors that help keep the equipment—and jobsite workers—safe.
Lewandowski noted that "today, you will see demolition contractors all over the world using large mining machines with purpose-built ultra-high reach front ends equipped with very capable mobile shears, concrete processors, pulverizers, hammers, rippers and grapples.
"High-reach demolition machines equipped with capable hydraulic attachments allow the modern-day demolition contractor to go after difficult projects in difficult locations—in some cases, having a 13-ton Fortress mobile shear working 30 meters in the air, cutting something very large down in a very safe and controlled manner," he added.
Liebherr's high-reach excavators are often used on deconstruction sites of large industrial plants and city buildings, Barnes said. He indicated that the demolition front on the machines can range from 75 feet to 180 feet with the demolition tool used varying depending on machine size, working height of the demolition front and the machine's hydraulic capacity. Liebherr offers the Liebherr Demolition Control system for its high-reach excavator. It helps the operator keep the machine from tipping over during operation.
"On a separate screen, the operator can always see where the demolition attachment is to ensure it is in a safe working zone," said Barnes.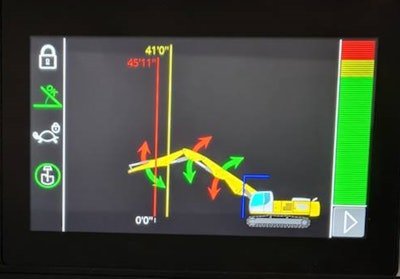 "In the restricted mode, the demolition attachment automatically stops if the operator puts the demolition attachment in a compromised position. Experienced operators like the supervisor mode where they can still be monitored but not limited," he added.
Operator Safety Is Critical
"To keep the operator safe, impact-resistant glass is used. An integral protection guard surrounds the cab as a steel cage to further protect the operator," Barnes said.
A slew of equipment protection is used to keep the equipment from being totally damaged from falling debris and rebar on the ground, Barnes noted.
"Protections are used on all the exposed cylinder rods," Barnes said. "Upper carriage protection also is used to reinforce the lower sides of the upper carriage and along with reinforced protection plates underneath.
"We also use track chain cleaners–also known as scrappers–on the crawler excavators to help prevent loose rebar from damaging the machine while it is tramming on a jobsite."
Industry 'Workhorses' Ensure Optimal Safety
High-reach excavators and straight boom excavators remain the workhorses of most demolition jobs, den Hoed pointed out. Volvo high-reach excavators are designed and built to ensure maximum safety with a sturdy frame and a falling object guard, he added.
"The roof window and front one-piece glass are made from P5A, which is resistant to high impacts. Carefully placed cameras also help ensure that the operator always has a clear view of the jobsite," said den Hoed.
"Nighttime visibility is aided by standard LED lights on both the boom and platform. Additional lighting for the cabin and counterweight are available as options," he added.
Technology Extends Safety Features
To address demolition safety, Volvo recently launched the Lifting Mode for Multi Demolition Boom feature. It allows a high-reach demolition excavator to serve as a safe carrier for the lifting of machine components from a trailer to the ground.
"This mode can simplify transporting equipment to jobsites because it allows the excavator to safely lift components, such as cradles and digging or high-reach booms, from the trailer to the ground, at which point they can be safely installed on the machine," said den Hoed.
The solution consists of machine software specifically designed for the controlled lifting of equipment as well as visual indicators outside the cab to warn bystanders that a lifting process is underway. The software also controls hydraulic pressure and engine speed for optimum safety throughout.
"This lifting mode includes a certified lifting accessory designed to fit the patented modular joint design from the multi-demolition boom, which can easily be connected to the lower pin of the boom," said den Hoed. "When all components are safely unloaded, switching to the high-reach or digging boom is easy, thanks to that modular hydraulic joint."
The total cost of ownership is reduced by eliminating the need for a mobile crane or second excavator. Emissions are reduced because fewer vehicles are onsite, den Hoed pointed out. Another way Volvo CE is working to improve demolition site safety is with remote control for excavators.
"This technology is great for customers working on dangerous or difficult jobsites or in environments where operators need an up-close view of the task itself," den Hoed said. "The function can operate over a 100-meter distance, more than sufficient to maintain a close eye on the machine."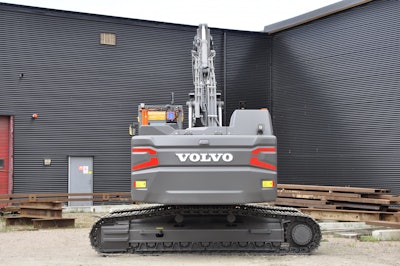 Two-way communication via a radio transmitter and radio receiver allows the operator to communicate electronically with the machine, he added. The system can easily be turned on and off with a switch inside the cab. A light beacon outside the machine alerts those onsite when the remote operation mode is in use.
How Alternative Fuel Sources Affect Safety in Demolition Equipment
Addressing the impact of alternative fuels or electronic- or battery-powered equipment on safety, den Hoed noted that electric equipment provides an emission-free way to work indoors.
"For example, we have an indoor demolition customer whose team used to only work overnight so as not to bother others working in the building," he pointed out.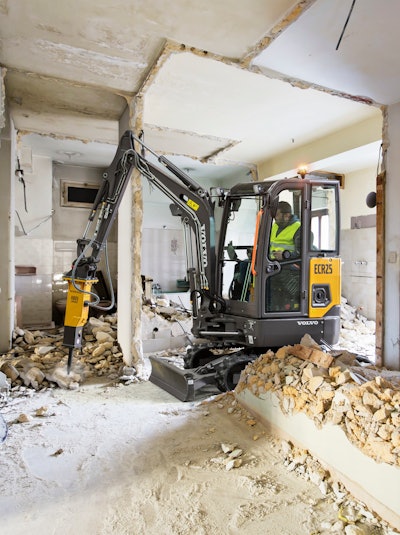 "He has told us that having a Volvo CE ECR25 Electric compact excavator allows for more daytime work hours, which often means more alert operators. An electric machine also boosts safety because it is so quiet that workers can easily communicate while it is running, and no exhaust means no scrubber required to clean the indoor exhaust."
Companies in this article