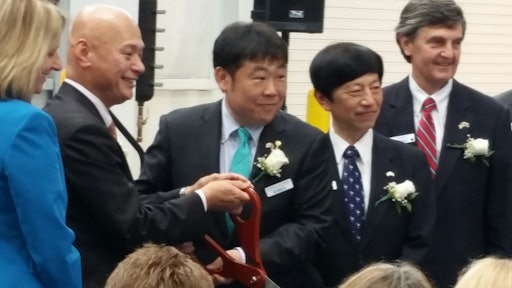 On June 2, Kobelco Construction Machinery U.S.A. Inc. celebrated the grand opening of its new hydraulic excavator manufacturing facility in Moore (Spartanburg), SC. The event was attended by executives from parent company Kobe Steel of Japan, Kobelco Construction Machinery Co. Ltd. of Japan, Kobelco Construction Machinery USA of Katy, TX, the South Caroline Department of Commerce, the Spartanburg County Council, representatives of the Association of Equipment Manufacturers, as well as The Honorable Takashi Shinozuka, consultate general of Japan.
The $41 million investment is located on an 85-acre site and includes 156,000 sq. ft. of production plant , a 17,000-sq.-ft. office building and the 3,300-sq.-ft. Sparta Customer Experience Center. It is initially home to 42 workers, with plans to grow to 130+ employees once full 1,800-unit/year capacity is reached. 
"Kobelco made a powerful return to the U.S. with several investments to regain a significant share of the excavator market," stated Katsuhiko "Pete" Morita, president and CEO, Kobelco Construction Machinery USA. "We built a strong dealer network that is still growing, expanded our product line with a few new models that are here today, enhanced our sales, service, and training capabilities and moved into a new headquarters and parts distribution warehouse in Katy, TX. Now, we are changing our business process to support the rapid market development resulting from our efforts.
"The opening of our new manufacturing facility here in South Caroline transforms Kobelco USA into a company with integrated production and sales - all on U.S. soil," said Morita. "It enables us to reduce lead time of machinery and improve our ability to meet market needs, while creating jobs for the skilled American workforce. This fortifies our dedication to the North American market as we continue our commitment to producing industry-leading excavators."
Plans for the facility were introduced early in 2015, with site preparation beginning that April. The project was completed in December and initial production began in January 2016.
The first model currently being produced at the plant is the 157-hp SK210LC; it will be followed by a second model, the 270-hp 350LC, later this year. Additional models will be introduced in 2017-18, including the SK170LC, 260LC, 300LC and 500LC, in accordance with market development. Production capacity is estimated to reach 400 units/year in 2017 and its full capacity of 1,800 units annually within five years. 
[Video] Kobelco SK210LC is First Excavator Model Assembled in North America