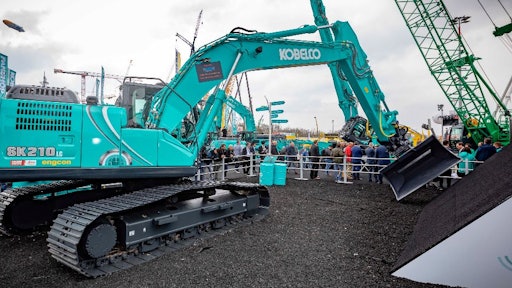 Engcon, together with Kobelco Construction Machinery Europe B.V. (KCME) and Leica Geosystems, exhibited the world's first tiltrotator-compatible excavator guidance system on a Kobelco SK210LC-10 excavator. The system combines the latest 3D Machine Control (3DMC) technology from Leica Geosystems with the leading tiltrotator technology from Engcon.
Engcon, Kobelco and Leica Geosystems have developed a system to automatically control the boom's up and down movement, position, tilt and rotational angle of the bucket with a single lever. The highly flexible system allows the operator to choose among Auto Boom Control, Auto Bucket Control, Auto Tilt Control and Auto Rotation Control or a combination of everything that is required to give the driver maximum control.
Launch of Kobelco's automatic excavation and tiltrotator system is planned for the first quarter of 2020.