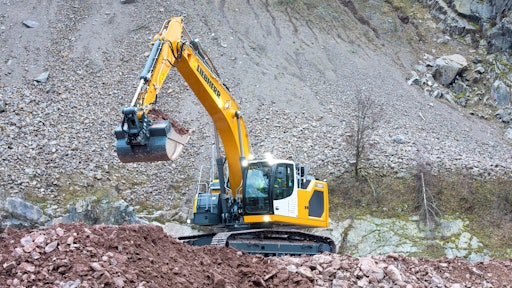 Liebherr's new Generation 8 crawler excavators will include six models: the R 922, R 924, R 926, R 930, R 934 and R 938 and R 945. The R 922 and R 924 are available for high-regulated countries while the other four models are available for high- and lower-regulated countries with the related engines. The models will feature an engine power range from 163 to 299 hp and operating weights between 22 and 45 metric tonnes.
The newest generation of machines has been totally redesigned, including the machine working equipment and hydraulics system. The improvements have allowed for increased bucket and lifting capacity compared to the previous model. An LED lighting package has been added as standard equipment, and maintenance elements, such as the engine air filter, are accessible from the ground. The spacious, air conditioned, ergonomic cab, easy-to-use 7-in. high-resolution color touchscreen, fully retractable front window and rear-view and lateral monitoring cameras enhance overall safety and comfort.
All models will feature an engine power increase for faster loading cycles, a heavier counterweight for higher bucket capacities and minimum fuel consumption. The new generation machines will include three different modular platforms (R 922 and R 924, R 926 and R 930, R 934 and R 938).
"This platform concept allows common structures and a pooling of components in the production," explains Martin Schnickel, managing director of sales, Liebherr-France SAS, Comar (France).
A hollow molded piece at the top of the boom is a new feature designed to improve equipment forces and performance while reducing operating weight. Plus, an optimized load curve reduces fuel consumption. In addition, the travel gear and track rollers in the undercarriage now feature lifetime lubrication.
Request More Information
Fill out the form below to request more information about
Liebherr to Launch Generation 8 Crawler Excavators in 2019