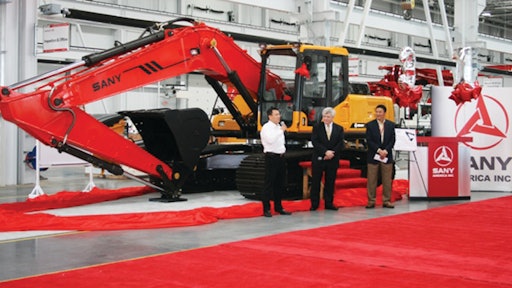 Sany America announced the completion of the first excavator assembled at the company's North American headquarters. At a ceremony attended by Peachtree City Mayor Don Haddix, the 21.5-ton SY215 rolled off of the assembly line at 3:18 pm on February 27, as Sany America personnel gathered to celebrate.
"This is a wonderful day for us," said Jack Tang, president of Sany America. "We have worked hard to make this day a reality and we are looking forward to ramping up our assembly lines. This equipment is tailored to the demands of American operators, and it's assembled right here in the U.S."
Peachtree City Mayor Don Haddix commended Sany America for the achievement. "Sany America has made a tremendous contribution to our city and country. While so many companies have chosen to outsource production overseas, Sany is one of the few who have brought their manufacturing to the U.S., and we are honored to have them here in Peachtree City," he said.
In addition to excavators, Sany America markets concrete pump trucks, port machinery, rough terrain cranes and crawler cranes in North America. Last fall, the company announced it will build a $25 million R&D center alongside its 400,000 square foot corporate headquarters and manufacturing facility. When complete, the site will employ 300 hydraulic and mechanical engineers.
Companies in this article