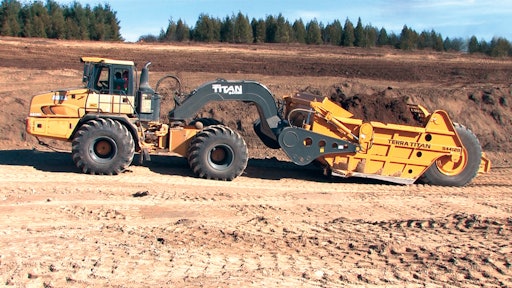 Titan Earthmoving Equipment Division (Titan EMD), a division of Titan Trailers Inc., and designer and manufacturer of the S4412B heavy-duty scraper system, has announced an exclusive distribution agreement with Bult Equipment, LLC of Monee, IL. Bult Equipment will now be Titan EMD's exclusive sales and service dealer in the U.S. and Canada.
Mike Kloepfer, president of Titan EMD, says Bult is the ideal representative to introduce the S4412B system to the construction market. "Bult has a unique appreciation of heavy-duty scraper applications from the customers' perspective and truly are scraper experts. Jim Bult initiated the concept of the High Arch Drawframe that's at the heart of our design, and he has been an integral part of our development and test process. Nobody has a better understanding of the engineering behind the S4412B, or the advantages this design offers to heavy earthmoving contractors."
The S4412B high-capacity scraper system integrates a 44-cu.-yd. bowl with a customized Bell 4206D scraper tractor. "This is the first earthmoving system designed specifically to build on the power and efficiency of today's most advanced scraper tractors," says Kloepfer. "By engineering the two units to work together, the S4412B introduces a highly versatile system that lets contractors earn more on their total equipment investment by delivering more material at faster speeds with lower operating costs and higher reliability."
Key features of the system include a maximum capacity of 55 tons, conventional and top load capability, tight integration and maneuverability with the Bell tractor, plus the High Arch Drawframe designed to optimize weight transfer to the tractor.
Bult Equipment has already acquired an extensive fleet of S4412B scraper bowls and Bell 4206D tractors to meet immediate customer needs. Additionally, Bult Equipment maintains an inventory of Bell and Titan spare parts to support the scraper fleet, as well as product in the field.