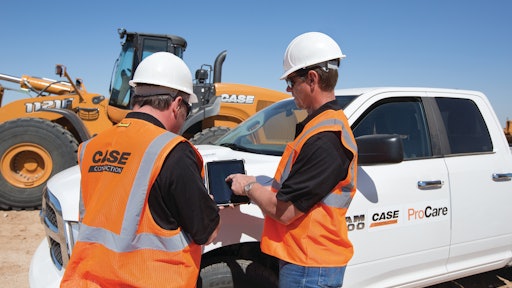 Case Construction Equipment introduces ProCare, comprehensive factory-provided machinery coverage that will come standard on Case heavy machines built with factory-installed SiteWatch telematics.
ProCare is a suite of product assurances, including a three-year Advanced Case SiteWatch telematics subscription, a three-year/3,000-hour full-machine factory warranty, and a three-year/3,000-hour planned maintenance contract on heavy machines built with SiteWatch telematics, including full-size excavators, crawler dozers, full-size wheel loaders and motor graders.
According to Brad Stemper, solutions marketing manager for Case Construction, ProCare can significantly lowers a customer's total cost of ownership for a heavy machine. "Customers can more effectively budget their operating expenses over the next three years because warranty items and all scheduled maintenance costs are covered," he says. "In addition, SiteWatch helps them monitor their machine for optimum performance."
ProCare is designed to offer customers of all sizes confidence in purchasing and managing heavy equipment. "ProCare gives Case customers peace of mind so they can focus on their business. Along with their Case dealer to help monitor machine health and schedule maintenance, ProCare gives customers everything they need to maintain a profitable operation," Stempler says.
ProCare coverage will be rolling out in phases when factory-fit telematics is introduced on each of Case's heavy product lines, including F Series wheel loaders, C Series excavators, and B Series motor graders. Crawler dozers will be included later this year. ProCare is transferable on machines owned by commercial end users. The company's full-line construction dealers can provide details on individual model availability and timing.